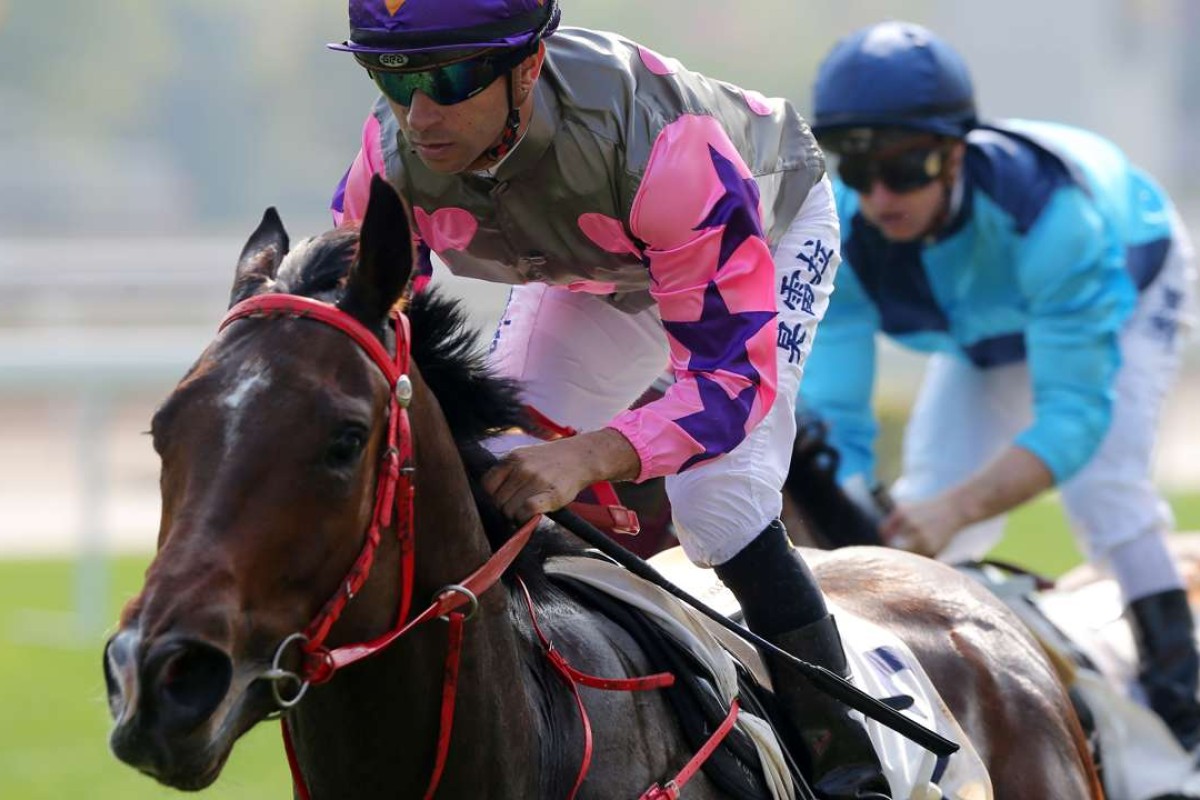 We all but buried the lead on Monday morning with the story that Amazing Kids might head to Dubai for the Al Quoz, given how reluctant John Size has always been to take horses overseas during a season.
In fact, Amazing Kids would be the first if he ultimately does go.
Size has been a regular visitor to Japan for the Yasuda Kinen in June but the beauty of that race is it is an end-of-season assignment that allows horses a good break afterwards.
The intention with Amazing Kids would be to run in Dubai on March 25 and then return for the Chairman's Sprint Prize on May 7, so it's a new puzzle to be pieced together in that regard.
Amazing kids earns a Dubai trip with Bauhinia Sprint Trophy victory at Sha Tin
Let's play the "what if?" game and say Amazing Kids won both of those, since the Al Quoz Sprint is now the newest leg of the Global Sprint Challenge (GSC), there might even be some pressure on Size to take Amazing Kids somewhere else, like Royal Ascot or Japan to chase the US$1 million bonus. New frontiers indeed.
But then the "what if?" game is about getting ahead of ourselves by its very nature.
Two from two down the straight 1,000m has a good look to it but it's worth keeping in mind what a hollow race Amazing Kids won on Sunday.
Six runners and only one had things to suit, so it's no surprise that Amazing Kids was visually impressive.
Amber Sky and Adventurer looked to have limited chances in any case but sealed their fate with a duel for the lead; Peniaphobia was ridden much too close to that pair and was left with nothing to finish the race off; and Bad Boy pulled up lame and with internal bleeding problems, which was no surprise since he raced like he was a 100-1 chance as soon as the gates opened.
Which left Not Listenin'tome, badly checked at the start and quite unexpectedly having to run his whole race two and a half lengths behind Amazing Kids. Pretty much 100 per cent of speed maps would have had them the other way around.
So Amazing Kids had all the favours and ran to his form, while the other five had reasons for failing to do likewise, but the Size-trained sprinter's form is very solid Group One standard and he won't have to run any better than his usual to race well at Meydan.
Of course, one of the key points for Amazing Kids down the straight, and the absence of the kinds of speed bumps he can find around the turns at 1,200m, is that he has been in fields of seven and six. Naturally, the navigation is easier.
The Al Quoz often features quite a big field, so that could change the scenario, and the change to 1,200m and addition to the GSC has the potential to change the likely opposition.
Sure, old marvel Buffering won it for Australia last year but the Aussie sprinters have not otherwise been regular visitors there for the 1,000m edition. Whether that changes for the reworked event is a query, although there doesn't seem to be a lot of talk yet about any of the top horses down under heading there.
Still, just the prospect of Size heading across to the desert was enough for jockey Joao Moreira to put his hand up to keep the ride, commenting: "If he really wants to take a horse there then that says enough to me."
Surprising scammers haven't stung more owners/trainers
Perhaps one slightly surprising aspect of trainer Richard Gibson being duped by a sophisticated internet scam into sending a large amount of money to dodgy banks in somewhat dodgy countries is that it hasn't happened before.
Struggling trainer Richard Gibson 'victim of internet fraud' over horse sale
Well, at least as far as we know it hasn't happened.
The buying or selling of tried racehorses is often conducted in somewhat murky circumstances, through two or three pairs of hands before the owner at each end gets what he wants out of the transaction.
And it certainly involves enough money, when you're talking about Private Purchases for Hong Kong, to pique the interest of any self-respecting scammer.
Gibson was unwilling to expand on the details of what went on but clearly the scammer knew enough about what was going on to put up a good line of patter regarding the horse in question (who, by the way, is apparently now here with another trainer).
Police trace HK$8m Hong Kong trainer lost in horse-buying email scam
In a world where money zings around the globe in seconds via computers, with sharks everywhere looking to divert it their way, you can't blame any horse trainers who long for the old days and the low-tech suitcases of cash.
Purton riding in superb form
A few months ago, we would have suggested that Zac Purton wasn't riding quite as well as his best form but that hasn't been the case lately and he has outshone arch rival Joao Moreira in recent weeks.
Yes, Joao is probably in the worst form he has shown since he arrived 26 months ago – now he's ONLY winning one ride in five. Awful stuff for a guy who has set a ridiculously good benchmark of one in four for most of that time!
From their last 200 rides, Moreira has landed 42 winners and Purton's got 34, which is slightly up on his usual rate and he appears to be riding at his very peak but the real tale of the tape, as always, is in the market expectations for each.
Zac Purton's hot streak continues, but suspension sullies treble
Only nine of Magic Man's last 200 rides started at 11.0 or longer and his mounts have averaged 4.94, so expectations are extremely high.
On the other hand, for whatever reason, Purton still rides his share of longer priced runners and 54 his last 200 rides have run around at 11.0 or longer. And Purton's last 200 mounts have averaged odds of 11.5.
Averages can tell a few lies, sure, but it is pretty clear from those figures that the market isn't expecting Purton to win races at anything like the same rate as Moreira and just keeping in touch – 42 to 34 – over that period has been an exceptional performance.