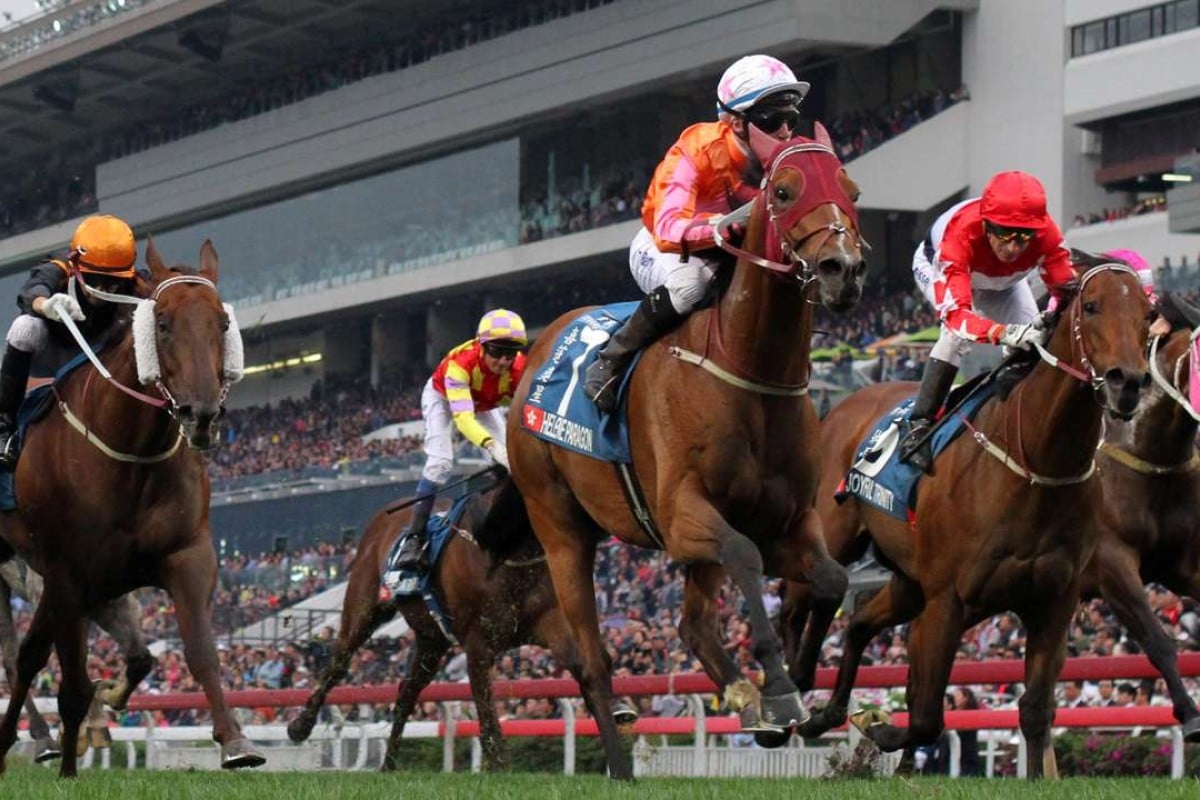 The Dubai Turf awaits for Helene Paragon after he led home a John Moore tierce in the Group One Stewards' Cup and more than reversed his Longines Hong Kong Mile defeat at the hands of Beauty Only.
"Today he's beaten Beauty Only, what? A length, length and a half? And I thought that's about how far he should have beaten him in the Hong Kong Mile with better luck," said Moore, who also saddled up Joyful Trinity and returning idol Able Friend (Joao Moreira) in the minor placings.
"I've already spoken to the owners of Helene Paragon and they're happy to go to Dubai for the 1,800m. Whether Tommy Berry can ride him or not, I'm not sure.
"March 25 is a big day in Sydney so Tommy might have to ride there – if he does, Joao is waiting for the call up."
Berry, who has made a second career out of flying in for a Group One winner for Moore here and there, indicated later that he might well be on the cards for Dubai.
"The big race in Sydney that day is a 2,400m – off the top of my head, I don't have a major 2,400m horse to ride so I might be available," he said.
"It's a dream of mine to ride in Dubai. I thought I might have got there a few years ago with Designs On Rome but Joao got that job."
Bumper attendance drives record Sha Tin turnover
Berry's only truly anxious moment was when Neil Callan, on the 150 pounds heavier Giant Treasure, was outside Helene Paragon turning into the straight and did his best to hold him in a pocket but the smaller animal asserted his will.
"That's fair enough. It's a Group One and nobody gives an inch in a Group One, especially here in Hong Kong, and I put myself in a sticky spot," Berry admitted.
"But I knew I was on the right horse to do what I did. He's a bulldog this horse, when I gave a push out, he wanted to go again.
"Horses don't usually push out like that, balance up and quicken as well as he does. It usually takes them a few strides to get going again."
That gave Helene Paragon the breathing space to get to fourth-placed Contentment (Brett Prebble) and runner-up Joyful Trinity, while Able Friend was ducking and weaving behind to get into third late.
"Getting the stable one-two-three was a great result. Today everything went the right way," said Moore, but he quickly corrected himself.
John Moore, lucky red packets, goodwill and the Lunar New Year
"That's racing. It's easy for me to say it all went smoothly because I've won the race – maybe if Able Friend was my only runner I'd have felt sick and gone straight to the bar.
"Looking at the replay, he was unlucky. I thought he'd be tacking on three-wide and coming down the outer but that was Joao's decision, you'd have to ask him about that. But Able Friend looks like he'll be cherry ripe for the 1,400m next time at the end of February."
Moreira backed his decision to go inside, saying Able Friend is not quite back to his rampaging best.
"Was he unlucky? Yes, I think so," said Moreira. "I think he wins if he gets clear running. I don't regret going to the inside and trying to come through the field.
"If I exposed him wide, he wouldn't have come over the top but, if I got the gap at the right time, he would have won. I think he's getting there, he's picking up but after today's race he can still improve more."
Dubai next? Peniaphobia stakes claim with Centenary Sprint Cup victory
Moore was also rapt with the return from injury of Werther, who battled away in sixth after every chance.
"He's a very clean-winded horse, he'll go to 2,000m now in the Gold Cup next month and I think he'll be very competitive," Moore said.