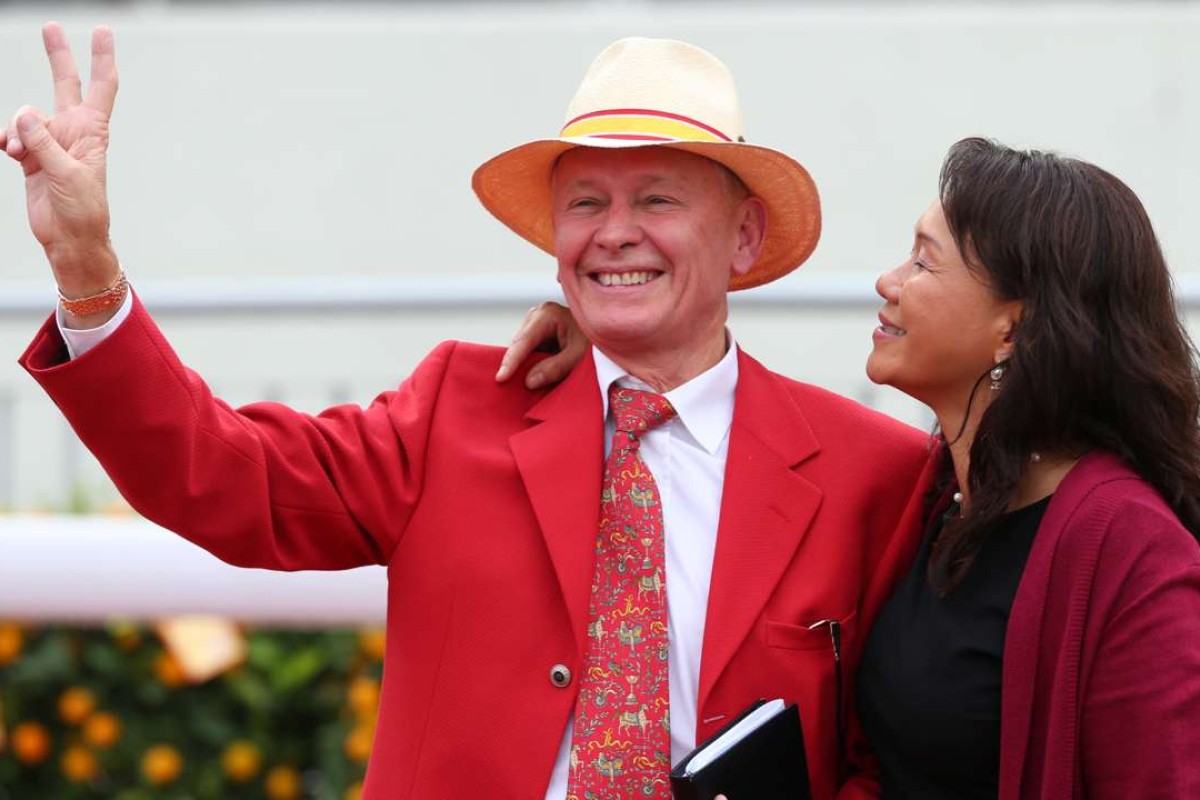 Two feature races added a touch of on-track quality to the Lunar New Year raceday but this meeting is all about lucky red packets and, this year, John Moore's red jacket was stuffed full of them.
The annual fixture lacks the overall class of international day or the prestige of the Hong Kong Derby, but outstrips both events by far for betting turnover, size of crowd and, most of all, colour.
The lucky red packets are the omnipresent lai see – envelopes filled with a crisp note – traditionally handed out as an act of goodwill to unmarried people by locals.
But at Sha Tin the lai see flows freely, and when Moore emerged from the pre-race parade ring early in the day and pulled out a fistful he was nearly trampled by a marauding group, made up mostly of members of the racing media.
As special as it would be to see Moore in a special iridescent safari suit tailor made for the big day, as it was he was rocking a Versace Classic bright red blazer that caught the eye.
Moore claimed he found the fetching number in a thrift store, but seriously, chances of that are 1000-1. The trainer might be a master of buying tried horses but it's doubtful he buys anything else secondhand.
Rising stars, Sam Clipperton, shine at Lunar New Year meeting
Even though he is an expat, the Australian has been in Hong Kong since the early 1970s, firstly as an amateur rider and then trainer, and embraces the local culture wholeheartedly.
He takes his staff to the temple for prayers and offerings to snap out of a slump, or at least says he does, and is an enthusiastic participant in preseason bai sun ceremonies.
On Monday, it was cash giveaway time and Moore tried, in between training three winners and landing a Group One tierce, to keep the goodwill flowing with free money for all.
Moore married his wife Fifi during the summer and said the relationship has made him take the traditions and superstitions of the Lunar New Year more seriously.
"I'm married to a Chinese lady now and she has impressed on me that is part of the culture here, we have given out a lot of money in the last week," he said. "I try and really live the culture, and that is giving out money to not only the people we work with, but the restaurants we go to, we must hand out lai see."
Helene Paragon gets the luck in the Stewards' Cup, books a spot in the Dubai Turf
Still, not everybody is a believer in the local ways and leading jockey Joao Moreira tempted fate when he had a haircut on the first day of the New Year – a big no-no when it comes to superstition.
Yet even with his Neymar-esque buzz cut, the Brazilian still won the auspicious first race of the season on Lightning And Gold for trainer Dennis Yip Chor-hong.
"See it mustn't be unlucky," Moreira quipped later, although those who backed Able Friend in the Stewards' Cup might not agree after the jockey found some dead-ends in the straight. "It hadn't entered my mind that it was the New Year meeting, I just treat it like a normal raceday. Maybe I just got a little more fired up because there were more people."
Dubai next? Peniaphobia stakes claim with Centenary Sprint Cup victory
A crowd of 96,082 certainly lifts the day above the standard Sha Tin fare – as did the addition of the Stewards' Cup and Group Two Centenary Sprint Cup to the 11-race programme.
Yet the two features were only added because of the timing of this year's Lunar New Year, and when next year's fixture falls in mid-February, and on a Sunday, it may be the Hong Kong Classic Cup and Chinese New Year Cup as features.
Bumper attendance drives record Sha Tin turnover
Unlike most jurisdictions big races don't necessarily equate with high turnover in Hong Kong, in fact locals love their handicaps and the presence of the Group races may have put a slight dent in turnover.
But even the features performed above expectations on a day when turnover reached a record HK$1.7 billion – so maybe it was Moore's red packets being invested on that tote that gave it a boost.