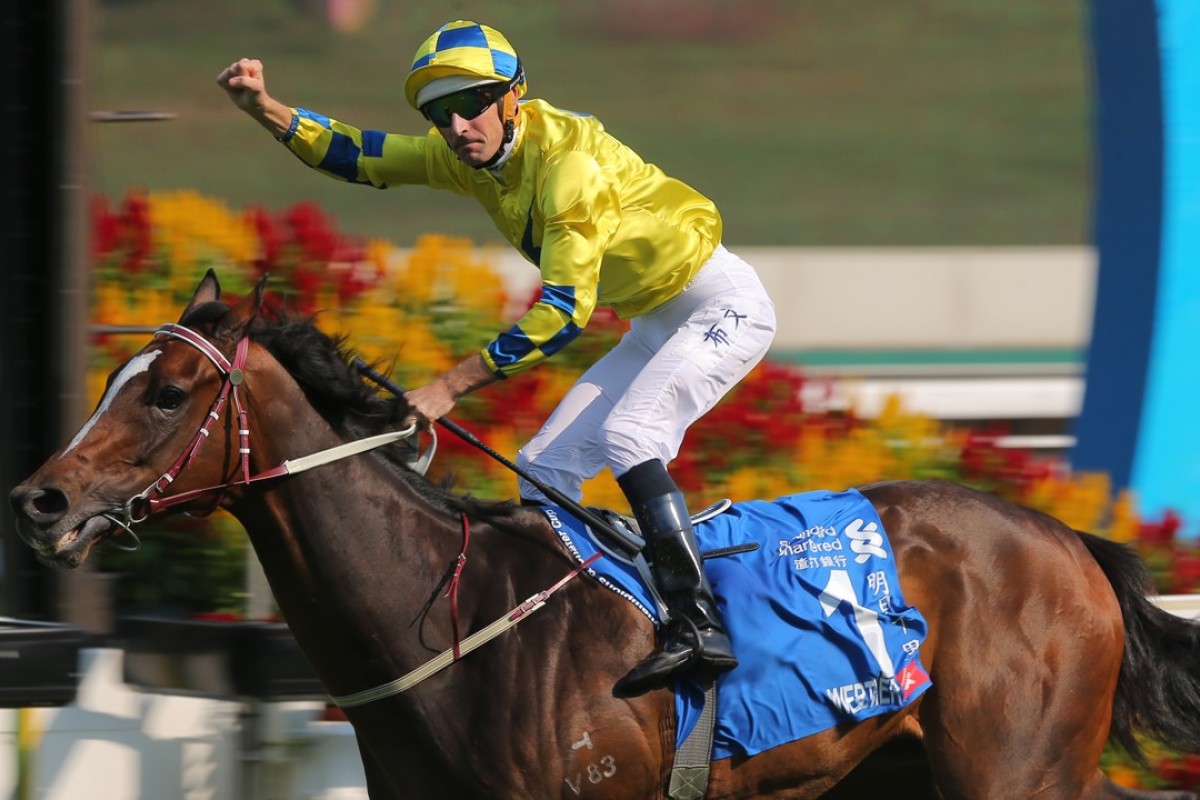 The Champions & Chater Cup was its usual surprising self on Sunday as it brought down the curtain on major racing for the season with still six weeks of racing before the break.
The 2,400m feature was once a type of season finale for the A-graders but it hasn't moved from its date going back many years, while the season has encroached with increasing fervour on the summer and left it behind.
Once again the warm favourite was bowled over – Eagle Way joins the previous five favourites, Werther, Blazing Speed, Designs On Rome and Dominant (twice) as beaten shorties since the last winning favourite in 2011, Mighty High.
Maybe the biggest surprise was the odds for each of the favourites, Werther and Eagle Way. Sure, the Joao Moreira factor played a big role in making Eagle Way outright favourite, despite his form being clearly inferior to that of Werther, but it might have been expected they'd be somewhat closer together, given that there were 19 handicap ratings points between them.
The last time we can remember the public so clearly preferring a horse under that kind of ratings disadvantage in a terms race was the same event five years ago, when 130-rated Ambitious Dragon had 18 points on Dominant but Dominant was the 2.1 favourite over 2.9 for his rival. The horse with the points advantage won their duel too, although both finished behind the 100-rated outsider, Liberator.
Gear change the key as Werther shows his class in the Champions Chater Cup
So, perhaps ratings aren't everything but they are something and Tony Cruz is probably wondering how fair it is that his fifth placegetter, Gold Mount, was penalised four points in the ratings for being beaten seven-and-a-half lengths and beating just two runners to the line.
We've already heard comments that, for a contest that often struggles to get a quorum each May, that penalty – or rather, the prospect of something like it for another horse in the future – might be enough to keep a couple more out of the event in 2018.
To some extent, we can see where the handicapper was coming from, although it is a little bit nitpicky. He wanted to bring 95-rated Gold Mount closer to 100-rater Helene Charisma, with a half-length between them on Sunday and the likelihood they might meet sometime soon in a handicap.
But giving Helene Charisma a point for finishing seven lengths behind the winner or even four lengths behind 125-rated Blazing Speed also seemed fiddling and made sure he had to give extra to Gold Mount as well.
Cruz was unhappy with the handicapping of Pakistan Star earlier in the season and this won't put the handicapper any further up his Christmas card list.
Bubble burst: handicapper helps inflict Pakistan Star's first defeat, according to trainer Tony Cruz
And, off the top of our heads, Cruz has been on the receiving end of this treatment from the handicapper before, although it was a different handicapper at that time, Ciaran Kennelly.
In 2000, in the race that has become the Jockey Club Sprint these days, the Cruz-trained King Of Danes was lifted 25 points in the ratings from 86 to 111 after narrowly winning his local debut, mainly because the horse he beat was 131-rated Fairy King Prawn. King Of Danes did manage to win one other race – a good one, the Centenary Sprint Cup – while others haven't been as lucky.
The Cruz-trained Thunder, several years later, also debuted in the race known now as the Jockey Club Sprint, finished fourth and went up 10 points for his proximity to higher-rated horses under the set weights. Thunder then ran fourth in the Hong Kong Sprint as well and, yep, went up another 10-points. He retired a few starts later without winning at all.
Anyway, Werther's easy win brought him a second Group One for the season and, perhaps crucially for the Horse of the Year discussions, a second Champion Awards category.
His Gold Cup should win him the Champion Middle Distance Award and this win surely wins the Champion Stayer. As things stand now, Helene Paragon has to edge ahead of the Hong Kong Mile winner, Beauty Only, or Champions Mile winner, Contentment, in the Champion Miler category, with the Queen's Silver Jubilee Cup and Stewards' Cup.
(As for Champion Sprinter, well you could throw all the names up in the air and see what comes down – even the switch to handicap conditions on Sunday in the Sha Tin couldn't stop the feature sprint once again being decided in something of a blanket finish.)
Stop the vote: Rapper Dragon needs to be named Horse of the Year
Which, as we've discussed here previously, doesn't give Rapper Dragon anywhere to go and win a category. In technical terms, his four-year-old race wins weren't Group One-tagged races under the new pattern race regime this season, they were Class Ones at best, using the handicap ratings as a definition. The Derby had a 114-85 ratings band, and 100-85 if you removed Rapper Dragon.
So the panel for the Champion Awards voting is going to have a job to find Rapper Dragon a slot where he can win a category and, if he can't win a category, he can't be Horse of the Year.
NSW stewards provide the right insight
It is only tenuously relevant to Hong Kong, but kudos to the stewards in Sydney last week for their response to a very highly-charged running and handling inquiry surrounding Glyn Schofield.
The punting public had the pitchforks and torches out for Schofield after a particular ride, when his short-priced mount certainly should have won. And it was an opportunity for some very soft popularity points for the stewards, headed by Mark Van Gestel and former Hong Kong-based Phillip Dingwall, had they gone ahead and given Schofield some time off over it.
But they did their job instead and did not punish him just for being unlucky but, and this is where the real kudos comes in, salved the pain of the punters simultaneously by releasing a video explaining the decision, and showing all the angles on the ride that are available to them on race day but not normally available to the Australian public.
That also did its job, circulating online and calming (most of) the angry mob – torches doused, pitchforks back in the haystacks.
Of course, here a stewards patrol replay is always available to the public on such occasions and Kim Kelly and his team are very proactive in inviting the media to the stewards' room to take a closer look when there are race day matters that catch fire.
But packaging it with the voice-over explanation was a good touch and overall it was a positive use of the internet's unrivalled distribution capability, so that everyone who wanted to know the truth was able to do so, journalist or casual punter.
Not every incident will demand or deserve this response but, in particularly emotive situations like running and handling inquiries, we think it's something that should catch on everywhere.