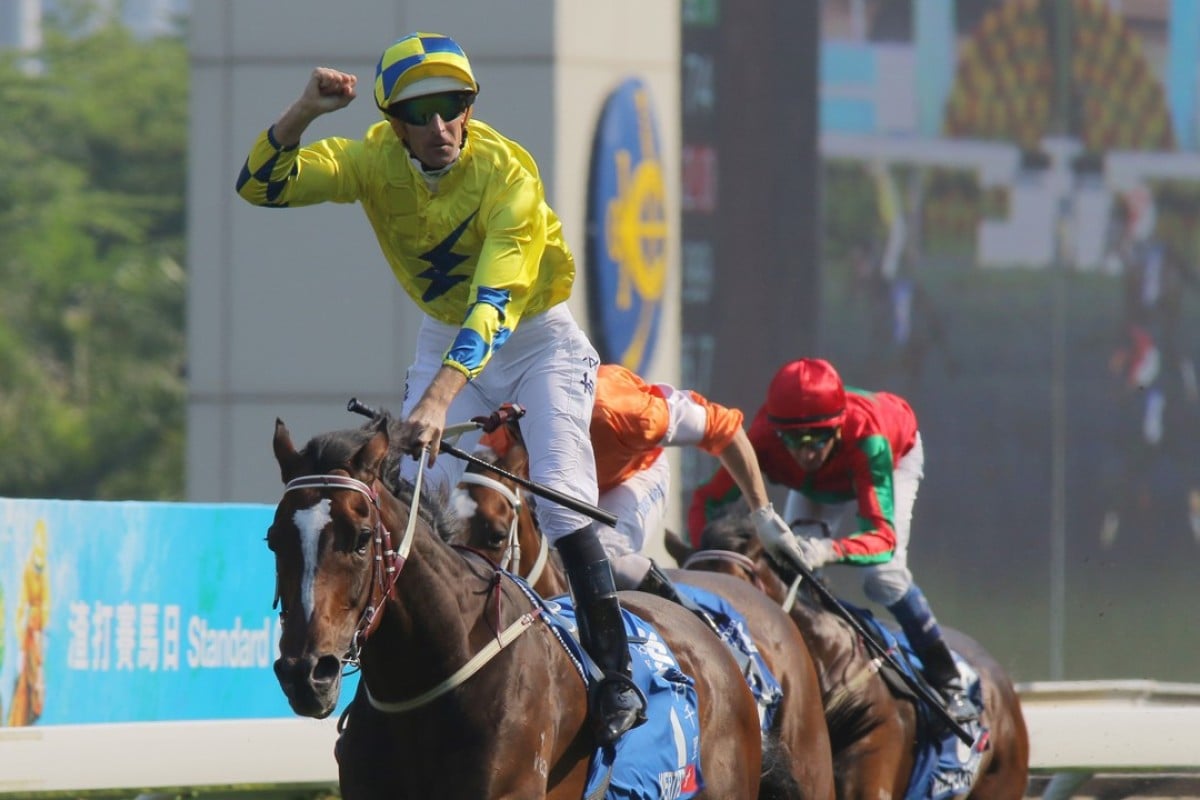 John Moore and Hugh Bowman produced the golden gear change of the season for Werther's attempt on the Group One Standard Chartered Champions & Chater Cup and the reigning Horse of the Year responded with a hollow victory that ensured he will again be at the forefront of discussions for that honour.
Werther has had an abbreviated season after a setback in late August meant he couldn't be trained for the December internationals, didn't have his first start for the term until January and probably had the benefit of fresher legs for Sunday's 2,400m major, but Bowman and Moore had no doubt about the difference in him.
As a younger horse in New Zealand and Australia, Werther had raced extensively in blinkers and Moore had applied them from the very first day in Hong Kong too but, 11 starts later, they came off and the five-year-old produced a performance that has Moore leery about reversing the process.
"When Hugh spoke to me a few weeks back, he said 'would you consider taking the blinkers off?' and I just said 'done'. Not I'll think about it or whatever, I just said the blinkers would come off," Moore said. "We worked him with an inferior horse the other day without the blinkers and he did it so kindly. We took them off to help him relax for the 2,400m today but they'll stay off now, even when he drops back to a shorter distance. I won't be tempted to put them back on."
Twelve months ago, Werther had just savaged a high class QE II Cup field and was odds-on for the Champions & Chater when beaten two noses but Bowman said the gear change flicked all the switches.
"He tugged a bit in this last year but it was a different setup – he'd been through the Derby prep and then peaked I thought in the QE II so was he over the top for this one a year ago" Bowman said.
"He was inclined to over-race this year in the QE II but it was a very slowly run race. He pulled up with some other issues but I felt if he had settled, he would have beaten Neorealism.
Lucky Year's Shock Group Three win gives Callan Murray more food for thought
"My gut feeling was that 2,400m might be beyond his premium distance, but I think he proved today that he has got no dramas with it as long as he can relax. John's decision to take off the blinkers was key. Even before the race, he was more relaxed.
"I never questioned his ability after the feeling he gave me in that QE II Cup last year and he doesn't need the wet track, he just needs to switch off. The only two times I've felt he has done were that QE II and this."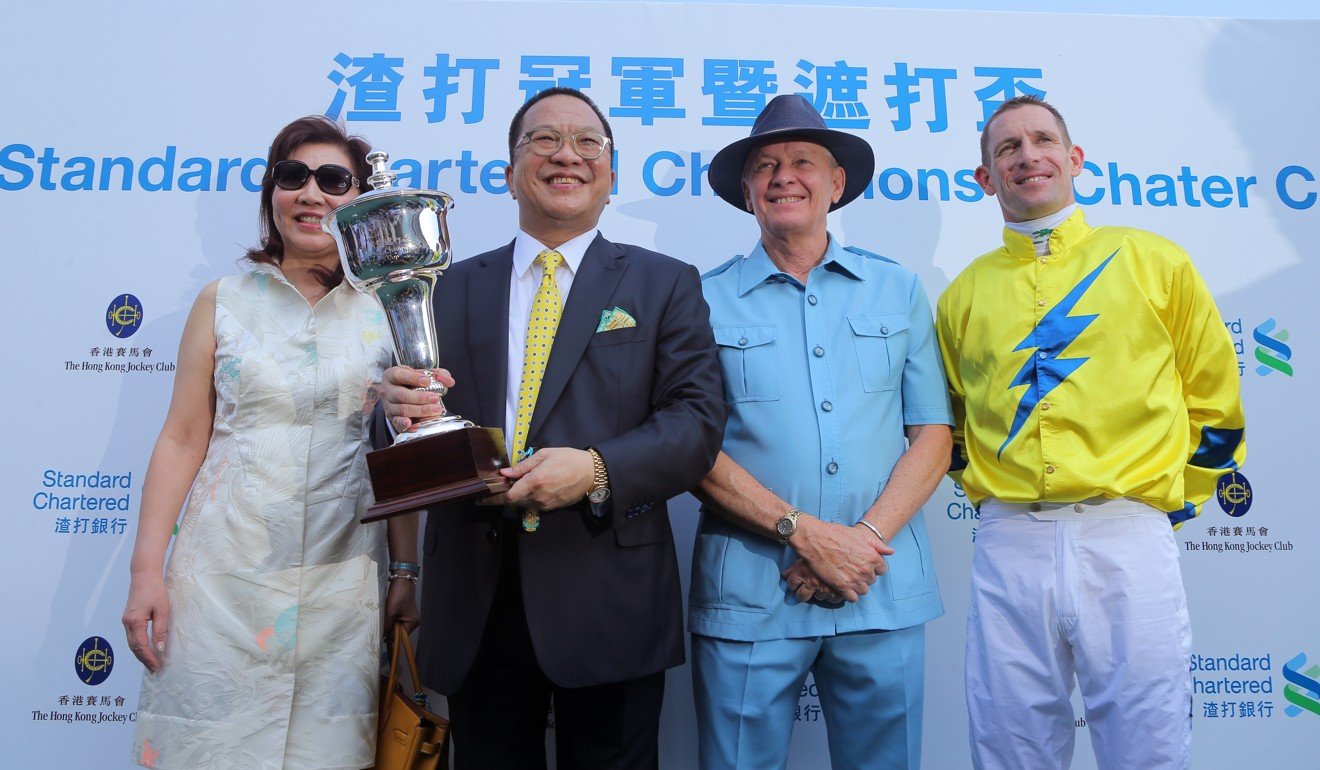 Moore said the three-length victory at 2,400m gave Werther options at the end of the year when he will enter the gelding for both the Hong Kong Cup and Vase.
"We'll see how the entries look for both and how things are with him but this gives us more options," he said.
Back-to-back Horse Of the Year titles are rare – the last was Ambitious Dragon and, before him, Silent Witness – but in a season when no horse has won more than two Group Ones, Werther's romp on Sunday to go with his Gold Cup victory and give him two legs of the Triple Crown, stands up as a valid argument.
Regulars nonplussed, but super fans say goodbye to Able Friend
"I don't really want to say who should be Horse Of The Year – I'll just be happy that its one of mine," said Moore, who certainly has a powerful hand with Rapper Dragon, Helene Paragon and Werther.
Joao Moreira said the favourite, Eagle Way, simply ran into more seasoned gallopers in finishing behind the winner and old war horse Blazing Speed.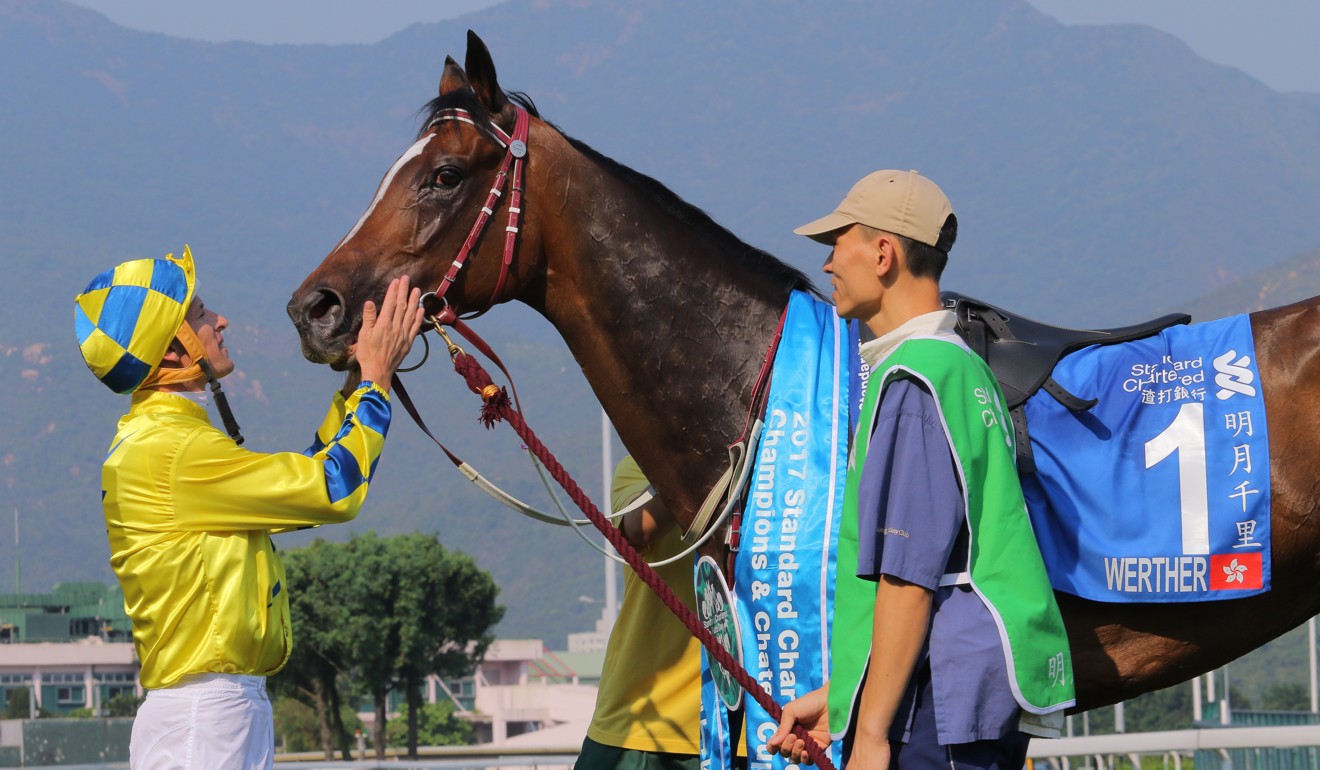 "We are talking two good horses but I think Werther is already there, and Eagle Way is still on the way up there, and that was the difference," he said. "But today's run was good and convinced me that Eagle Way will win a Group One here one day."