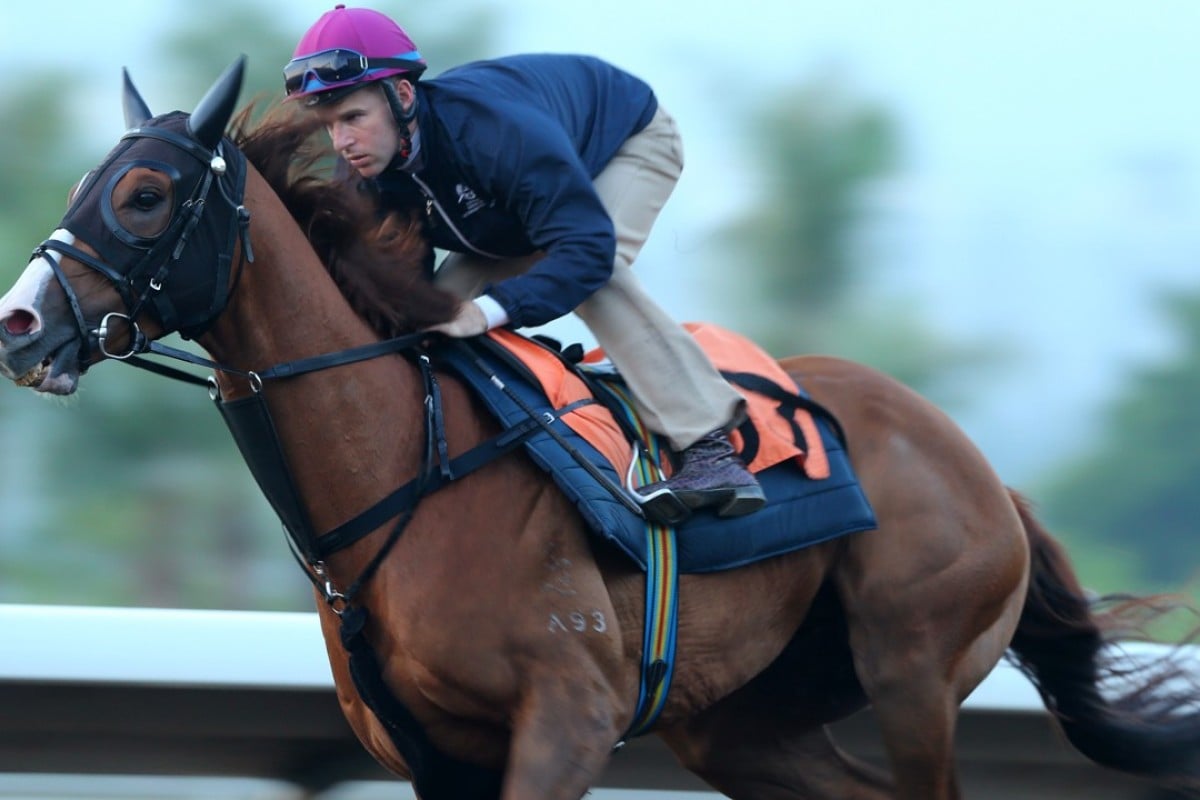 Only three trainers have won 10 of the last 13 renewals of the Group Three Sa Sa Ladies' Purse (1,800m) and they look to have it surrounded again with John Moore and Eagle Way holding the whip hand.
In the last 13 editions, Moore has won the race four times, Tony Cruz has won three and Tony Millard figures strongly with three wins.
Cruz has the numbers on Sunday with overnight favourite Time Warp (Joao Moreira), Romantic Touch, Doyeni, General Sherman and Consort, while Moore has Eagle Way (Tommy Berry), Harbour Master, Helene Charisma (Zac Purton) and Rocketeer and Millard also has multiple runners with Horse Of Fortune (Derek Leung Ka-chun) and Nassa.
One of the toughest parts of Tommy Berry's job as Moore's retained rider is having first call on the stable mounts – that might not sound too tough but getting it right can be, ask any jockey who has been in the position.
But Eagle Way looks the best of Moore's team and there was plenty of merit in his first run from the summer break to suggest he will come on enough for that to be a serious contender.
Eagle Way wound up his campaign last season running at 2,400m and he was always a touch risky about sprinting well over 1,400m in the Celebration Cup first-up but he did a terrific job without much help from the leaders.
Quiet achiever Sam Clipperton out to cause upsets at Sha Tin
That was the slowly run race Beauty Generation was able to dominate from the front, and he outsprinted his rivals in the last 400m.
Time Warp finished third there after sitting close-up on the leader's back, grinding home well enough to maintain the margin between them in the run home. But Eagle Way was actually able to pull ground off the leaders, one of the few in the race who did, and his finish was superior to Time Warp's work down the straight.
Now, that's no surprise as Eagle Way has shown a number of times that he is capable of running a slick sectional, and he needs to be better in that facet of the game than Time Warp again because he will stand him up a start.
The Cruz-trained runner looks to get a soft lead in the race – although he does not usually go all that slowly when he leads – and it will be up to Eagle Way to make up the ground.
Favourites can kick Joao Moreira to a Jockey Challenge win at Sha Tin and extend his championship lead
Maybe the key will be whether Berry is able to use his inside gate and creep some ground around the circle to put him in striking range as he straightens for home.
Time Warp is the one he must beat, for all those reasons above, but there are other dangers including last year's winner Horse Of Fortune and Helene Charisma.