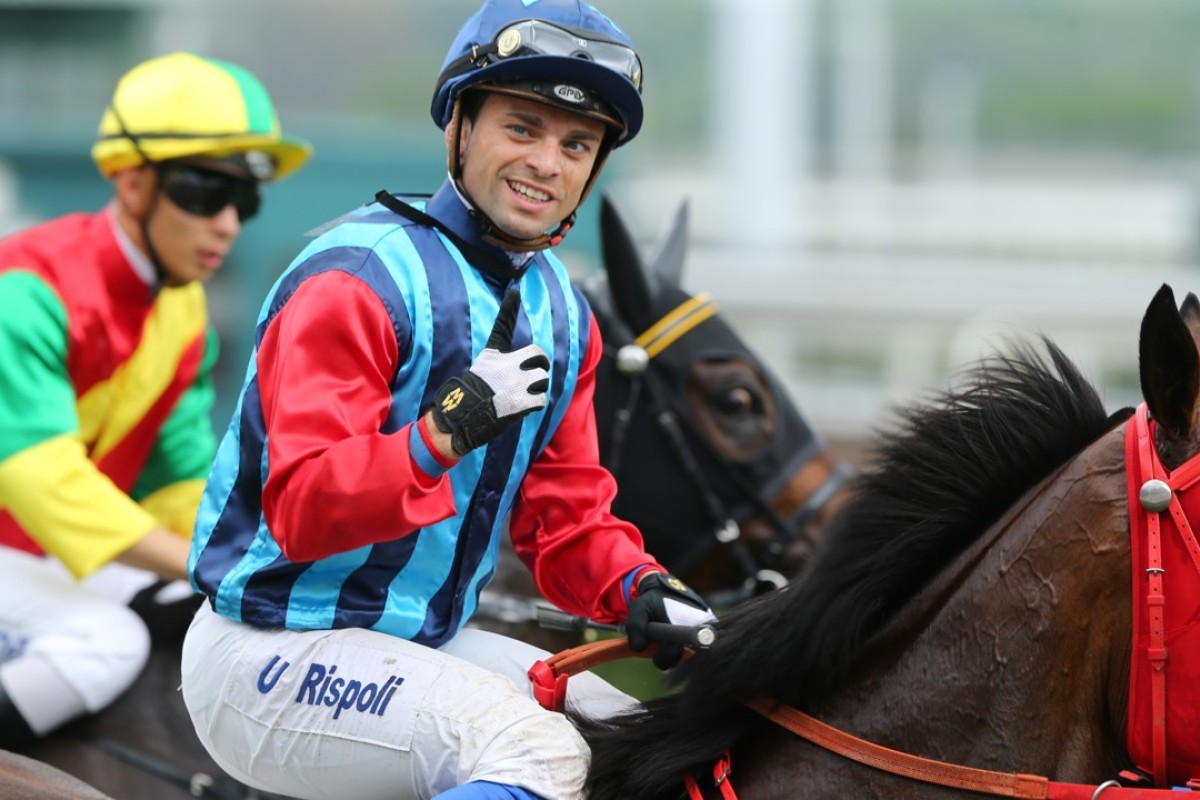 It would be wrong to say Italian jockey Umberto Rispoli will miss Audemars Piguet QE II Cup day next Sunday – he won't miss it, just won't be riding after electing to take a suspension instead.
"I don't have rides in the three big races, I didn't have many others because there are quite a few jockeys flying in and so they will take up some of the rides in the supporting races. It's not important to me to ride on the big day if all I have is a couple of slow rides. It's better I take my suspension next week than delay it to another day when I know I have rides," said Rispoli, who is a past QE II Cup winner on Japanese galloper Rulership.
The Italian, who has bounced back brilliantly from a broken collarbone to get among the winners straight away, had the brakes put on that story by stewards when he collected a two-day careless riding ban on Triumphal Trumpet in the Class Five 30 minutes after a polished effort to win on Namjong Invincible.
Part of a wining double for trainer Dennis Yip Chor-hong, who has had the gelding for only two starts, Namjong Invincible also brought Rispoli one step closer to an important career milestone.
"That was my win number 1,498 in my career, so I'm nearly 1,500 – not too bad for a boy from the bush," said Rispoli, who actually hails from Naples.
Namjong Invincible won a race on the dirt for Paul O'Sullivan in June last year, but had not been impressing punters lately and was sent out better than 20-1 odds.
"He changed stables and seems to be improved. Dennis was actually confident about the horse. When I galloped him the other day, he gave me a good feeling," Rispoli said. "We jumped pretty positive, we got a nice position behind Elusive State, which I was happy about as he was one of the ones to beat, but I think the second horse has the right name – Let Us Win.
How Umberto Rispoli rode again 10 days after shattering collarbone
"He definitely helped me to win because he was hanging in and Joao Moreira had a big fight with him to keep him straight and that helped my horse get past. It's nice to win for Dennis and I think it is good for me to win on this horse. He had the outside barrier, his record shows that he isn't so easy to win on and I always think that is a feather in the cap of a jockey."
Rispoli was not the only jockey to earn the wrath of stewards with Alvin Ng Ka-chun also outed for two meetings for his ride on Multimax.