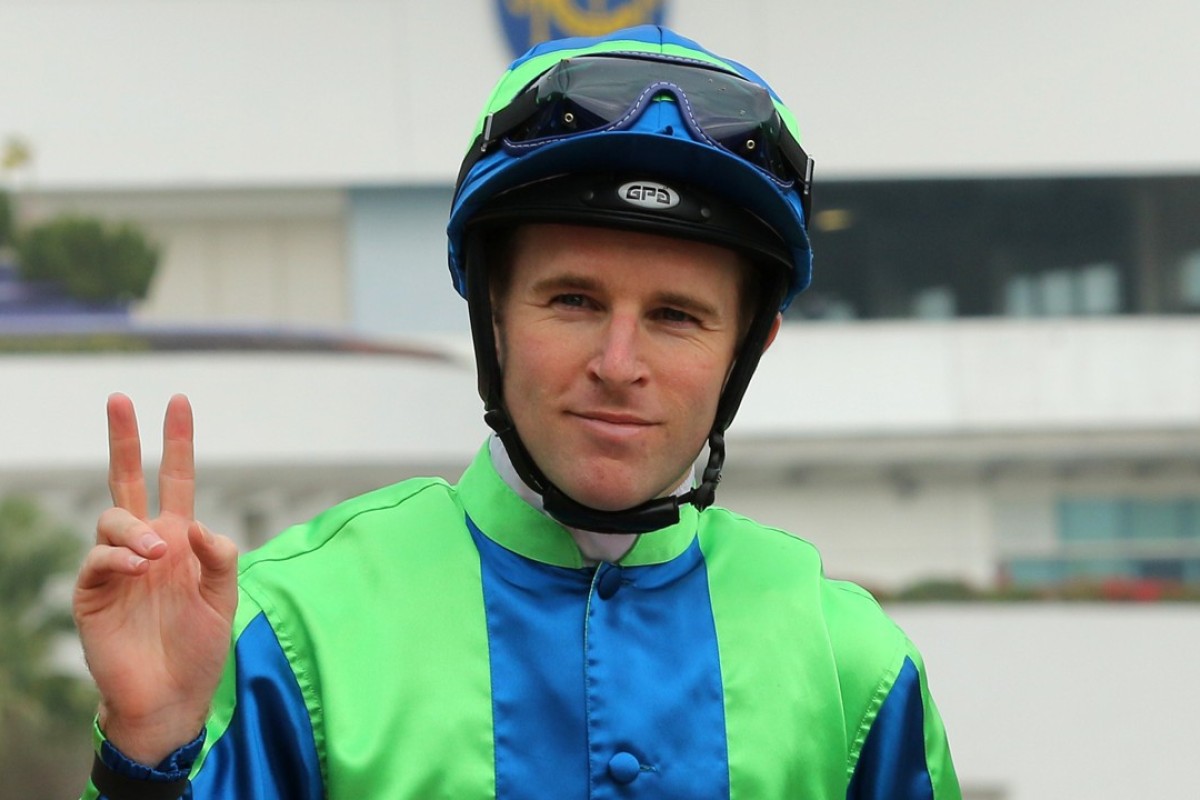 Tommy Berry will undergo an MRI scan on Thursday to clear him of any lingering issues after Tuesday's heavy barrier trial fall before he is cleared to ride at Sha Tin's Champions Day on Sunday.
Berry fell at the Sha Tin trials on Tuesday when Agree collapsed and died under him, but the jockey was confident there would be no interruption to his week as he heads towards Champions Day on Sunday with the sit on the talented Japanese visitors, Fine Needle (Chairman's Sprint Prize) and Danburite (Audemars Piguet QE II Cup).
On Wednesday morning, Berry rode just one horse in work, Japanese sprinter Fine Needle, and felt he was all systems go immediately after.
However, after exercising in the afternoon, he said he "felt light-headed" when placed under more stress and was later stood down from his two rides at Happy Valley by the Jockey Club doctor.
"I'll have an MRI at lunchtime on Thursday to make sure there's no issues. Originally the doctor suggested I take a couple of days to get over it but I felt OK and the CT scan was OK, so I rode the one this morning," Berry said. "I don't foresee any issues for Sunday though and taking the night meeting off gives me a few more days to rest."
Nevertheless, the morning gallops boosted his hopes that Yoshitada Takahashi-trained Fine Needle could punch above expectations and be a surprise packet in the Group One sprint.
"Before today, I had the feeling that he was obviously a high-class sprinter but he was more of a wind-up style of horse. To be honest, I thought that might make it hard against our sprinters in Hong Kong because horses like Mr Stunning and Beat The Clock have this quick change of gears and might beat him for speed," Berry explained.
But, after sending the Takamatsunomiya Kinen winner over a smooth, smart gallop on the Sha Tin turf, Berry admitted to being "pleasantly surprised".
"The first thing I said to his handlers when I got off him was how pleasantly surprised I was with his acceleration," Berry said. "I thought he might take a little longer to get to his top but when I asked him to quicken up, he was there for me straight away.
"They didn't want him to do too much but just to sharpen him up, switch him on mentally. It was impressive work, he had a good look around and could have gone faster. It's no easy task trying to beat our sprinters at home but that gallop gives me more confidence now."
Berry said he'll be hoping for a draw that will allow him to put Fine Needle into the fray a little early if the tempo of Sunday's 1,200m contest isn't strong.
Tommy Berry to make race day decision after heavy fall in barrier trial at Sha Tin
"Some of these big sprints have been a bit steady this season so I'll be trying to position him to get going early if that's what's needed," he said.
Berry will partner Danburite in a turf gallop on Thursday morning.