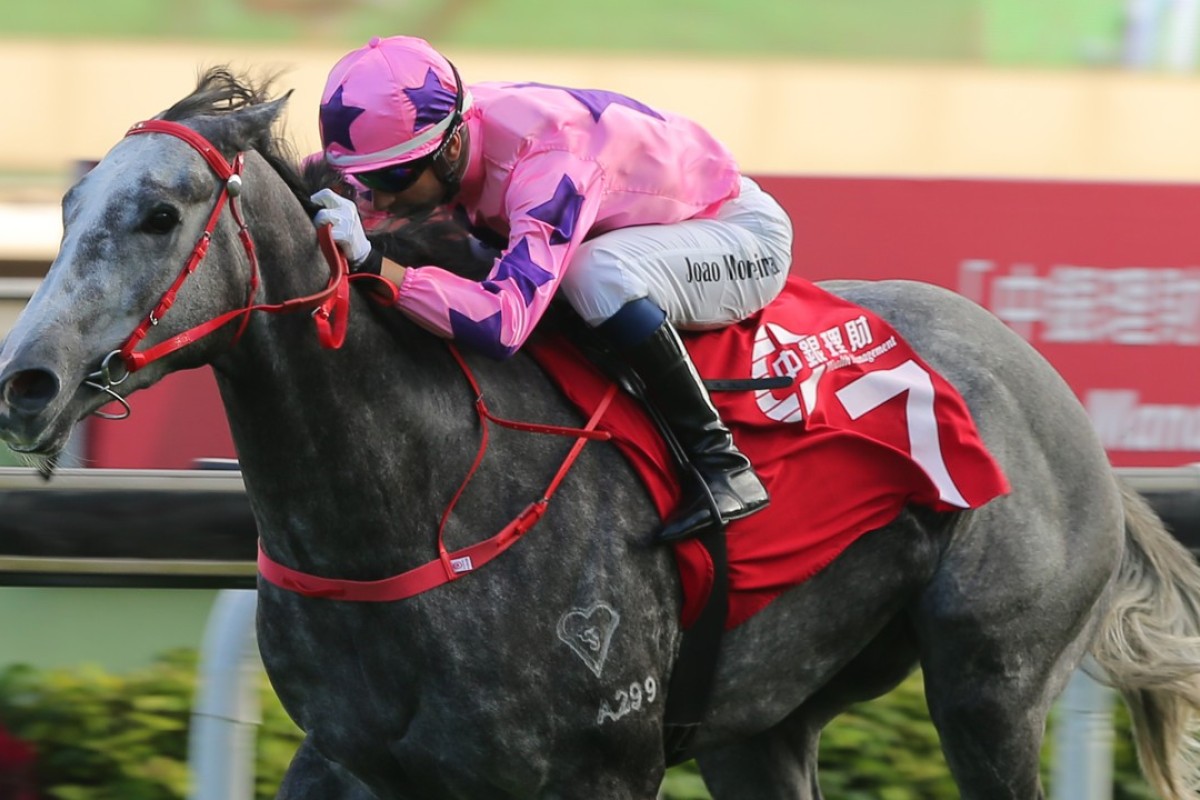 Joao Moreira returned to Sha Tin with a bang on Sunday and quickly quashed speculation he wants to go back to Japan next year after completing his six-month contract as John Size's stable jockey.
The Magic Man landed a treble on his first day riding in Hong Kong since July – including the Group Two BOCHK Wealth Management Jockey Club Sprint (1,200m) aboard Size's Hot King Prawn – and said he would stay here beyond the expiry of his contract in June.
"I have a commitment to the Hong Kong Jockey Club. It's been announced that this is not a place to come in and out of, they are entitled to be making those rules and I respect them," Moreira said.
"I do not intend to be going to Japan next year to do the test because I have a commitment with the Hong Kong Jockey Club."
Hot King Prawn makes it nine wins from ten starts with a dynamic all-the-way success in the BOCHK Jockey Club Sprint: Joao Moreira dictates even fractions on the winner, who finds just enough to hold the late surge of Mr Stunning. #HKracing pic.twitter.com/wPwbSfRkCH

— HKJC Racing (@HKJC_Racing) November 18, 2018
After departing Hong Kong to ride in Japan, Moreira failed a written exam last month meaning he was unable to obtain a full-time Japan Racing Association licence, but did not rule out attempting the test again one day.
"I am very happy to be loyal to my word to stay and fulfil my commitments to the Hong Kong Jockey Club, but that doesn't mean I am giving up," he said.
"I am not the kind of person that gives up and what is going to happen in two or three years, no one can tell. I may go back there in five years."
It was announced on Saturday that Moreira will be contracted to ride for Size from December 9 to June 9, but beyond that is somewhat of an unknown.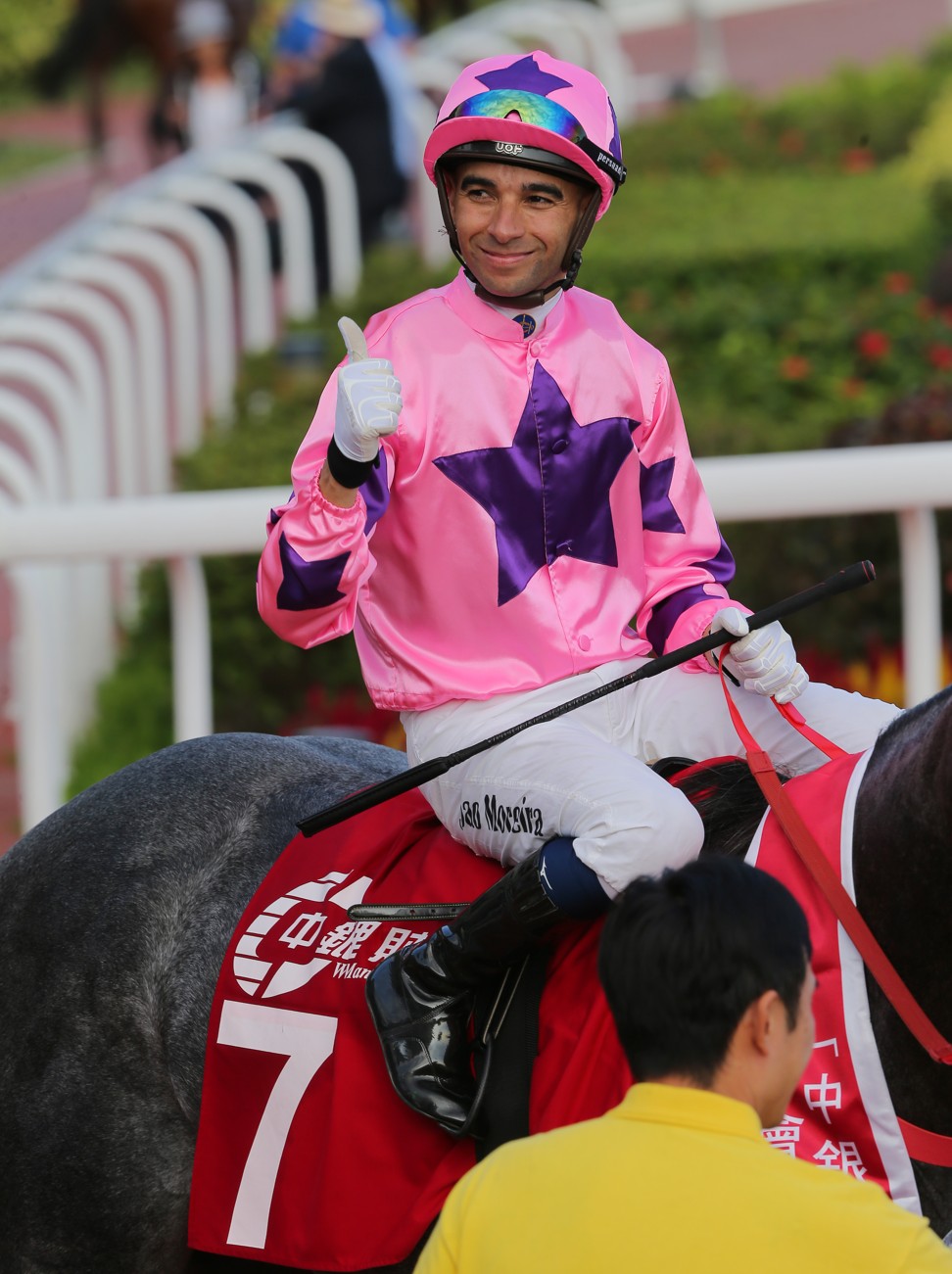 "There is a very high chance that I team up with John Size and I am extremely happy to be with him and we should continue," he said.
Joao Moreira is back: Jockey Club gives the Magic Man green light to return to Hong Kong
"My intention is to come and do my time with John Size and if it works pretty well, which I hope it will, we will consider carrying on. If I think I should go back to the club as a freelance jockey we can consider it in six months' time."
Moreira has an exciting prospect on his hands when he returns for the Longines Hong Kong International Races on the second Sunday of December, with Hot King Prawn staking his claim for the Sprint with an impressive performance.
"There is no doubt he's a lovely horse to ride and he gave me the feel today that he is a star. He is one of those that anyone else would dream to have," Moreira said.
Joao Moreira fails to secure Japan Racing Association licence, door ajar for Hong Kong return?
"He was just so fast out of the gate, put himself in front and when I asked him to just take a deep breath and not go too fast he responded like a champion horse.
"When I asked him in the straight he just straightened up and sped up in a way that I was confident they were not going to catch me.
And Moreira sets the seal on a treble in the Sha Tin nightcap: Noble Steed looks nicely ahead of the handicapper in adding to the former champion's wins aboard Hot King Prawn and Raging Storm. #HKracing pic.twitter.com/7LIQfTqeVl

— HKJC Racing (@HKJC_Racing) November 18, 2018
"It's such a pleasure to be riding this horse and I'm looking forward to what is next. If you ask me if I have faith in him in regards to winning the international in December, I would say yes. I am extremely confident he's capable. I have no doubt he is a top-class horse."
Joao Moreira takes ride on boom sprinter Hot King Prawn
Moreira won the final three races on the card, following up his Group success with victory in the Class Two BOCHK Asset Management Handicap (1,200m) on Size's Raging Storm before taking the Class Three BOC Credit Card Handicap (1,400m) aboard the Francis Lui Kin-wai-trained Noble Steed.
"It's fantastic to be back, it couldn't have been any better – riding a few winners and getting on some nice horses," he concluded.