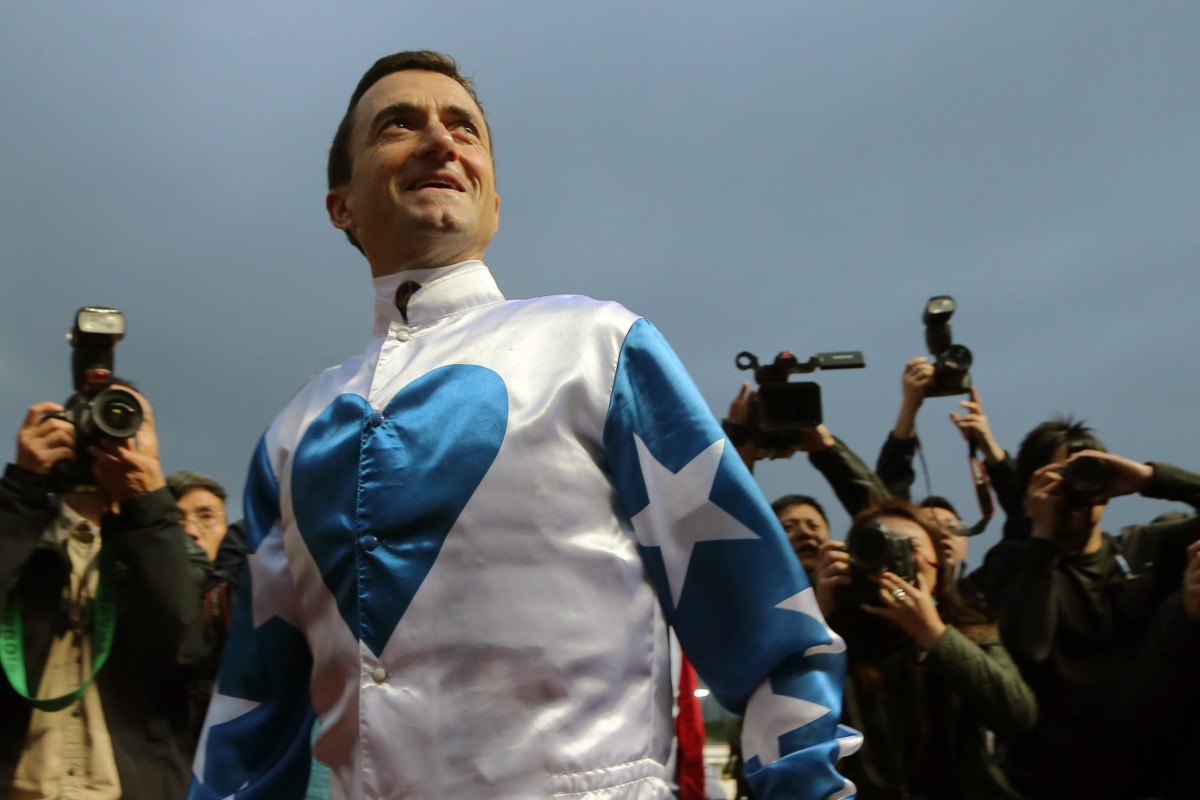 On a day dedicated to acknowledging everything the greatest jockey in the history of Hong Kong racing has achieved, the now retired Douglas Whyte admits there were only two moments when his emotions got the better of him.
In the weeks since it was announced the Durban Demon was hanging up his riding boots to join the training ranks, the normally steely South African had navigated all the interviews, photo requests and well-wishers with his usual class, but his final meeting at Sha Tin on Sunday was different.
Whyte knew what he was getting into – his children flew into Hong Kong to be there for the occasion, the Jockey Club had planned a presentation after the fourth race and he had organised a heap of gear (goggles, T-shirts and jackets) that he could throw to his adoring fans.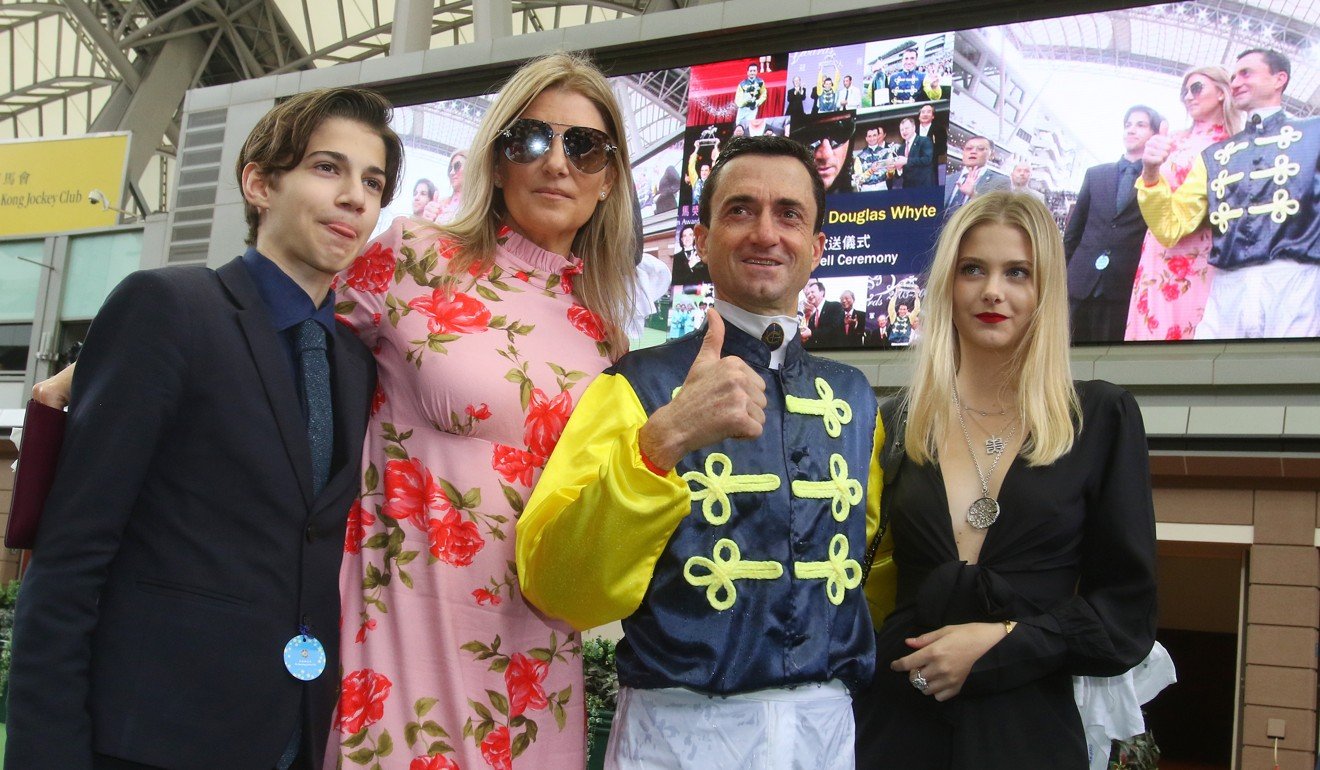 The 47-year-old was determined to treat it like any other meeting – "business as usual" – but of course it wasn't.
Douglas Whyte adamant he should have bowed out with a win
The man who rode 1,813 winners across 23 seasons and collected an astonishing 13 straight championships was in the saddle for the final time and everyone wanted to recognise him.
So when the Jockey Club played a tribute piece after the fourth race with all his highlights – feature wins, titles with some of the sport's biggest names paying homage – Whyte got a little misty-eyed.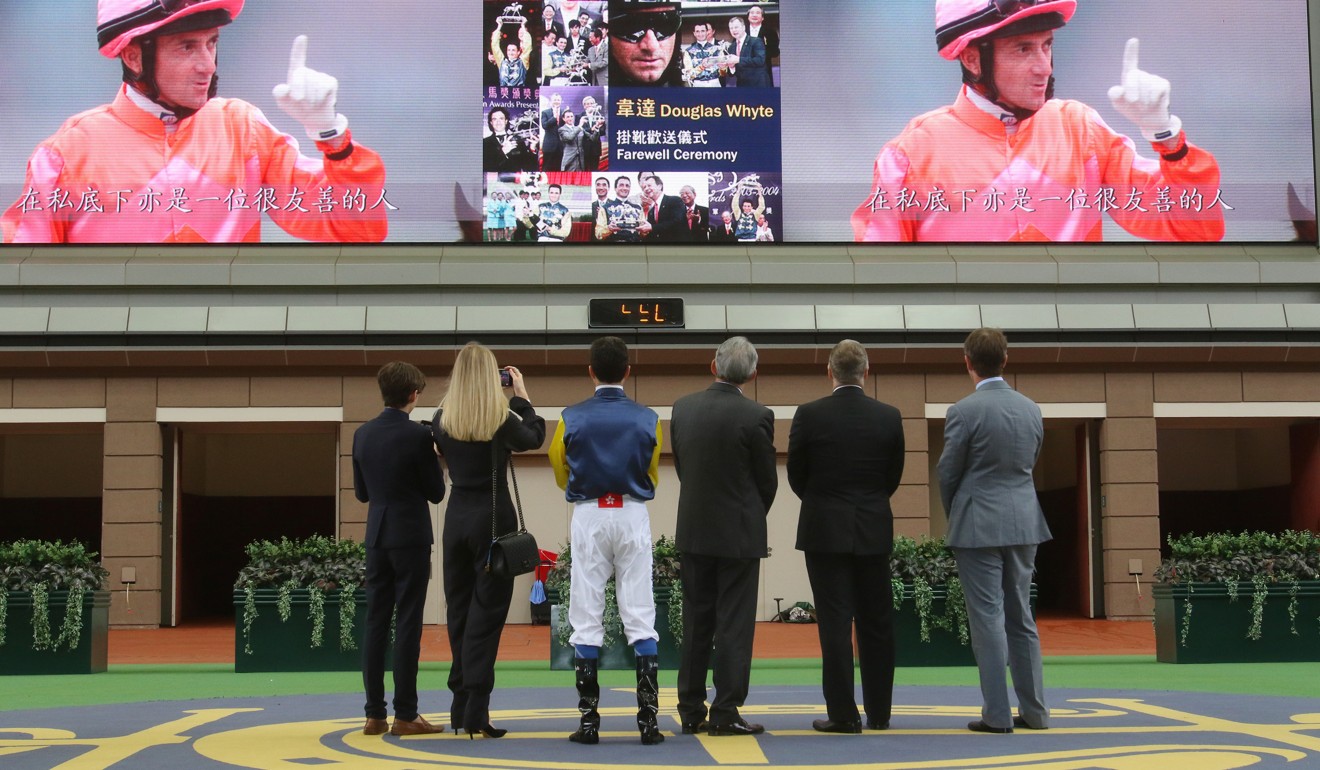 "That was emotional. Thank goodness they didn't give me a microphone straight away or I wouldn't have been able to speak. I don't often cry [but there might have been a tear there]," he said.
Douglas Whyte's glorious ride to become the greatest jockey in Hong Kong racing history
The second occasion came behind the barrier just moments before his final race when those he has battled with for years paid their respects.
"The starter Tony [Speechley] said a few words and all the jockeys gave me a 'hip-hip hooray' so it was a really nice send-off," Whyte said. "You get a bit of a lump in your throat.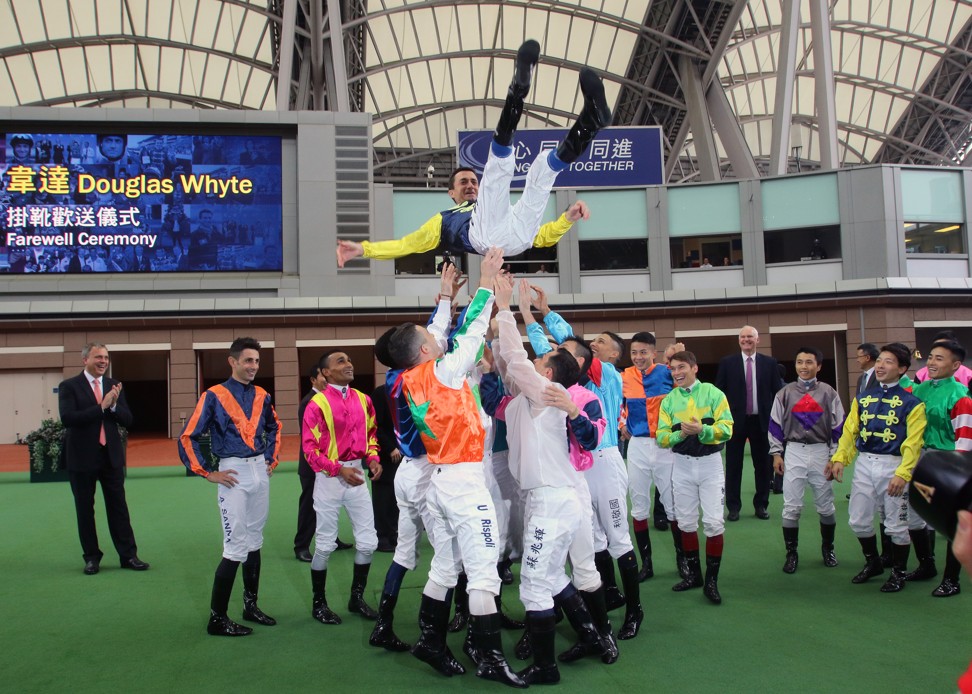 "It shows a lot of respect. Despite the years of rivalry, there's a good side to everybody. We're competitors but it's nice to see that side of them."
John Size weighs up Classic Cup tilt with victorious Enrichment – 'I don't like to make decisions on the racetrack'
Even with all the goodwill the occasion called for, Whyte was a little concerned when the jockeys, after the presentation, grabbed him and threw him in the air, before a couple of cheeky ones sprayed him with champagne.
"I will say the first time they threw me up into the air I went to put my hands down because I was expecting them all to walk away," he joked. "But they lifted me and the second time I got a bit of guts and I held my hands out. That was great. It's nice, it's overwhelming."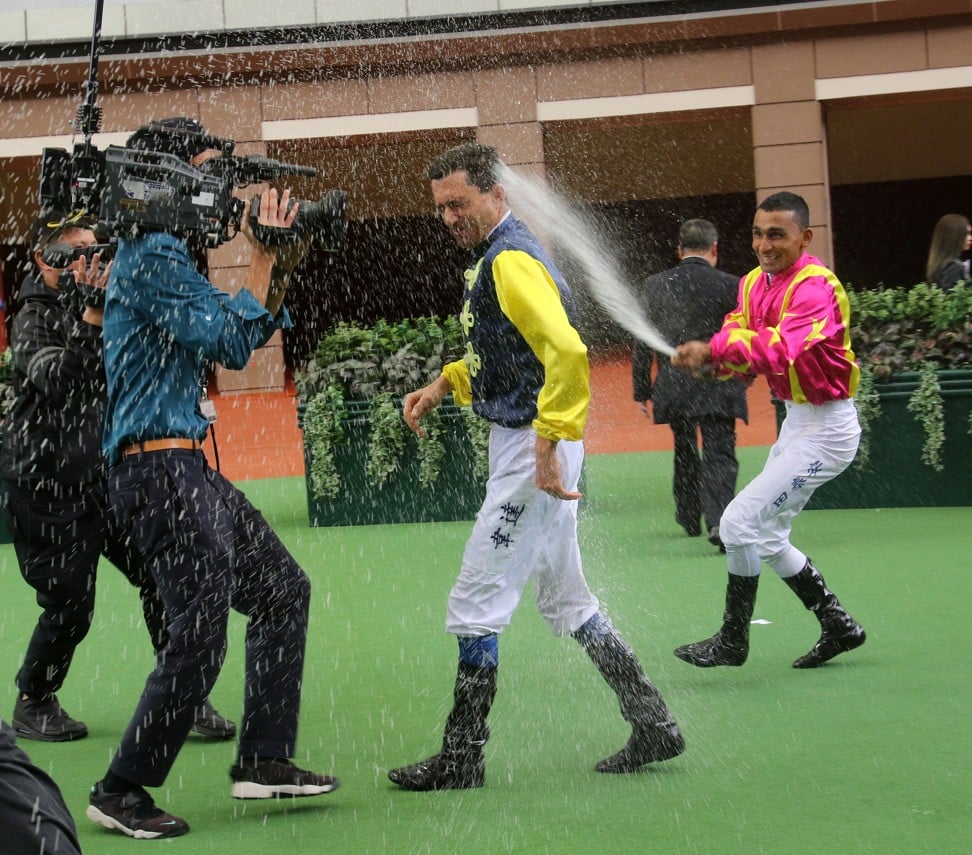 From a competitive standpoint, it wasn't the fairy-tale farewell Whyte had dreamed of with two seconds, a third and two fourths from his seven rides, but he finishes content.
Ryan Moore bound for Hong Kong to take on Zac Purton and Beauty Generation
"You'd love to ride a winner on your last day but the main thing is I've had a fantastic ending, a good reception from the crowd, every horse ran well and I had my family and friends here," he said.
"I feel complete. There's not one thing I can look back at and say should've, would've, could've – I've competed and done pretty much everything I set out to do and more. I'm happy and I'm looking forward to the next chapter."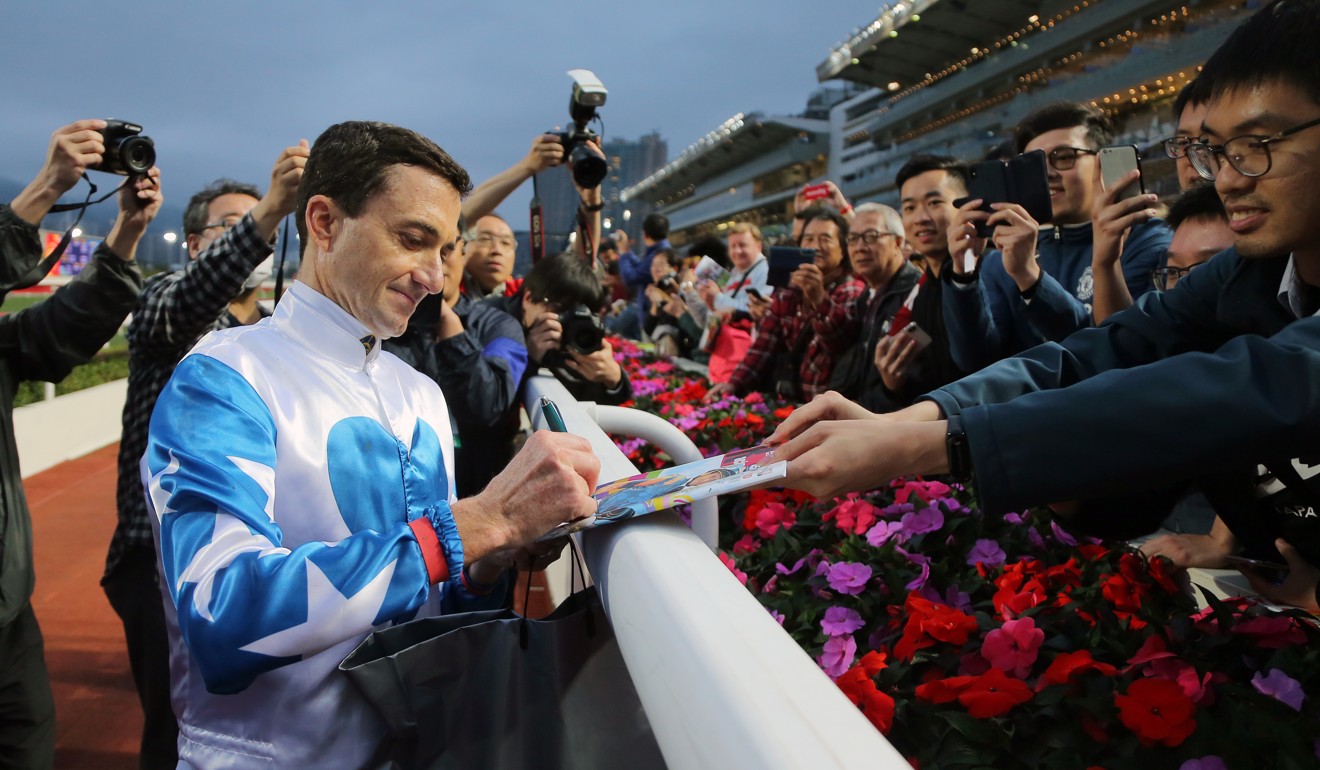 That next chapter starts on Monday morning – hopefully with a sleep-in and breakfast – and it is important to remember that while Whyte won't ride competitively again, he is not going anywhere.
He will be back at the races next week before an international tour to prepare himself for life in the trainers' tower that begins at the start of next season.
Why giving Douglas Whyte a training licence now is the perfect move
But try telling that to the thousands of people who turned up to the track to relive some past glories and watch him for one last time or the hundreds who waited well after the last to say thanks, snag a memento, snare a photo or get a signature.
It just shows what Whyte means to Hong Kong racing.