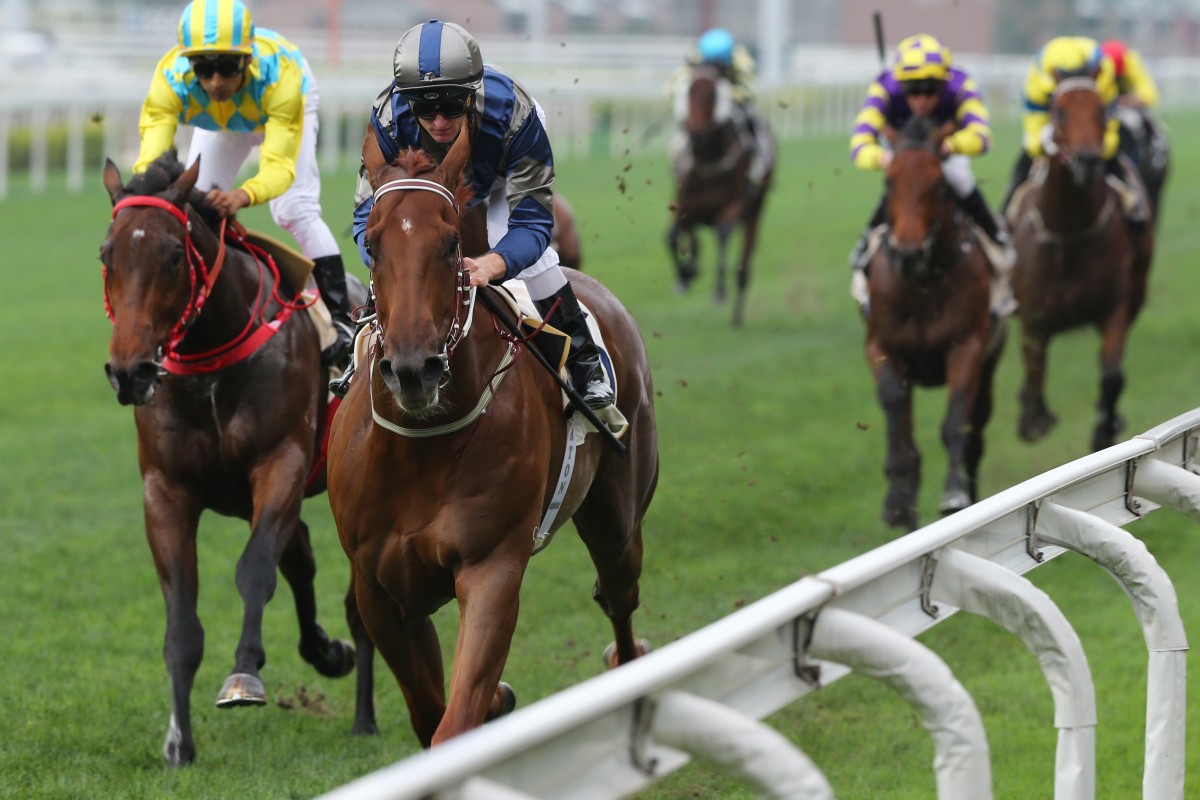 Zac Purton notched his quickest-ever century at Sha Tin on Sunday and looks to have found yet another superstar partner in crime as his stronghold on Hong Kong racing shows no signs of relenting.
The Australian's eye-catching win on impressive two-year-old Aethero was his 100th for the term and he added to that by booting home Flying Victory later in the afternoon, meaning he has 21 more winners than he has ever had at this stage of a season.
It is the fourth occasion the two-time champion has cracked the century and comes only weeks after he surpassed Tony Cruz to become the second-most prolific jockey in Hong Kong history.
"It was just a matter of formality really and not something I was focused on, but it's a nice mark to get and there's still a few meetings to go in the season," said Purton, who is 35 wins clear of nearest rival Karis Teetan.
"The premiership is over, it's nice to put that to bed even though we've still got a long way to go. It's been a good season and hopefully I can finish it off well."
There is 25 meetings to go, meaning the personal best of 136 Purton reached last season is well within reach, while he is only 44 winners away from 1,000 in his Hong Kong career.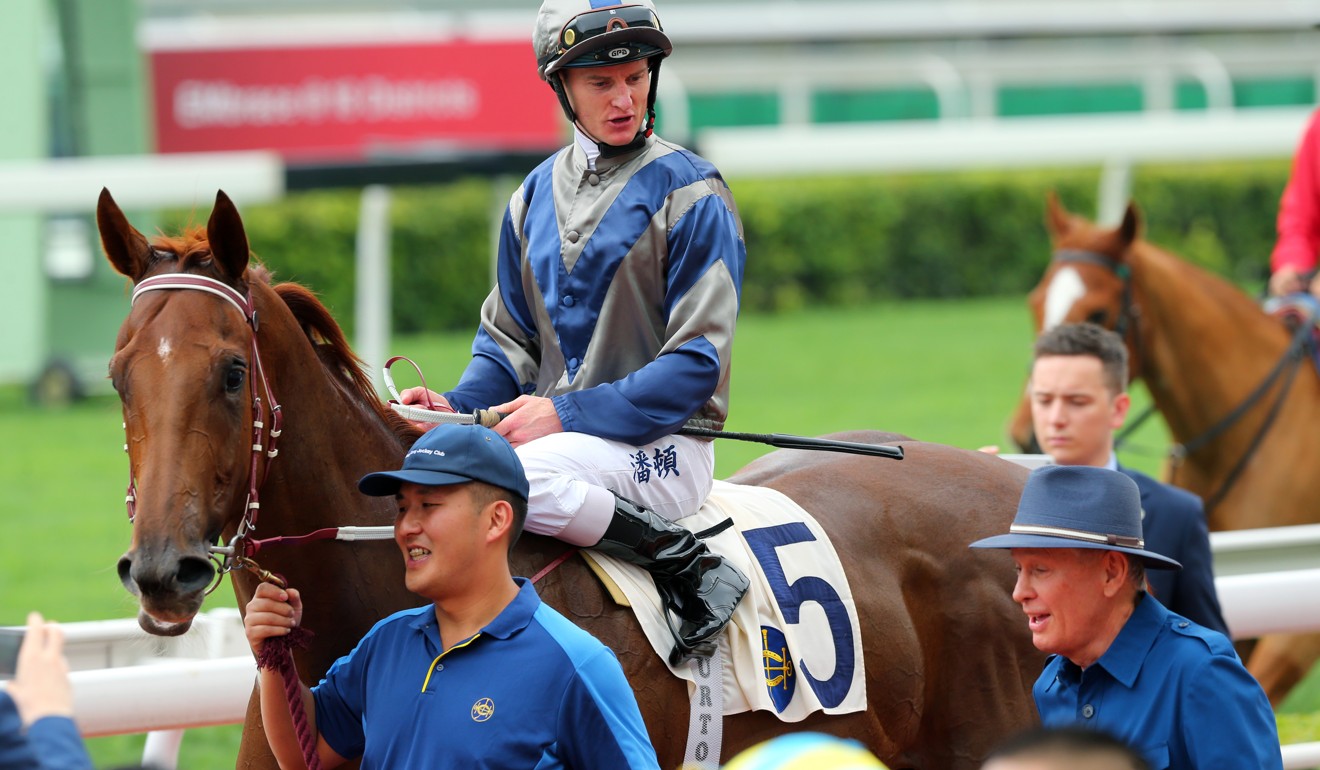 While last year Purton had the motivation of his enthralling battle with Joao Moreira – his victory in the jockeys' premiership wasn't secured until the fourth-last race of the season – he is not worried about finding the drive within to keep on winning.
"My job is to ride as many winners as I can and I come to the races focused for every meeting and every ride. I have a job to do and I want to go out and do that," said Purton, who begins each season with 100 as his target.
"I finished last season off very strongly, banging in four- and five-timers, and they add up quite quickly. I'm going to need to do that again to get to that mark [of 136].
"I'll just keep chipping away and keep doing what I'm doing. It would be nice to get past the mark I set last season, but whether it's achievable, let's see."
John Moore made his opinion of Aethero clear before the Amber Plate (1,000m) for griffins and he was even more effusive after the son of Sebring won by two lengths eased down.
"He's the perfect two-year-old that anybody could wish for – he never went shinny, has done everything right on the track and eats up when he goes home," Moore said.
"I was at the Easter sales and he came out of the box and I had a look and just said without even vetting him, the pedigree I knew, so I just said 'buy him'.
"I said to [son] George 'this is what Able Friend looked like'. Able Friend was a little bit bigger but this fellow had all the resemblance of Able Friend and wow, he just might be another one."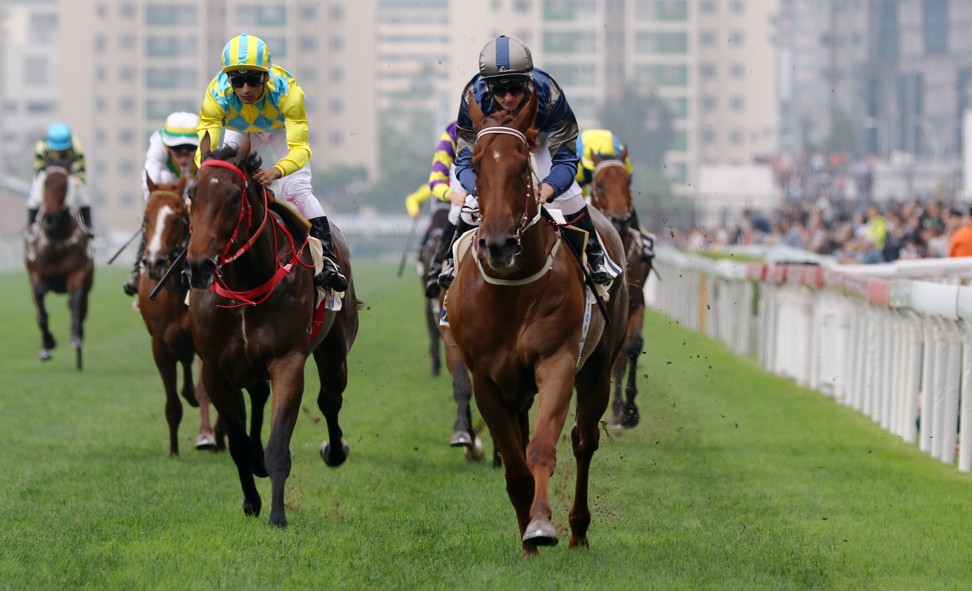 Aethero, a brute of a youngster already weighing 1,240 pounds, went within 0.27 of a second of the griffin track record despite not even the slightest urging from Purton and the jockey might soon have another top-liner in his arsenal.
"When they come out and do what he did, you obviously expect quite nice things from them and I think at the moment he has got a lot of raw natural ability," Purton said.
John Moore still gets a thrill out of blooding youngsters despite impending retirement
"Being able to handle pressure is another thing, so he is going to have to learn to handle that as time goes on but he has definitely got the natural ability to go somewhere.
"He was not the best in the gate, he is going to have to sort his manners out there, but he did begin well enough. He took a couple of awkward steps when he first came out but picked himself up, travelled strong, got into his rhythm and ended up doing a good job."