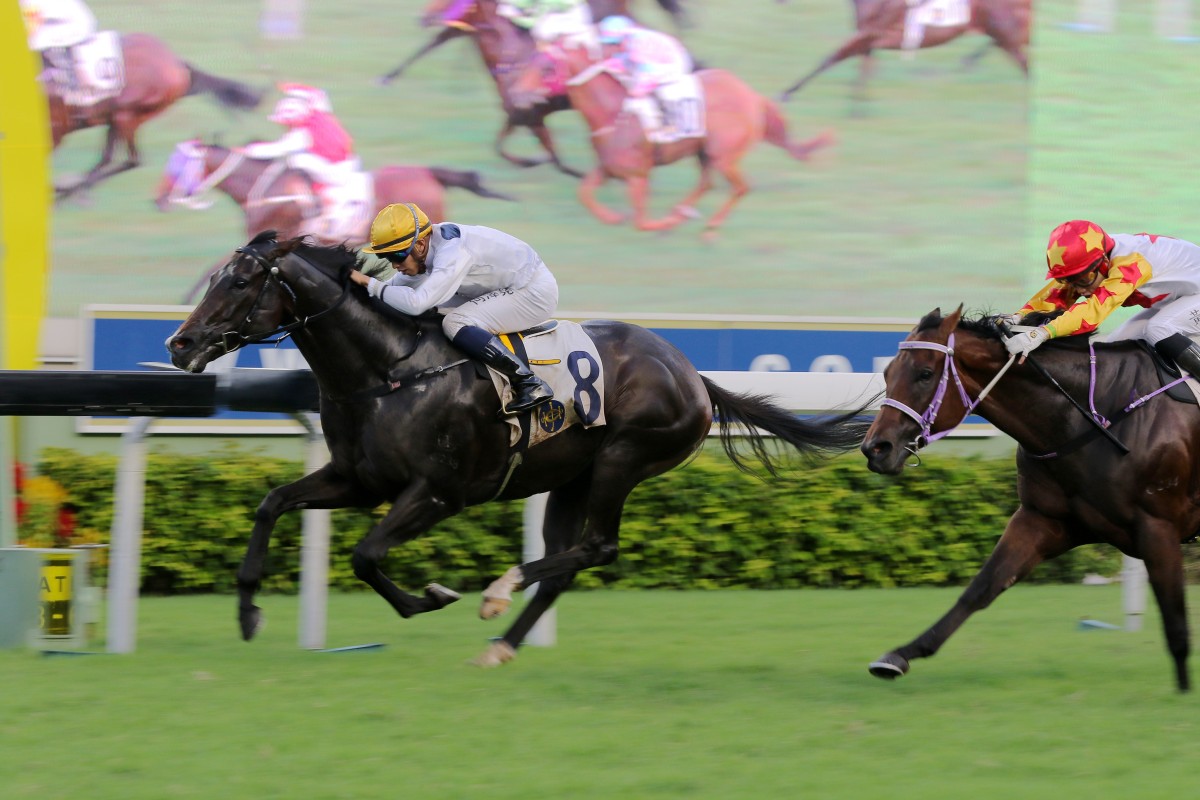 He said in the build-up that Golden Sixty wasn't quite himself but Francis Lui Kin-wai was left admiring the three-year-old's fighting qualities after he maintained his perfect record at Sha Tin on Saturday.
While Lui admitted Golden Sixty's appetite wasn't where he wanted it and the horse had lost weight, the gelding was still able to ring up his third-straight victory in the Class Three Pok Fu Lam Country Park Handicap (1,200m), despite dripping with sweat as he left the mounting yard.
"He's a tough horse, you can see he was bumped by the other horses – he's just three years old and some young horses are scared – but he keeps fighting," Lui said, adding that he's not sure yet if we'll see Golden Sixty again this season.
"Hard to say, it all depends on how he recovers. Every race he has lost weight."
John Moore throws down the gauntlet to John Size with four-timer: 'I've got the ammunition'
Vincent Ho Chak-yiu needed to extract every last ounce of effort out of Golden Sixty to get him over the line ahead of the Chris So Wai-yin-trained Mr Croissant.
The win capped a double for Lui after his earlier win with Victoriam and was a fitting end to the day for Ho, who earlier reached 50 winners in a season for the first time when he saluted on John Moore's Private Rocket.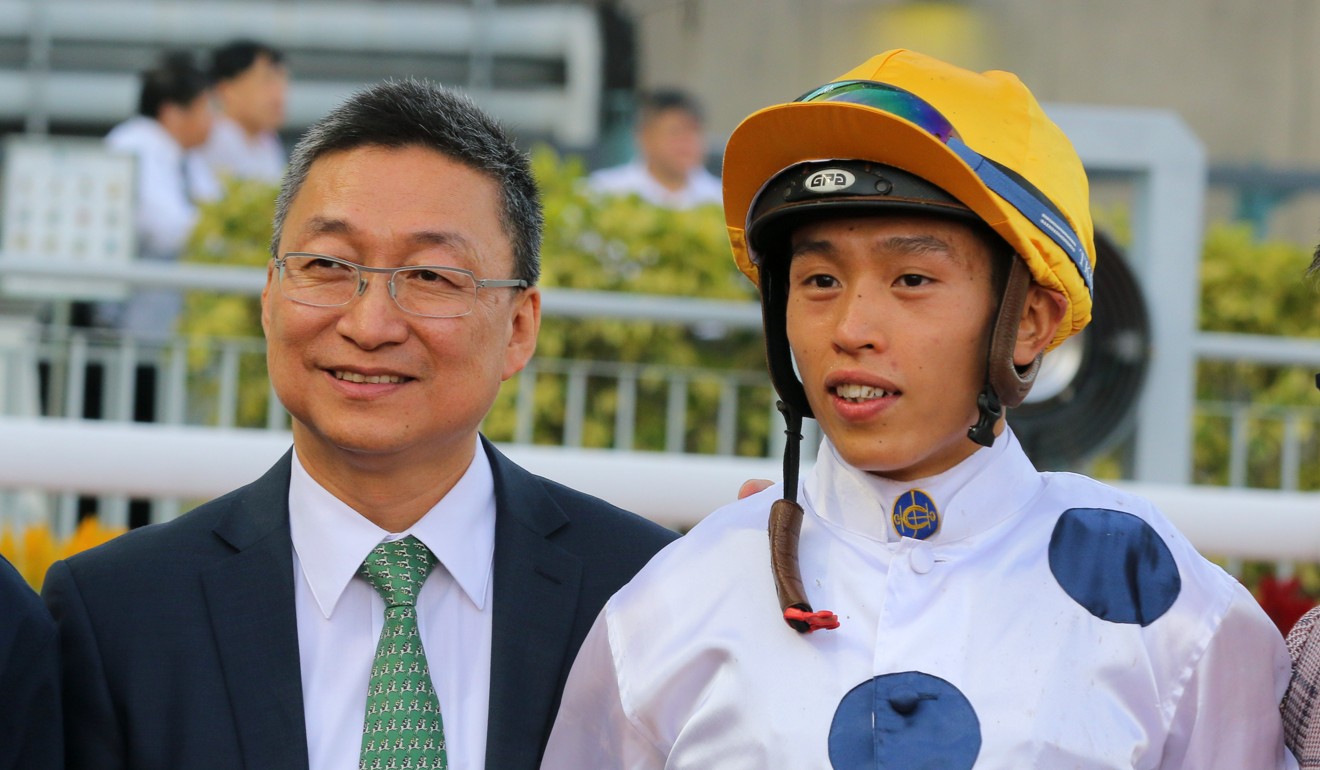 Ho has now ridden 19 of Lui's 27 winners this term and the trainer praised the leading local jockey.
"He's improving and even in this race [on Golden Sixty], he didn't try to whip him or go crazy, he just let him be and gave him another chance to go," Lui said.
Ho, whose previous personal best in a season was 39 winners, was pleased with his effort but reacted with the measure of a man who is far from content with what he has achieved.
"I'm very happy but it could have been even better, some other rides I probably could have won on as well," Ho said. "Of course I will try to keep pushing and maybe I can make it to 60.
"Hopefully next season will be better because I will keep improving. This summer I will go to England to ride and learn as much as I can."
Rispoli misses meeting through injury
Umberto Rispoli was a late withdrawal from Saturday's Sha Tin meeting after not coming up after hurting his lower back at Happy Valley on Wednesday night.
It ends a remarkable streak – the Italian hadn't missed a card this season – competing at all 79 meetings to this point (including the Conghua exhibition day).
Zac Purton's season of milestones continues as he notches 1,000th winner
Rispoli suffered the injury when Happy Dragon buried under the gates before the last race and underwent multiple physiotherapy sessions to try and take his place but ultimately had to be a late scratching.
"I tried] hard to be back today, but my back is still sore and I'm not 100 [per cent] fit," Rispoli said. "It's the first meeting of the season [that] I'm not riding and this [upsets] me. I will be back on Wednesday as strong as I can."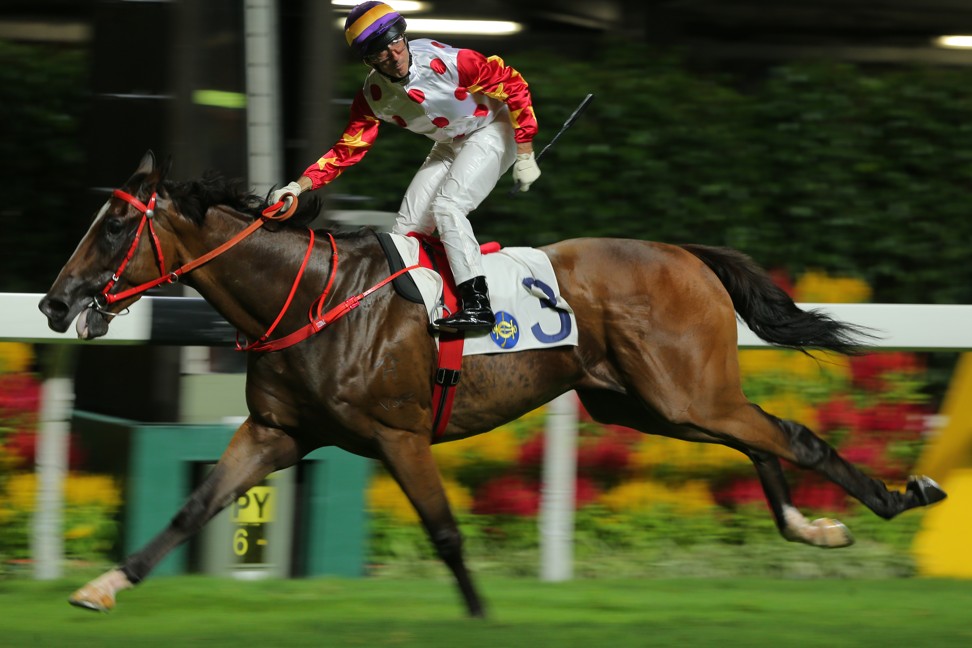 Doleuze hangs up his boots
Long-time Hong Kong-based jockey Olivier Doleuze announced his retirement during the week.
"I have decided to [retire] from racing. I want to thank all the people who has been involved in this amazing journey," the Frenchman tweeted on Tuesday.
"And I wish good luck to all my colleagues, [especially] the ones who never have the chance to have their name on the front page but still risk their life every day. I will miss you."
After riding across 17 seasons and collecting 571 winners in Hong Kong, Doleuze finished his Sha Tin stint last July and had recently spent some time riding in the United Arab Emirates before deciding to pull the pin on his remarkable career.
Stokes keen to keep Mr Quickie
Phillip Stokes won't be giving up Mr Quickie without a fight after the three-year-old's win in Saturday's Queensland Derby sparked speculation about his future.
The race has proven a breeding ground for Hong Kong Derby horses, with the last three winners – Dark Dream, Ruthven and Eagle Way – continuing their careers at Sha Tin.
Werther, who won the 2016 Hong Kong Derby, also came through the race, finishing runner-up in 2015.
But while history suggests Mr Quickie will attract plenty of interest from prospective Hong Kong owners – and their offers are often simply too good to refuse – Stokes was quick to make his feelings clear.
"He is a serious horse, he'll earn more money here," the trainer said.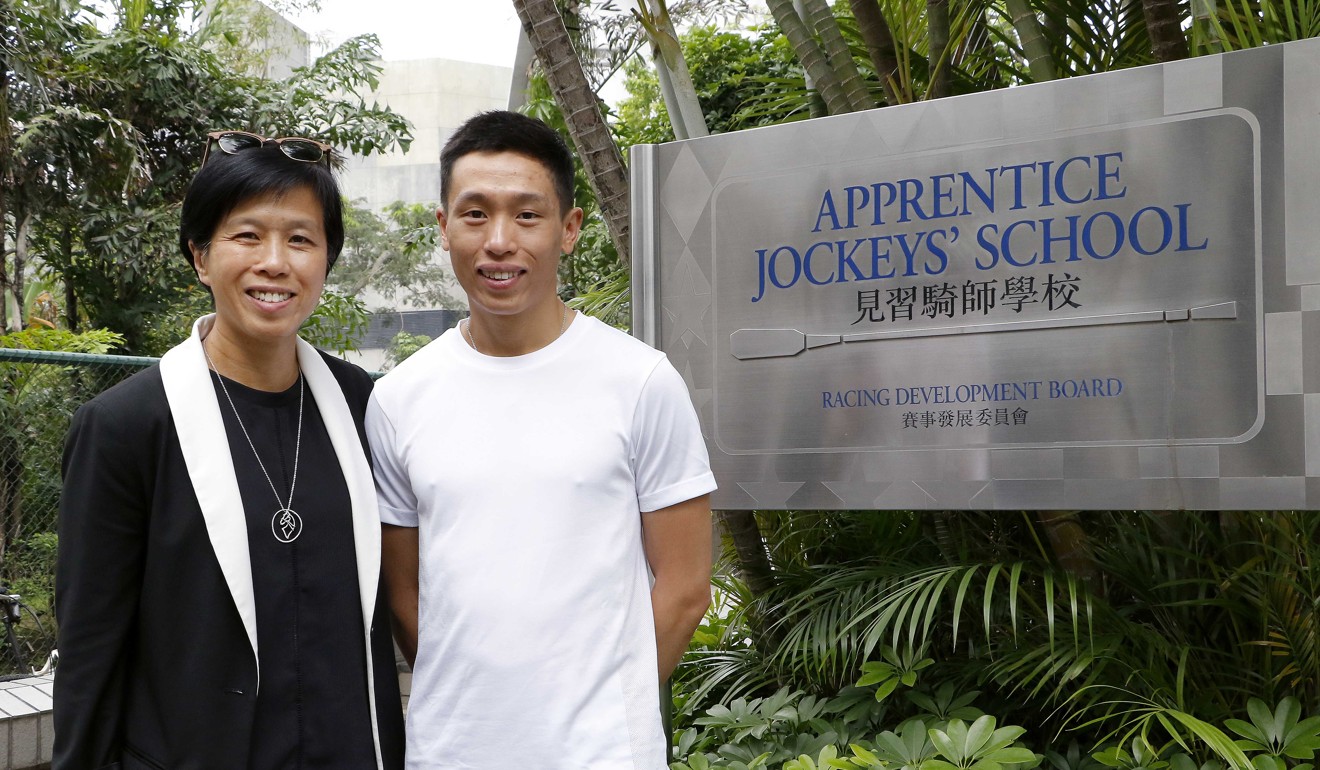 Jockey Club begins hunt for next Ho
While the in-form Ho is on fire on the track, he is also the star of the first of a three-part video series as the Jockey Club begins its latest recruitment drive for racing trainees.
Ho talks about joining the racing trainee programme as a 16-year-old and the skills he acquired that have helped him thrive at the top level.
The recruitment period runs from the start of June until July 12 and around 25 youngsters will be accepted into the Apprentice Jockeys' School.
Those aged 15 or above who have completed form three education and are diligent, positive and passionate about sport can apply, with no previous horse riding experience necessary.
Successful applicants will receive an all-round education and while some will go on to become the stars of Hong Kong racing, the training also equips students with the skills required to become anything from work riders and veterinary clinical technicians to equestrian assistants, farriers or racing management trainees.
To apply, head to www.hkjc.com/rdb.