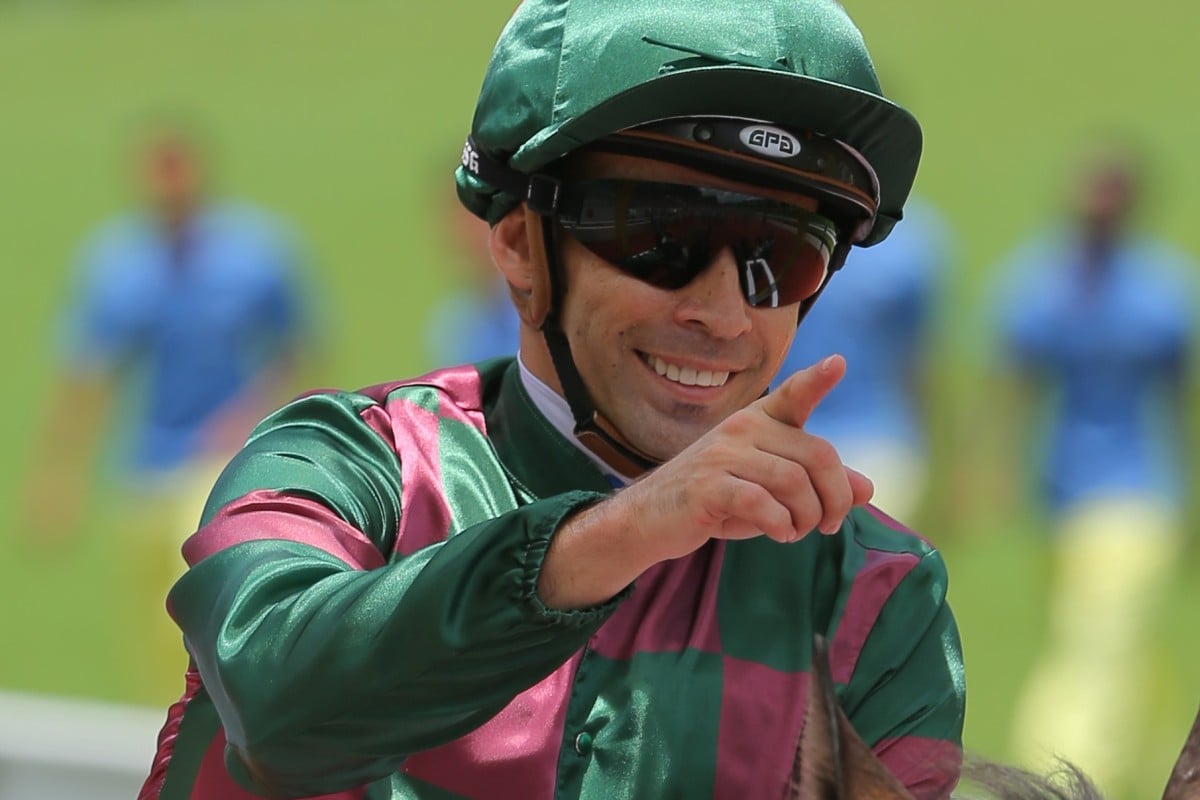 Addressing your thoughts, questions and statements about Hong Kong racing. Have something to say? Send a tweet to @SCMPRacingPost.
Good Days as Aldo Domeyer gets his second Sha Tin winner - @ATBHorseRacing
It has been a whirlwind six weeks for the South African, who is making the most of his opportunities after getting the late call-up to ride for the last two-and-a-half months of the Hong Kong season.
Domeyer hit the ground running with a double from three rides at his first meeting on May 1 and he looks set for a fruitful career at Sha Tin after securing a six-month licence for next season.
It goes to show what can be achieved when you take a chance and things fall your way.
"It's a tricky time to come. A lot of people said I shouldn't accept it because of the time of the season that it is. There are a lot of people associated with certain horses and certain yards," Domeyer said.
"I've just been grateful for the opportunities and the support I've been getting. It puts me in a very comfortable position, but at the same time I need to keep proving myself.
"I didn't know if I was going to get extended or not, so I was just open-minded to the situation. I just wanted to make the most of the time I had here and not think too much about that.
Aldo Domeyer's Hong Kong stint off to a flying start with Happy Valley double
"I think there was a probably a meeting or two where I was pressing too hard and putting the cart ahead of the horse because of the time frame, but I just had to let that go.
"It was good news obviously. It was a bit overwhelming because I wasn't expecting it, to be honest. I didn't know to expect. You just need to trust why you ended up here in the first place."
The 32-year-old had already proven he could handle the tricky Happy Valley circuit, collecting four winners at the city track (from just four meetings), but he was yet to taste success at Sha Tin.
Given the majority of racing is held there, that was starting to become a problem – if owners don't think you can win at a certain venue, they will pigeonhole you – so the pressure was starting to build.
That's why Saturday's double with Victoriam and Good Days came at the perfect time.
"It was on my mind – I knew I had to break the duck," Domeyer said. "I didn't want to put too much pressure on myself but I didn't want the stigma of just being a Happy Valley jockey. You want to be versatile on both. You want to ride both tracks equally well.
Tony Millard throws his support behind new Hong Kong jockey Aldo Domeyer after South African success
"I needed [the double] to convince myself as much as everyone else that needed to see me ride a winner here.
"Obviously I put a lot of time and effort into studying Happy Valley because of its nature and its history. I just needed to slow things down and it made the job a lot easier.
"I was on the right horses but I gave them the right opportunity to run those races and there were good results."
This provides a terrific platform for Domeyer to build relationships over the last five weeks of the season so he can continue to make his presence felt when the action resumes in September.
Every jockey that gets invited to Hong Kong has ability – but they all need a bit of luck to help get them rolling and create some momentum.