John Size does not believe he is over the line in his quest for an 11th trainers' championship, but he could make it very hard for his main rival with a strong showing at Wednesday's Happy Valley meeting.
The Australian is five wins clear with six meetings remaining but is under siege from John Moore, who is looking to go out with a bang before his compulsory retirement next season.
Winning 10 of the last 17 training titles, Size has been a regular atop the table but is not ready to declare the 2018-19 season over just yet.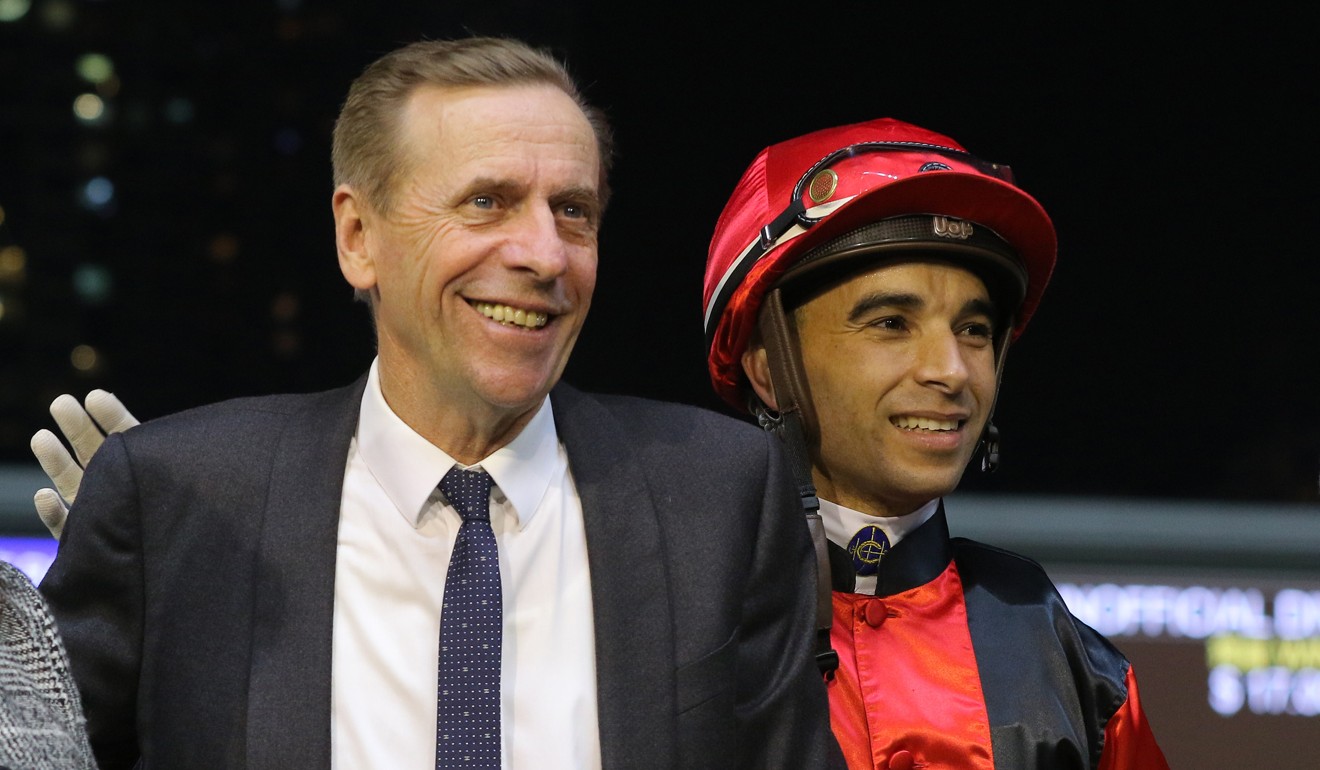 "I certainly don't feel like a winner at this point," he said. "John [Moore] has a lot of horses running well and he has some pretty classy gallopers so there will be a bit of luck involved in the next six meetings, whoever has the luck will win the championship."
While Size is not ready to call it just yet, a strong showing on Wednesday night could almost land the knockout blow.
Zac Purton concedes reaching mark for most wins in a term will be 'difficult'
Size will saddle up the in-form True Grit, who is gunning for four-straight victories, in the Class Three Cheung Chau Handicap (1,650m) against the likes of Cordyceps, Magnificent, Harmony Hero and Last Kingdom.
"Whoever wins the race is going to win again," Size said. "It is a pretty competitive race with some nice horses in it and there seems to be quite strong speed in it so it'll be a good test."
While True Grit has jumped 21 rating points in the space of three starts, the master trainer said there is more in the tank if he is able to carry the increased burden of 125 pounds.
"Only because he is rising up in class all the time, that would be the only reason [that he could not win]," he said. "He has done everything right, he has been good and has shown some potential.
"He won his last start by a length and a half, a pretty solid win, and he is probably entitled to run well again."
Size also brings his three-year-old Country Star back to the races for the first time after a three-month break.
The five-time winner this season will join an exclusive club on Wednesday night if he is to win the Class Two Grass Island Handicap (1,000m).
Ricky Yiu attempts to solve King's Trooper riddle with trip back to Happy Valley
Just superstar Beauty Generation and Size's Group Three winner Champion's Way have managed to win six times this season – a feat rarely achieved in Hong Kong with no horse doing it in the previous three seasons.
"Last time he had a bit of a blood [issue] but he had a fair bit of racing before that so he was due for a break," Size said of Country Star's disappointing nine-length beating in March.
"He has had some time off and he looks in good shape. [He has had] a couple of trials so he is healthy and well and ready to go to the races and see if he can keep up with these 1,000m horses, who will be pretty fast for him but if he gets a nice trail, he might run on."
Size said it was likely to be his last start this season, with the gelding soon to run out of races due to the lack of top-end scheduling.
"He is on [a rating of] 100 now so he won't be able to do a Class Two if he runs well but he might be able to get away with a race like this before the end of the season, it would be a good ending for him," he said.
"He has done a lot of work this season. He has done an excellent job, but he's had time to have a break and have another run so he may as well have it."