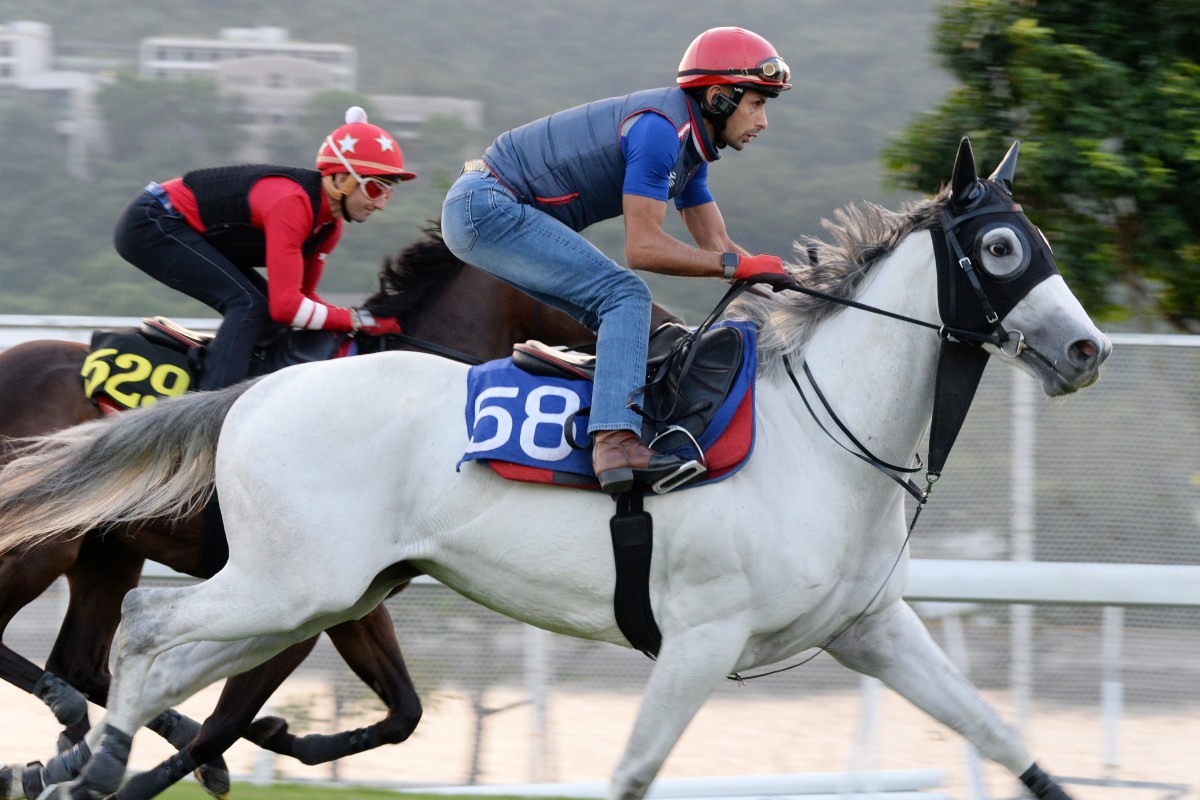 Douglas Whyte's import The Weatherman is an eye-catcher and he hasn't even stepped foot on a Hong Kong racetrack yet.
The European import will debut for the champion jockey-turned-trainer on Saturday in the Class Three Panasonic Justfit Thermo Ventilator Handicap (1,000m) and will be hard to miss with his striking looks.
"He is a flashy little guy, there isn't much of him, he is small and unique," Whyte said.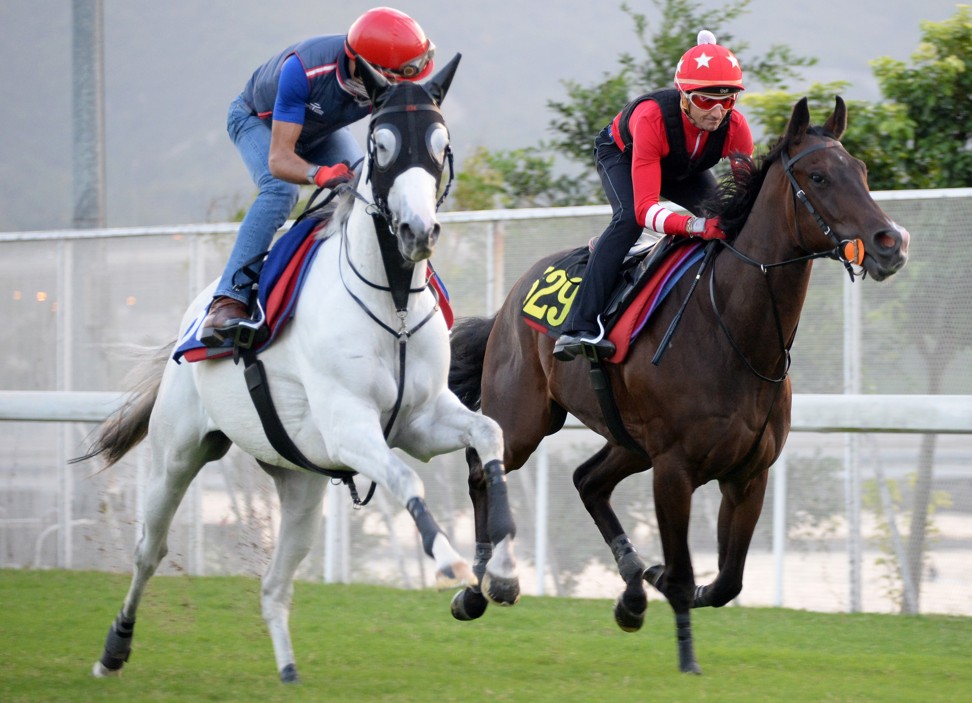 "He has done everything correctly, he is a lovely horse to work with and he has a good attitude.
"It is going to be nice for him to get out there and have an education on Hong Kong racing, he is as fit as you would want a PP [private purchase] to go to the races."
The three-year-old is a half-brother to one of the slowest horses to race in Hong Kong in Storm Kid, but The Weatherman has already shown more ability in just two barrier trials than his sluggish brother. Storm Kid was retired after 14 starts having never run a place.
The formerly (and fittingly) named Showout raced in the UK under trainer Archie Watson and went on to win three times in six starts along with strong showings in Group Two and Three company as a two-year-old.
While he is listed as "grey" in his official Jockey Club profile, The Weatherman has resembled more bright white during his trackwork appearances to date.
"He is quite striking, he has a pretty little face, quite feminine even. He has the temperament of a filly, he is very unique and quite gentle. He is not a bully by any means, he needs some TLC," Whyte said.
"[The name Showout] was very fitting, I don't know where The Weatherman came from."
With his last start at Deauville in October 2018, it has been a year between starts for The Weatherman and Whyte believes there will be some "rust" for his galloper.
"He is coming in with quite a high rating for the individual that he is but let's see what he is about," he said.
"He raced at Deauville and even raced in the UK in some nice races, I think he is going to enjoy the fast ground of Hong Kong. I don't particularly know if the 1,000m trip with the big weight is going to be his go going forward but it looked an ideal race to kick off his career.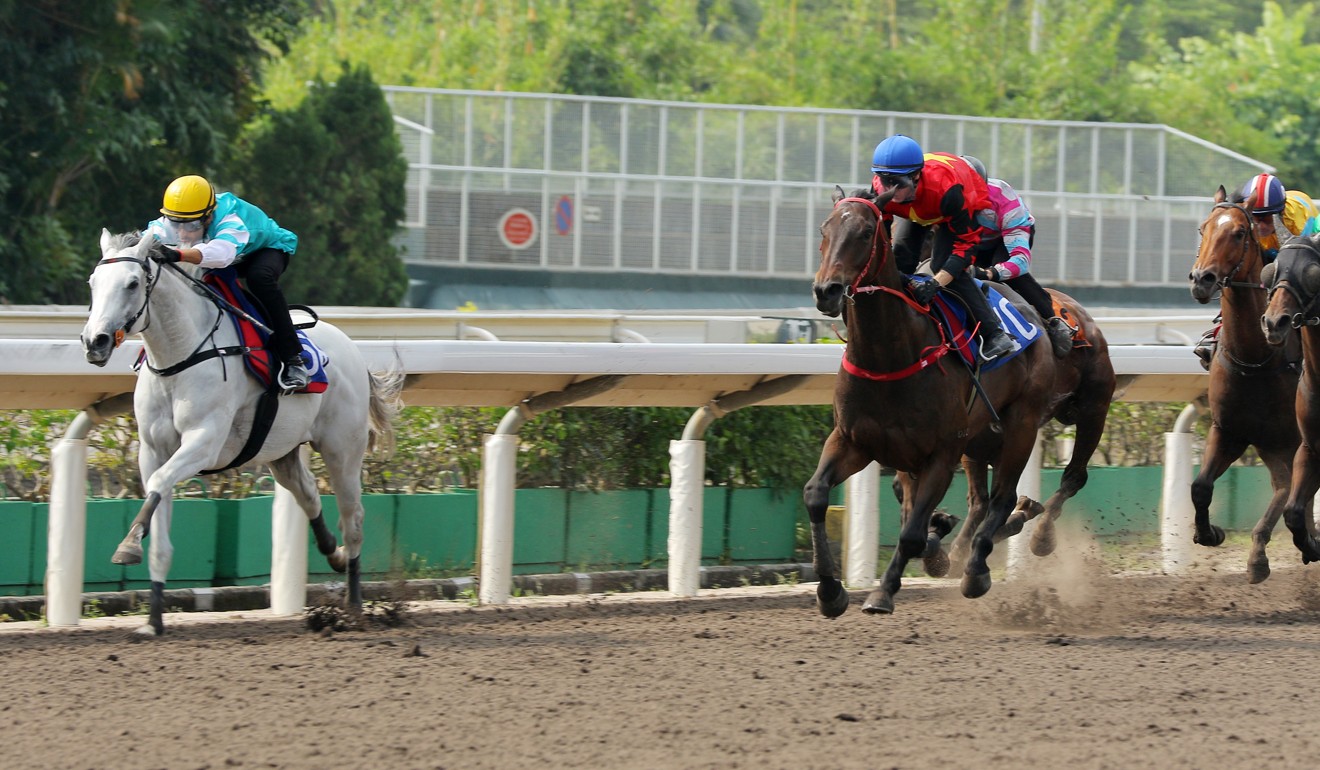 "He did have a long time off from a two-year-old, an extremely long time off actually so he is going to the races real rusty.
"It was nothing from a medical point of view, it was more so they wanted to give him time to mature and grow so he was off the track spelling.
"Any athlete that has been off the track for that amount of time, it is going to take a while to come back."
The Weatherman is one of seven runners for Whyte on the day as he looks to build on his total of eight winners for the season.