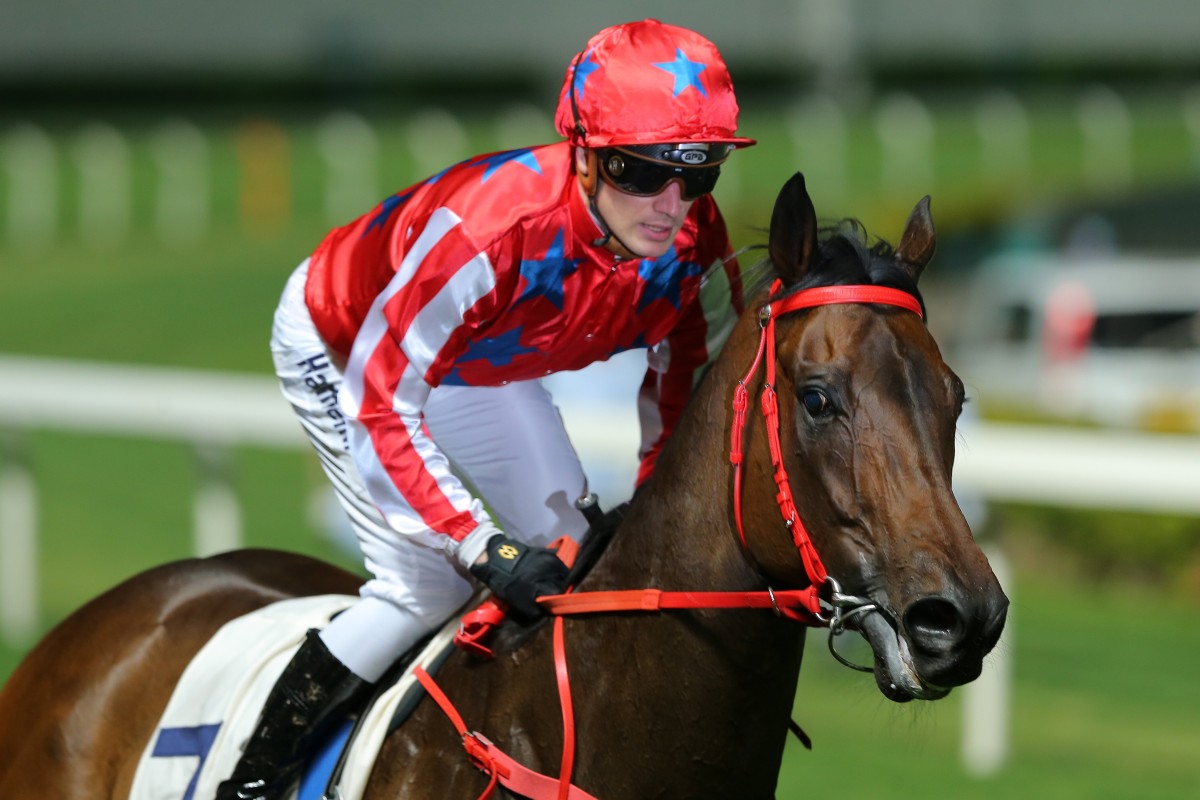 Addressing your thoughts, questions and statements about Hong Kong racing. Have something to say? Send a tweet to @SCMPRacingPost.
First winner at the Valley for Antoine Hamelin. Already three wins in two meetings – @NickyB78402337
The first two days of Hamelin's stint suggest he could be in for a long and lucrative relationship with Hong Kong racing.
The Frenchman has hit the ground running in a fashion very few do, with a double at Sha Tin on Sunday and a winner at just his third ride at Happy Valley.
It can take jockeys a long time to get used to the ebbs and flows of the tight-turning city circuit, but Hamelin's effort aboard Lasting Friendship was the epitome of a good Happy Valley ride.
He was quick out of the gates and found a position early – a feature of Hong Kong racing and something some riders can struggle with initially – settling in the box seat.
The race changed shape early down the back straight – something that often happens at Happy Valley – with Karis Teetan rolling forward on Courageous Dragon and that shuffled Lasting Friendship a pair further back than Hamelin would've wanted.
The key at that point is to not panic – and he didn't. They were racing on the "C" course, which fans horses across the track as they enter the straight, ensuring most get a chance to find clear running.
Hamelin remained patient, stuck to the inside and waited for the gap to open before going for home. It worked – Lasting Friendship got there by a neck.
His style is unique in Hong Kong, but clearly effective and punters will love the fact he takes inside gaps and urges his horses for their best when it matters.
The three wins haven't come on short-priced favourites either – Best For You was $4.3, Baltic Success was $11 and Lasting Friendship was $12.
Already, Hamelin is a man in demand – it's amazing what early success does here. He's had nine rides at each of his first two meetings and has nine rides again on Sunday.
That's just Hong Kong though – sometimes you need the bounce of the ball to go your way and when it does, you're off and running. There are plenty of examples of things not working out for very capable jockeys.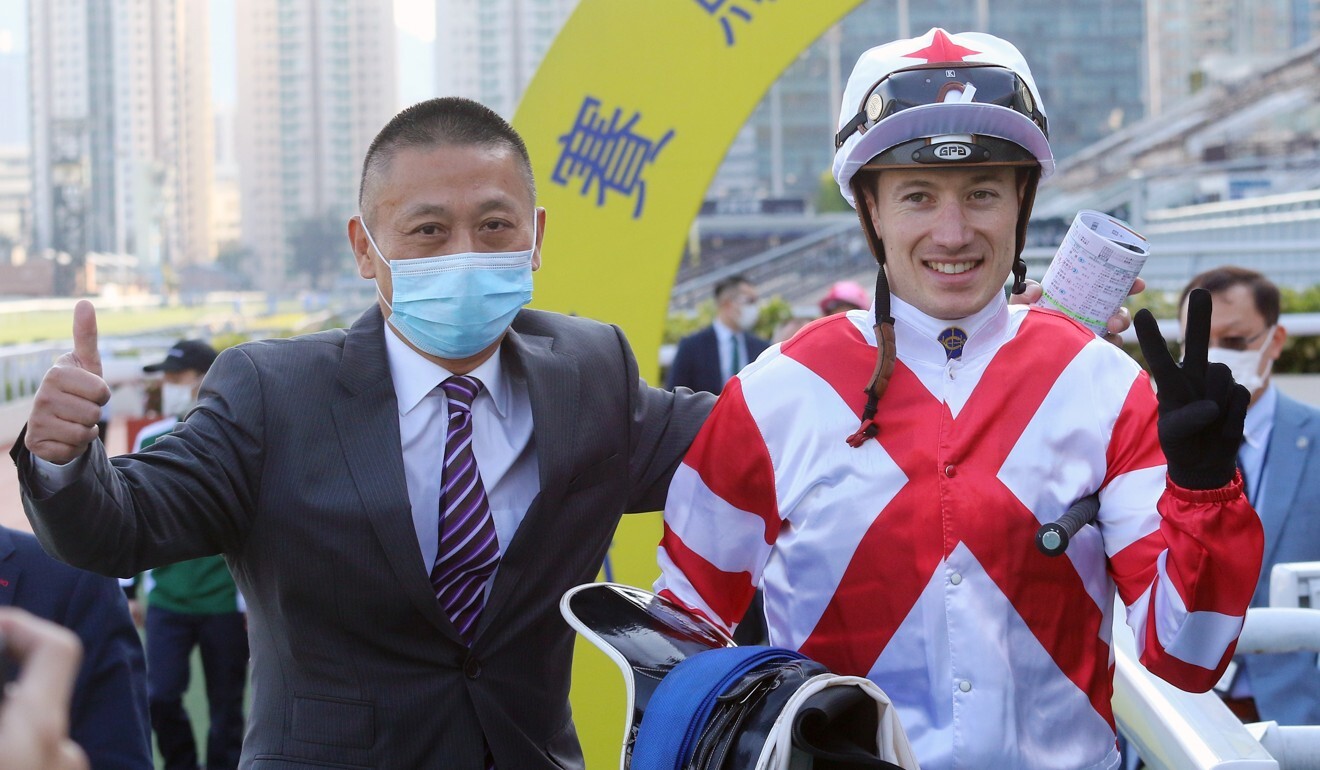 Things will settle down of course, it is unlikely he will be able to keep this run going for the long term, but it wouldn't surprise to see him become a permanent fixture on the Hong Kong scene.
Hamelin had to make a quick decision about packing his bags as borders started shutting – and now it seems a brilliant move from every perspective.
He has earned in excess of HK$220,000 (US$28,400) in just two meetings while France extends its lockdown and he might have found a new home for the medium-term in the process.
Rider suspensions slashed as Jockey Club targets hip pockets instead – @SCMPRacingPost
The new suspension policy – reducing the amount of time jockeys can serve for a careless riding charge during the coronavirus crisis and instead adding a fine – that came into effect on Sunday are already making an impact.
Championship-leader Joao Moreira was hit with a one-meeting ban and HK$60,000 fine after causing interference on Heavenly Thought on Wednesday night.
The fine created some interest because it is well short of what the Magic Man earns per meeting. As a reminder, jockeys in Hong Kong receive 10 per cent of the purse from a winning ride and 5 per cent of the prize money for second to fifth.
Chief steward Kim Kelly confirmed Moreira had a good record and all fines in that category are capped at HK$60,000. Even though it was the Brazilian's third ban for the term, he has now had 512 mounts, so on a per-ride basis he qualifies.
"With the cut and thrust of Hong Kong racing – if you can go 150 rides without getting suspended, you're doing OK," Kelly said. "It's a lot of rides in a very competitive racing environment. I'm very comfortable with that equation."
With fines capped (they are slightly higher for those without a good record) it is another big advantage for Moreira and Purton, who obviously earn far more than their counterparts given the sheer number of winners they have.
The new system means they cannot miss as many meetings and the fines, unless they become recidivists, come in much lower than their average earnings per meeting.
"It's still a significant amount of money and you have to take into account they've had to had a good day at the office to earn that," Kelly said. "The average daily benchmark is a good way to arrive at an appropriate figure while using some commonsense instead of racking up enormous fines."
Moreira will miss next Wednesday night's meeting at Happy Valley.