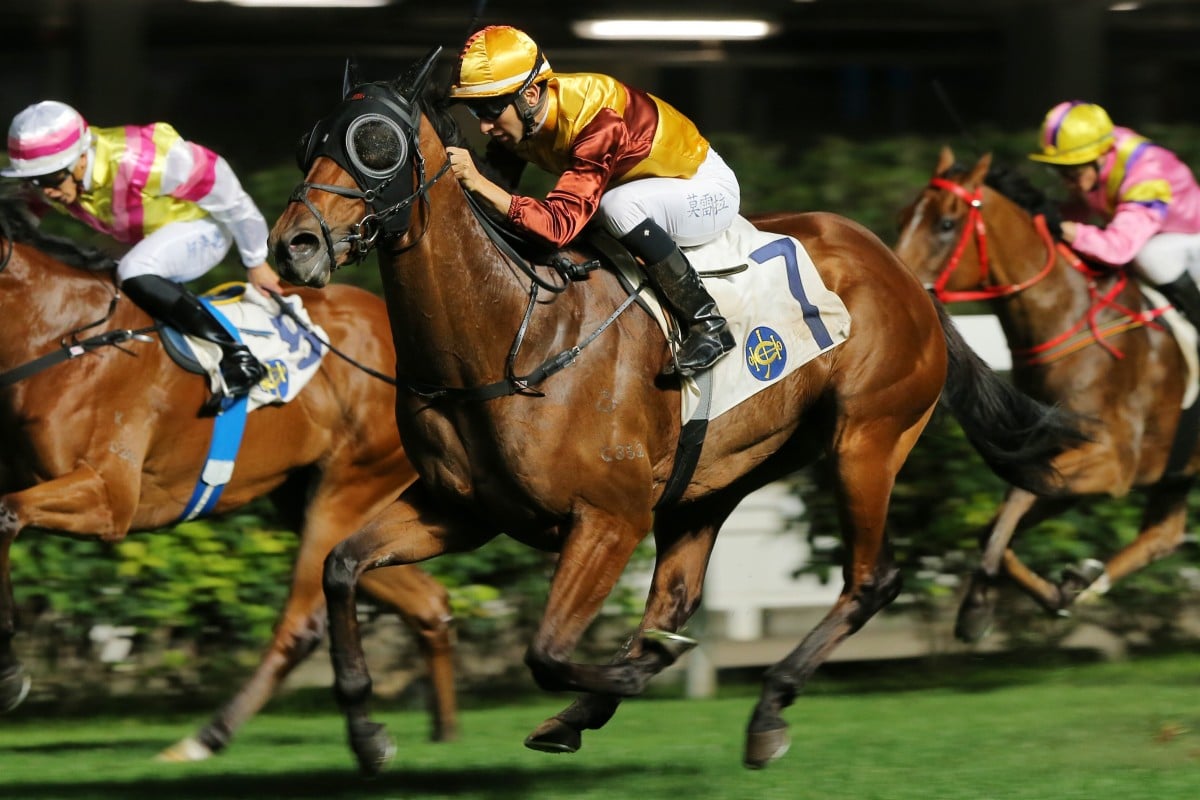 Addressing your thoughts, questions and statements about Hong Kong racing. Have something to say? Send a tweet to @SCMPRacingPost.
Simply Fluke has drawn gate 11 at Happy Valley on Wednesday night. His average gate drawn in his 10 starts this season is 11.4 – @ChareneWoo
Can someone check the machine that does the barrier draws for the Jockey Club? Simply Fluke's connections are convinced there is something wrong with it.
For an astonishing eighth race in a row, the five-year-old gelding has drawn barrier 11 or wider. It seems impossible and is pretty close to it.
He's come up with 11, 12, 11, 11, 14, 12, 12 and now 11 for the Class Four Shan Pui River Handicap (1,200m) on Wednesday night.
The (amateur) number crunchers in the Post office have it as a 0.0003 per cent chance of happening in Simply Fluke's combinations of races. That translates to roughly about one in 333,333 – not that the Jockey Club will pay out on it.
That number is even selling him short slightly because in his first two runs this term he came up with 11 and nine. It is a genuinely horrendous string of numbers.
There is a 16.67 per cent chance of drawing barrier 11 or 12 in a full race at Happy Valley – Simply Fluke has done that in five of those eight starts, while there was a 28.57 per cent hope of landing gates 11-14 in his three Sha Tin runs.
Even if you just take his past three runs at the city track (where there are only 12 runners compared to the usual 14 on the Sha Tin turf), he was a 0.4 per cent chance of coming up with one of the outside two alleys three times in a row.
The irony of all this is that Simply Fluke has won his past two starts since joining the Douglas Whyte stable and he will probably go around as favourite (or close to it) again.
Now imagine if he had a little bit of luck on his side.
Chad Schofield must have one of the worst records going on favourites – @hkseal
Speaking of statistics, it's always nice to disprove the wild theories of some punters.
While yes, Schofield was beaten on Manfred Man Ka-leung's War Of Courage down the Sha Tin straight on Sunday, it's not as if he's been making a habit of it.
This season, the 26-year-old has ridden 21 favourites and won on six of them – a percentage of 29 per cent. That is pretty close to bang on the overall percentage that favourites win races in Hong Kong – which sits at 30 per cent this term.
It is also exactly the same mark as three-time champion Joao Moreira (66 wins from 227 rides), who simply gets a lot more opportunities than Schofield.
Of the jockeys still competing in Hong Kong who have ridden five (or more) favourites, Matthew Poon Ming-fai is actually the most lethal, winning three of seven for a 43 per cent strike rate.
Vincent Ho Chak-yiu is next best with 33 per cent (17 of 51), followed by Zac Purton on 32 per cent (61 from 192). As an aside, both Victor Wong Chun and Alex Lai Hoi-wing are a perfect 100 per cent with one win each – well done lads.
At the other end of the scale, apprentice Alfred Chan Ka-hei has the lowest percentage of those riders who qualify, with one win from his seven rides (14 per cent).
In summary, Schofield's record on favourites this season is pretty much in line with the overall average and there was nothing wrong with his ride on War Of Courage – he finished a narrow second and was simply edged out by a better horse on the day in Good View Clarico.
Help us understand what you are interested in so that we can improve SCMP and provide a better experience for you. We would like to invite you to take this five-minute survey on how you engage with SCMP and the news.