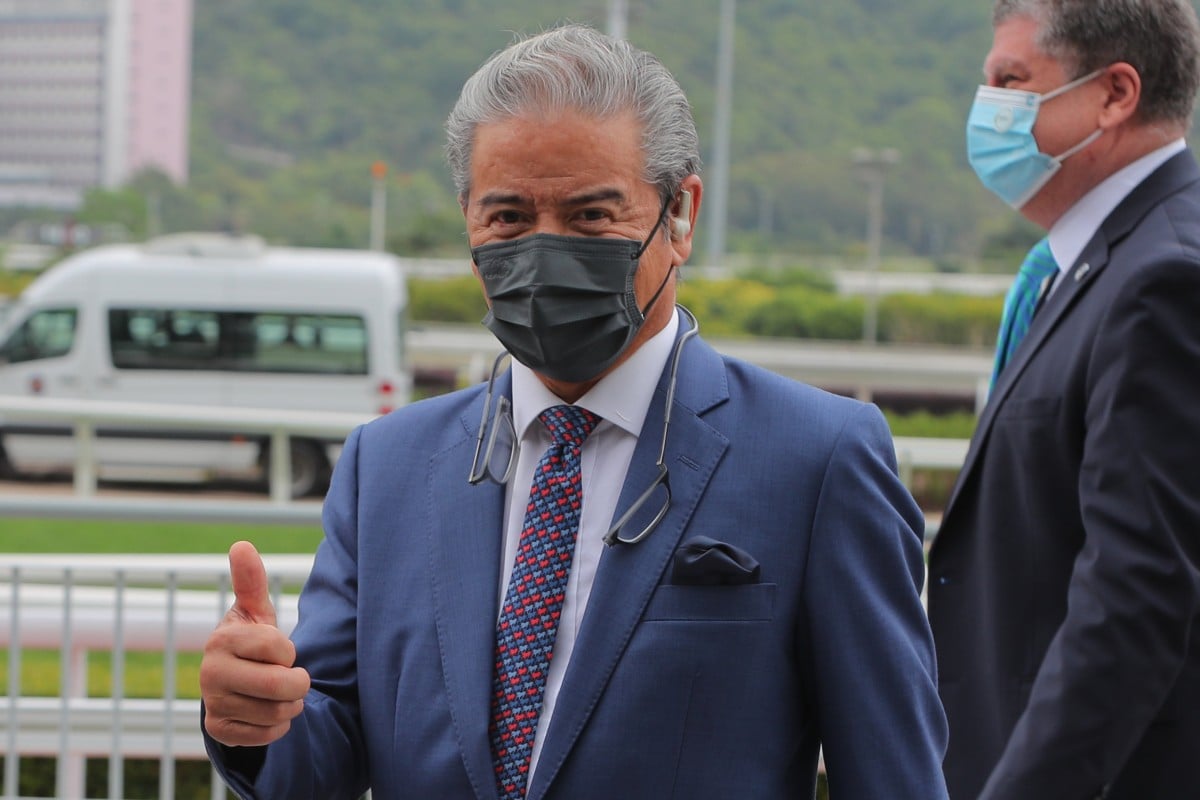 Tony Cruz said he wants to "make some history" after ringing up his 1,400th winner as a trainer at Sha Tin on Sunday and it poses the question – does Cruz, or fellow legend John Size, have enough time left to mow down John Moore's record?
Cruz joined Size (1,404 winners) and Moore (1,735) as the only trainers to salute 1,400 times in Hong Kong and, with five seasons remaining after this one before he is forced into retirement at age 70, it is not beyond the realms of possibility that by the time all is said and done, he is the city's most successful trainer.
As it stands, 65 is actually the Jockey Club's compulsory retirement age and trainers are only permitted to train beyond 65 if they "continue to meet the benchmarks set down by the club", with Cruz already receiving permission to continue beyond this season.
But while the 67-year-old Size only has three more seasons after this one before he must retire and he won't reach Moore's tally, Cruz has five and a bit seasons to land the 335 winners required to snare the record.
That's a smidgen over 60 winners a season, something that – while difficult, no doubt – is not impossible for someone who has 56 winners through 73 meetings so far this season.
Cruz, who also celebrated 946 victories as a jockey, has had 50 or more winners in each of the past six completed seasons and this term he is on track for his best return in the past decade, suggesting he's far from slowing down as he enters the twilight of his career.
It would require a remarkable level of consistent brilliance for Cruz to put himself within striking distance of Moore's total heading into his final season, however the man himself is determined to create history and he's proved time and time again that when he puts his mind to something, it quite often happens.
Whyte's breakout season
While a couple of the best trainers Hong Kong has ever seen are in the latter stages of their careers, another has shown this season that he's going to be a force to be reckoned with for years to come.
After winning 13 titles as a jockey, Douglas Whyte has landed more Group One victories this season than any other trainer in just his third campaign as a handler.
Russian Emperor's victory in Sunday's Champions & Chater Cup was Whyte's third of the term to go with the Gold Cup win of Russian Emperor and Stronger's success in the Centenary Sprint Cup.
With 38 victories through 73 meetings, Whyte is also on track for his highest win tally in a season.
Poor runs raise questions
There were more than a few people left wondering if hot favourite Super Sunny Sing and even second elect Noble One should have been permitted to start at Sha Tin on Sunday and the stewards' report certainly makes for interesting reading.
Super Sunny Sing was sent off at $2.30 on debut and finished 11th in the Class Four Precision Handicap (1,000m), six-and-three-quarter lengths behind winner Super Axiom, while Noble One finished a long last as a $6.40 chance after both horses became fractious in the barriers.
Super Sunny Sing "reared abruptly and struck its head on the overhead bar [and] then continued to be very fractious and momentarily got down behind, resulting in its rider, Joao Moreira, being dislodged".
While Super Sunny Sing was being examined by the vet, Noble One "also became fractious and sat down, resulting in its rider, Zac Purton, being dislodged".