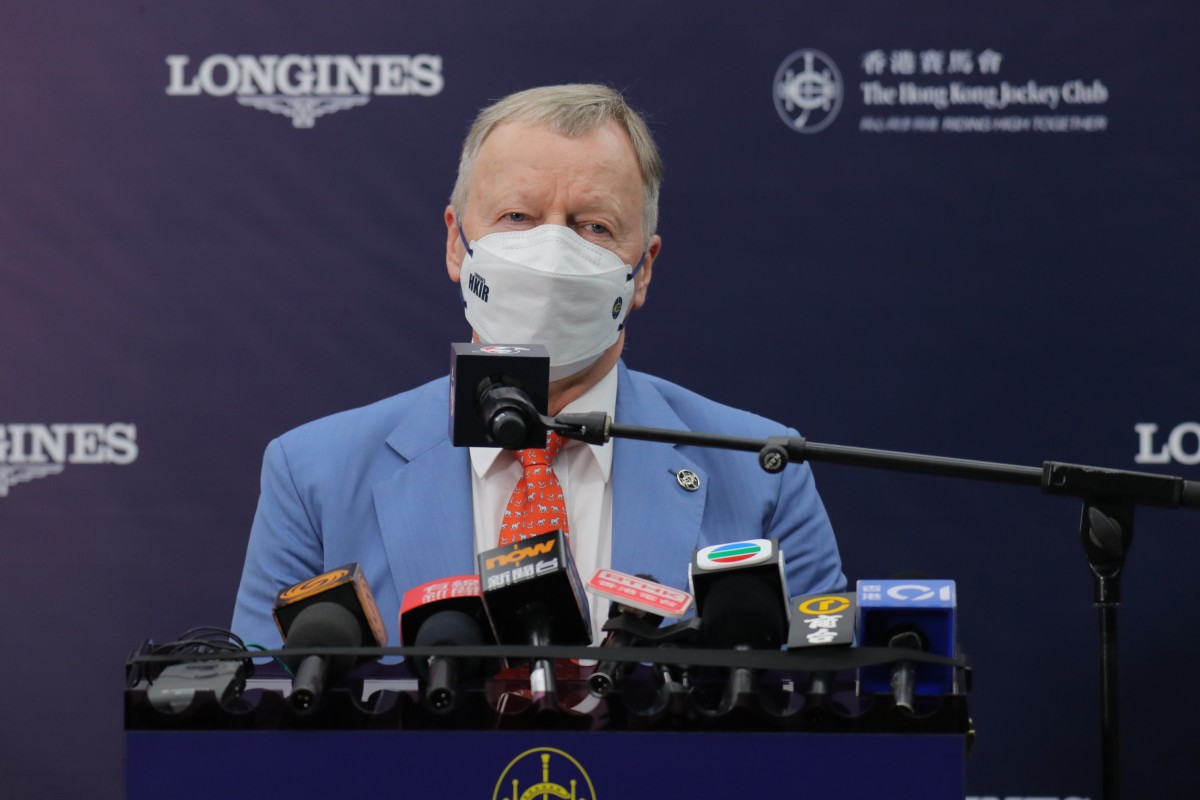 The Jockey Club's qualification process for previously raced horses is in need of a "systematic review" after the "risk-averse" decision to say no to subsequent The Everest winner Giga Kick, chief executive Winfried Engelbrecht-Bresges believes.
Trainer David Hayes was left furious after watching Giga Kick win the world's richest turf race on Saturday, confirming he was told by the Jockey Club the galloper's four-length debut win at Sale in Victoria was not enough to qualify him for Hong Kong.
Giga Kick is now undefeated from five starts and boasts more than A$7 million (HKD$34 million) in prize money.
"I see it as a systematic issue, and it'll be high on [newly appointed head of racing product Greg Carpenter's] agenda," Engelbrecht-Bresges said.
"The team will obviously have a review, and I think there's definitely a strategic discussion [to be had] about how we look at races, especially in Australia and at smaller tracks, and how we have to improve.
"Sometimes it's not easy to make judgments, but you have to really understand it in detail, and sometimes you have to make a judgment that's maybe not risk averse.
"You can do everything by the book, but you have to go into each individual [horse] if you have certain circumstances, and that's something the team has to review. There's no doubt about it.
"It's not something that's about ticking a box and saying no. Everything they do is to improve the ability to source good private purchases [PPs], and that needs a systematic review."
The Jockey Club's import criteria for previously raced gallopers states "horses must have a confirmed Hong Kong rating of 63 or higher at the time of import" and "Hong Kong ratings are provided by the handicapping, race planning and international racing department upon request by permit holders and/or trainers. Ratings supplied and/or published by foreign racing jurisdictions do not determine qualification for import".
Engelbrecht-Bresges also referenced Hayes-trained Class Two winner Master Montaro – who was forced to race again in Australia to qualify for Hong Kong despite his dominant debut victory – among the "examples that show we have to improve".
Front Page, who won the A$2 million The Koscuiszko on the same card as Giga Kick's The Everest win, is another example of a galloper who did not fit the Hong Kong bill early in his career.
"You now have two examples that definitely people all know – they're Master Montaro and [Giga Kick]," Engelbrecht-Bresges said.
"With so many tracks and races in Australia, it's not an easy task. But sometimes you have certain people who have significant experience, and if they're of the view this is a horse we should consider, we probably have to think twice because this is their profession."
The Jockey Club has made a big push in recent times to drive up the quality of its horse population, announcing a raft of prize money increases in April designed to encourage owners to splash out on top-line gallopers, as well as reducing the minimum ratings given to PPs last year to "improve the value proposition" for owners by ensuring imports are competitive as soon as possible.