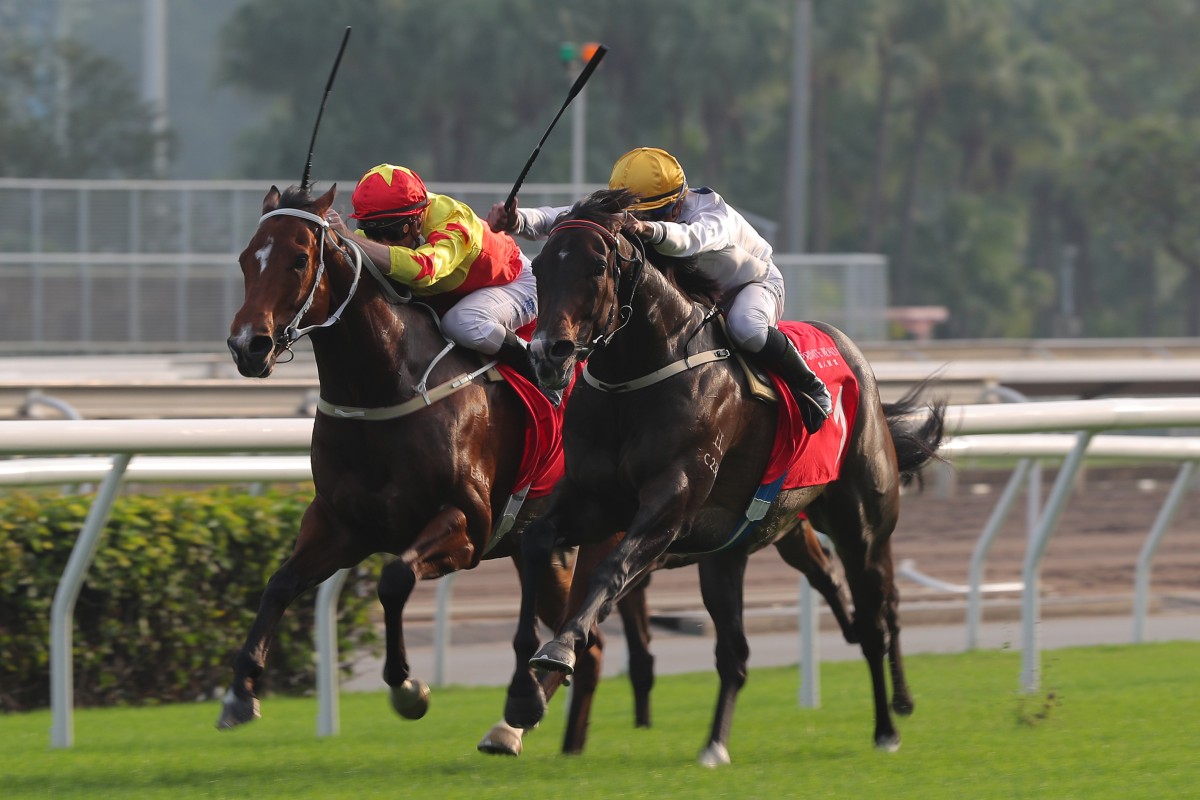 It is the Group One clash to which every racing fan in Hong Kong – and millions more around the world – is counting down the days, but who will start the Stewards' Cup favourite if Golden Sixty, California Spangle and Romantic Warrior line up against each other over the Sha Tin mile on January 29?
It is unlikely to be Golden Sixty, according to Jaike Altieri, a form analyst for Australia's Racing and Sports, who spends much of his life forecasting what may happen – and assessing what does happen – at Happy Valley and Sha Tin.
Altieri, who is still buzzing after attending the Hong Kong International Races in his professional capacity as an employee of the organisation which is associated with the Timeform brand in Australia, said the recency bias he views as prevalent in Hong Kong markets and the potential for both California Spangle and Romantic Warrior to improve on their Racing and Sports ratings were two of the reasons behind his Stewards' Cup betting prediction.
"I'd have California Spangle as the favourite. I'd say California Spangle would be about $2.80, Romantic Warrior $3 and Golden Sixty the outsider of the three, but not that far behind," Altieri said.
"You've got to keep them tight enough because there's not much between them, but you've got to have them in a certain order, and I think at this stage the vibe is – the feeling is – Golden Sixty is almost done, and they're getting away from him now.
"I won't confidently say it, but I'm 80 to 90 per cent sure Golden Sixty will be outside California Spangle and Romantic Warrior when markets open or even come jump time in the Stewards' Cup.
"From what I've seen, especially with the Hong Kong market, on races like this the punters lean towards the last-start winner or winners. We've seen that occur throughout this season's sprint series.
"On our ratings scale, we've got California Spangle 125 after the Hong Kong Mile and Romantic Warrior on the same after the Hong Kong Cup. That leaves Golden Sixty at 124, but he's always been around that mark.
"With California Spangle and Romantic Warrior, they appear to still be on the rise. It doesn't seem like the end of them. I'd hate to have seen, if the tempo was quicker in the Hong Kong Cup, what Romantic Warrior could have done to them because I think he's the sort of horse – he can win off a slow speed, and he can win off a hot speed – where it's almost like, the faster they go, the more dangerous he is.
"What's most intriguing about the Stewards' Cup is Romantic Warrior going back to a mile. His only run over a mile was solid, but he's gone to another level since he's been to 2,000m, and if that's his trip, he might find them a bit sharp over 1,600m.
"Everyone knows California Spangle is going to lead. Everyone knows he's going to roll to the front. I assume he'll roll along at a moderate-to-slow tempo, quicken it up from the 600m or 500m, and try to get them all off the bit and chasing around the turn.
"It'll be interesting if Vincent Ho on Golden Sixty tries to be more proactive and tries to get on his bike a little bit earlier this time, but I don't think he'll be that far off the speed – probably about a length and a half or two – and maybe he'll try to anticipate when the pace will go on so he doesn't get left flat-footed again.
"I'm assuming Karis Teetan on Romantic Warrior will track Golden Sixty wherever he goes and hope he's got a sharp enough turn of foot to run over the top of both of his major rivals in the straight.
"I tried to find an excuse for Golden Sixty after the Hong Kong Mile, and I couldn't really find one. I think he got beat by a better horse on the day. They probably sprinted a little quick for him.
"I'm not one for like, he's seven now, he's getting old, blah, blah, blah. I don't really believe in that, but maybe he's just come to the end of his tether, and there are better horses than him. I guess that's what the Stewards' Cup will prove."
If Golden Sixty, California Spangle and Romantic Warrior go head to head to head next month, punters around the world will put their money where their mouths are.