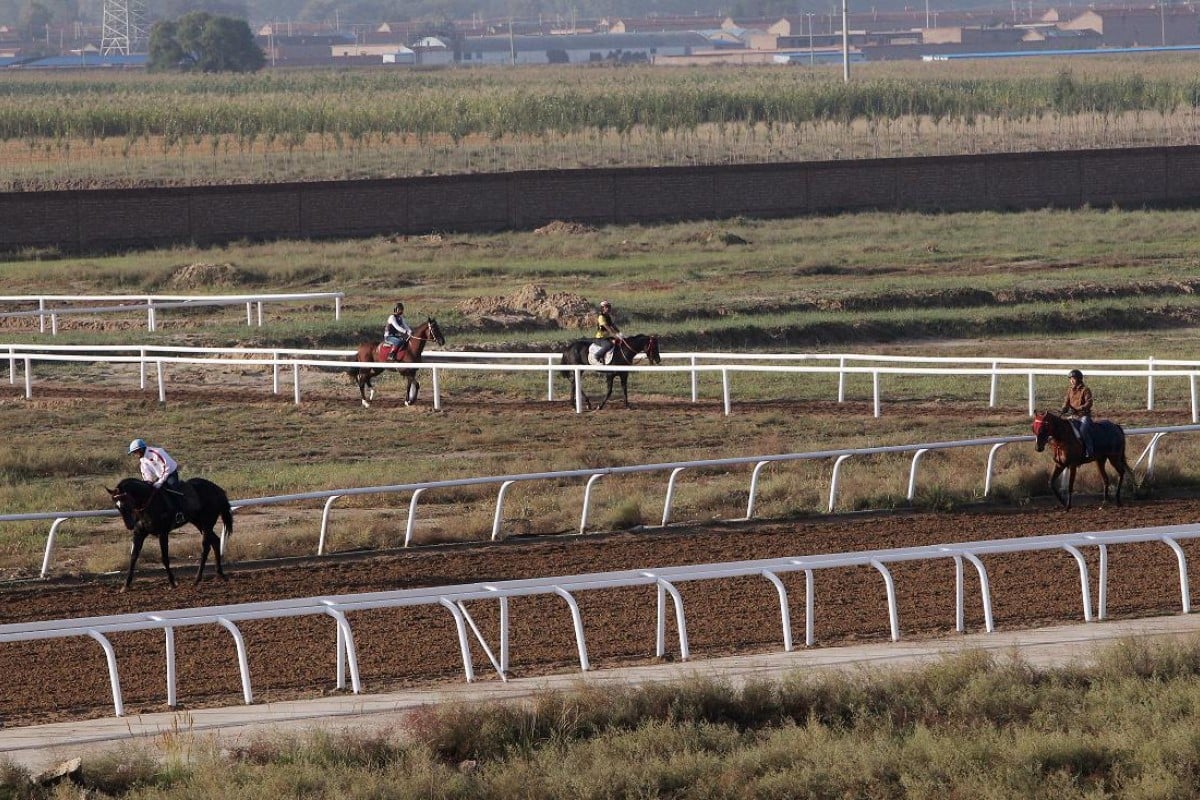 Racing in mainland China is the sport's El Dorado – a dream sold to the desperate, and one that has already lured many to ruin. So perhaps it was appropriate that Hohhot, Inner Mongolia, with its eerie half-built and abandoned developments scattered across the countryside, was the site chosen for the so-called "renaissance of racing in mainland China".
It is about that time after all, every decade or so, that some entrepreneur leads the way to the bold new frontier – tantalising those in a struggling industry with riches beyond their wildest dreams.
What could go wrong? More than a billion people, just dying to have a legal bet, and more than a million millionaires – many of them with nothing better to do than to buy a nice horse to keep in the backyard, something for the kids to ride.
It makes the mainland an irresistible sell for racing's many opportunists. All we need now is those wild and zany communist guys in charge to give gambling the green light and we are off and racing. Should happen any day now.
China Horse Club is the latest venture to lead the way; light on infrastructure (i.e. none, so far), but big on hot air, dioramas and artists' impressions. Before them came the ill-fated Beijing Jockey Club, Wuhan and others – but at least they have, or had, an actual racetrack.
Hohhot's racecourse – a tight dirt track with the apparent draining capacity of a sea sponge, no grandstand, and set in a rural area among muddy paddocks – was on loan for the inaugural and wonderfully named China Equine Horse Festival. It was the perfect place for what was claimed to be China's richest ever race: the 1 million yuan National Breeder's Cup.
Was the festival a success? Well, depends who you ask. Ask the China Horse Club, and they would say "yes, of course".
If you ask us, well, as far as the raceday is concerned, it seemed to create a nice atmosphere from our vantage point. That is, outside the fenced-off and heavily guarded area where "co-operative" people were allowed to stand.
We had requested an interview with the head of China Horse Club's parent company Desert Star Holdings, Malaysian businessman Teo Ah Khing, upon arriving in Hohhot 48 hours before the big day. It took until raceday to be given the go-ahead from the group's general manager, Eden Harrington.
In between, a couple of stories were written that Teo apparently didn't enjoy. It was reported that results of the auction of tried horses had been underwhelming, not that CHC had provided much information at the time of the sale – either to media, or more importantly, vendors.
The SCMP also reported the track had large pools of surface water on it from recent rain and the meeting was originally intended to be held at the mythical Tianjin Equine Culture City, but it wasn't ready. Right of reply was given to Harrington, and his quotes appeared, and jockeys who rode work on it deemed the track safe and that was reported too.
Before the first race of "the renaissance", Teo immediately took Happy Lucky Dragon Win to task, suggesting an "agenda" was being run. "You are being told what to write," he said.
The interview, held outside what looked like a circus tent, started with the "agenda" claims and that the China Horse Club would do "big things", then followed with the threat: "We can exclude people in our future."
Happy Lucky Dragon Win: "Can I put that on record?"
Teo: "If you want to be included, then please co-operate with us."
HLDW: "I'd just like to report the truth."
Teo: "The truth is, where's your source?" (… that didn't make sense by the way).
HLDW: "My sources are too afraid to speak publicly."
Teo: "You are not involved and you say are telling the truth, and you are not telling the truth."
HLDW: "What isn't the truth?"
Teo: "Do you want to leave this space?"
HLDW: "No, I wouldn't."
Teo: "Ok, I will get somebody to remove you."
Obviously, Teo misheard us because the last thing we wanted to do was leave. Inner Mongolia is a long way to go for anything, but to be kicked out before the racing begins probably sets some sort of record.
There may have been as many men in uniform as there were spectators and three of them escorted us to the gate. The official reason for being given the boot was the lack of a press pass – yours for a princely US$1,000. We had agreed to pay, but like many others to have emailed CHC with requests, the reply was slow in coming and accreditation never happened. We didn't have a pass, so there was no arguing and we left.
Most international race meetings offer heavily subsidised travel and accommodation, but I guess this was "the renaissance" so we were willing to bite the bullet. And it also entitled us access to the enthralling "International Symposium" of racing – but more on that later.
Banned from Teo's exclusive "co-operative zone", we got to hang out with the locals at the furlong pole. Firstly, from a racing perspective, the leader bias was so bad that if you got to the home turn first, it was like Secretariat in the '73 Belmont Stakes. You didn't need to be at the winning post – you got to see the finishing order at the 200m mark anyway.
Any racing journalist worth his black book and binoculars would have savaged the meeting. Big money races are welcome, but it doesn't make them good. And if the race is held on a chopped-up track with surface water, one where it was impossible to make any ground from back in the field?
The overall standard and profile of jockeys was one of the brightest spots of the festival. Another positive was the condition of the horses controversially imported for the event. It's likely they won't ever be leaving the mainland – courtesy of quarantine stricter than China's gambling laws – but at least they were in excellent nick for raceday and a credit to interim trainers John Thompson and Ger Hourigan.
The other benefit of standing with local farmers in a corn field was it allowed us to continue one of our favourite pastimes: granting photo requests to curious Inner Mongolians.
There's not many Westerners out this way and when the locals see a white man, their first-born child magically appears for a photo shoot. The temporary celeb-status continued on into the night in the clubs for western visitors,, making you feel like a star in Entourage, if it had all-Chinese extras.
The pyromaniac bartenders and the heart and bass-thumping excitement of Hohhot nightclubs is a good time to come back to their polar opposite – the CEHF's international symposium. Part of the US$1,000 "reverse press package" was a US$150 ticket to hear some "leaders of Chinese industry and of different fields" speak.
Forced to buy the hottest ticket in town from a scalper on the street, we joined the jet-lagged and the hungover – many backing up from a big night in Hohhot.
They call France Galop's official veterinarian Dr Paul-Marie Gadot "the king" when it comes to getting crowds to fall asleep with his powerfully designed PowerPoint presentations, but even he was usurped by his organisation's head man and chairman of the International Federation of Horseracing Authorities, Louis Romanet.
Gadot came out hard with slides stressing important, but often overlooked, points like "make sure horses run in the right races" and "pay prize money on time", but big boss Romanet showed everyone how mass hypnosis is achieved without even trying – just speak for a long time.
Little did the French pair know, but a ringer had been brought in from outside of racing: former United Nations General Assembly president Professor Joseph Deiss.
He talked about eradication of poverty. How he segued from racing in China into wiping out poverty is skilful oration, but we missed it. While in the semi-conscious state, the words "more than a billion people", "opportunity" and "exciting new market" could be heard repeatedly – it was subliminal marketing at its best.
Trackside on raceday, in Teo's co-operation zone at least, there seemed to be more Western guests than locals and they no doubt had a wonderful time. Outside, a rare English-speaking local remarked "how beautiful" thoroughbred racehorses are as one majestically sauntered by. Later on the track, a front-end loader unceremoniously loaded a dead horse into a float just as proud sponsors presented a trophy to beaming connections.
On the 45-minute drive back to Hohhot, past corn fields on shoddy unmarked roads, you see monuments to modern China's wasteful and failed "investments". Ten storey-high housing estates empty and ominous concrete shells falling about themselves, the result of a building boom gone bust. A few hours up the road is Ordos – dubbed China's biggest ghost town – populated by a tenth of the people it was built for.
At least the China Horse Club didn't leave anything behind; they didn't build anything really. The yurts and scaffolding were packed up and put away for another day – all they left were a few unwanted racehorses.