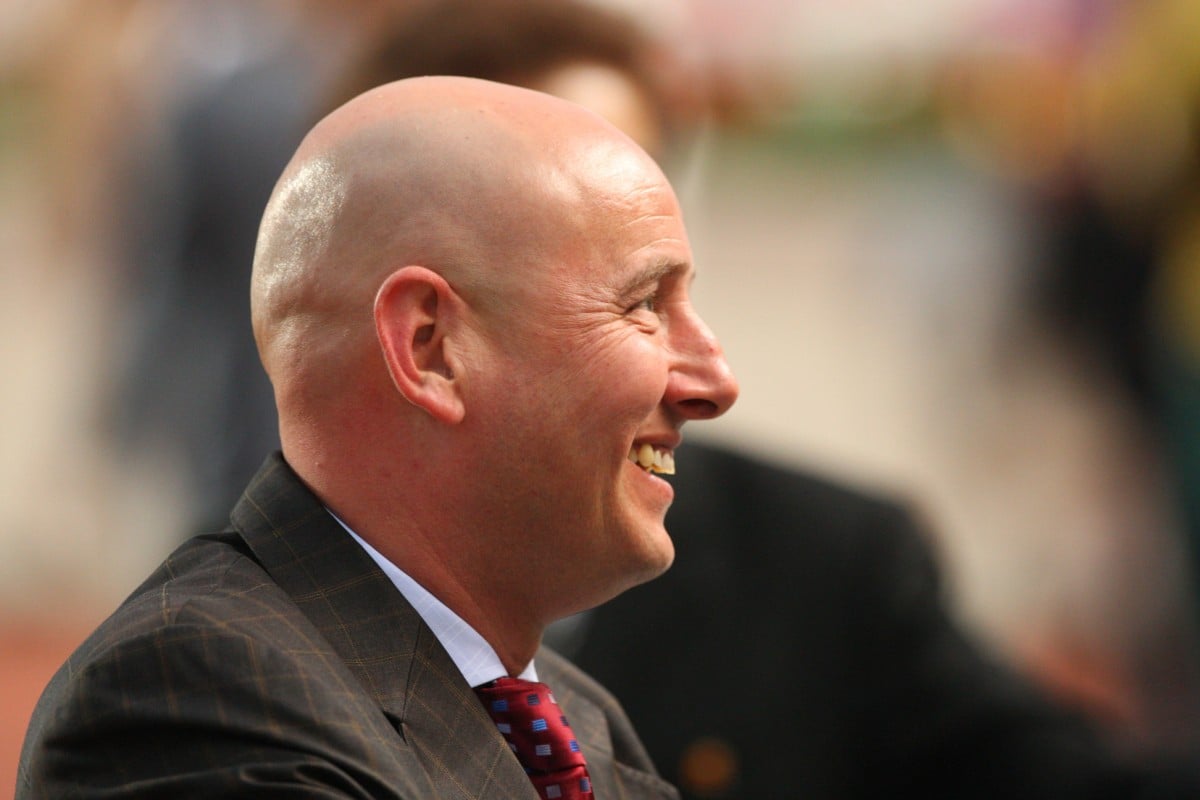 In Hong Kong, locals get all the fun when it comes to getting an "English" name, but when the poor old "gweilos" come to town we get what we are given in Chinese characters – however rude-sounding or plain old unlucky it is. Well, this week German trainer Andreas Schutz hit back and took ownership of his name, hoping for a change in fortune and a better flow of his fung shui.
Every foreign jockey and trainer is given a "Chinese name" – a group of two or three Chinese characters that vaguely sounds like his actual English name, decided upon by the Jockey Club's Public Affairs department.
I was told my Chinese name was only initially good – but in the long run wouldn't be good
For instance Zac Purton is 潘頓, of which a very rough phonetic attempt sounds like "Poon Dun" – now also the name of one of his fearsome cocker spaniel terriers.
Tye Angland's name is 安國倫 or "On Kwok Lun" – the last part of which is tricky, as it can easily come out sounding like a part of the male anatomy, especially when spoken by an Aussie mangling the multi-tonal and difficult-to-learn language of Cantonese.
Joao Moreira is 莫雷拉 – "Mok Lui Lai" – but the locals have taken to calling him "God of Thunder" anyway, with the middle symbol – "雷" – meaning thunder, combined with "神" - God. Moreira's arrival coincided with the release of Thor 2 at cinemas and the nickname gained traction in the racing media.
So while local kiddies are granted, or even give themselves, cool names like Jet, King, Moon or whatever they feel like calling themselves that day – and local trainers have wacky names like "Manfred" Man Ka-leung and "Almond" Lee – the foreign contingent have no idea what the punters are yelling over the fence at them, even if it is their name.
Apparently Schutz's former Chinese translated name 薛達志 – "Sit Tak Chi" – had run out of steam luck-wise, and owners persistently asked for Schutz to change to 孫達志or "Suen Tak Chi".
"I was told my Chinese name was only initially good – but in the long run wouldn't be good. I looked around at the other people who shared part of the same Chinese name as me and they were also in Hong Kong racing's no-man's land and I don't want to get stuck there forever," he said during.
"The old name had no real meaning in Chinese, but the phonetics of the name had a nasty translation and the new name had a more prosperous translation."
So there was a "swear word" factor in Schutz's change, but the fung shui factor was far greater and the German's declining strike rate after an impressive start certainly backs up his superstitious owners' claims.
Schutz arrived for the 2004-05 season and heralded as one of the best horseman in the world, a fourth-generation trainer having prepared five German Derby winners in the space of seven years, as well as 2004 World Racing Championship winner Epalo.
After reasonable output in his first two seasons, Schutz knocked out two terms of over 40 wins before the change of luck kicked in. The shock transfer of champion miler Good Ba Ba – at the time the highest rated miler in the world – seemed to rip the guts out of the stable, and it was blamed on fung shui.
Controversial owner John Yuen Se-kit took the advice of his fung shui expert and moved Good Ba Ba. Since then it has been a slow and painful drift away from those heady early days.
A word of caution though – a change of Chinese name historically hasn't always worked out as expected.
In 2001, Australian jockey Stephen Baster took on similar advice to Schutz and it was a disaster. Having ridden five winners in a three-month stint in 1999-2000, trainer Alex Wong Siu-tan offered him a spot as a retained rider, on one proviso: that he change his name to something more "auspicious".
This is how SCMP Racing Editor Alan Aitken reported the change at the time:
Australian jockey Stephen Baster has taken the advice of trainer Alex Wong Siu-tan and officially requested for his name to be pronounced differently by Chinese language commentators. Baster, who is retained by the Wong stable, said the trainer and some of his owners felt the pronunciation being used was not sufficiently auspicious.
"Alex and a few of his owners are quite devout Taoists and suggested I get a change," the jockey said. "They said the way it was being said had a meaning something like funeral arrangements."
The new pronunciation has a meaning like "can do one hundred things well" and has a more successful feel about it. The intonation sounds to the Australian ear like a change from barkseda to buckseda and Baster doesn't mind the change if it works the right trick on the track.
"I was young and didn't know much about it at the time, but apparently the way they pronounced it the first time meant something very unlucky," Baster recalled from his Melbourne home yesterday, where he is still a successful rider hovering around the top 10 of the metropolitan premiership.
Following the name change, Baster – far from doing 100 things well and not helped by being stuck with the sinking ship that was Wong's stable – went on a 0-from-81 cold streak that wrapped up with him ending his tenure on October 30, barely a couple of months into the season.
"I didn't ride another winner and, not surprisingly, Alex and I didn't end up seeing eye to eye," Baster laughed.
Schutz said it was "reasonable to be given a name by the club to start with", but added that it wasn't hard to change his moniker either, with a request to the club promptly acted upon.
So while Schutz's rivals may well snigger at his change of name, let's wait for the wave of "change of Chinese name" applications to Sports Road should things turn around for the newly named trainer.