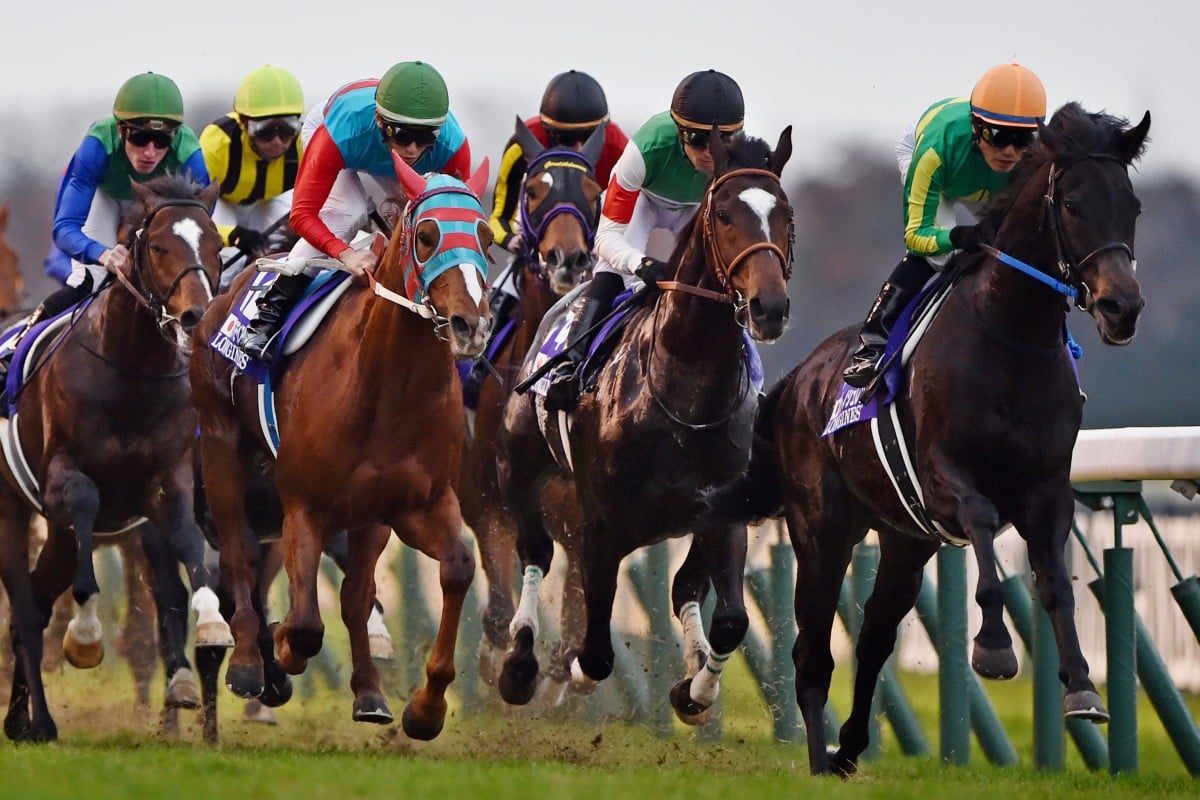 Sunday was a day of mystery that left us bemused and bewildered – a day of banned banners, booing and the mind-bending betting conundrums presented by John Size-trained first-starters.
The banned banners at Fuchu Racecourse at least matched the usual weird camera cutaways in Tokyo, and at home at Sha Tin, Joao Moreira was roundly booed, or should that be sworn at, by fans – on a day when he rode half the card. And for the second straight week, a John Size-trained debutante smashed his opposition at juicy odds.
Firstly, the Japan Cup and banner-gate. Regular readers know what fans we are of the quirky and devoted followers of Japanese racing, who bring so much colour and enthusiasm to a sport that too often ignores the fact that it is, ah, a sport – not simply a betting medium.
It seems that Longines wanted a little more than an "association" with one of the world's greatest races, the Japan Cup, when it banned fans from putting up the traditional colourful banners that usually surround the parade ring.
Two weeks ago at Sha Tin, what was at first thought to be a yellow "Occupy Hong Kong" banner was taken down by security. In the end it was a harmless "Pikachu" banner, supporting the horse of the same name that now has a cult following with SCMP readership.
Did Longines call for the Pikachu banner to be removed? Is this a conspiracy by Longines to slowly mind numb the "aspirant wealthy" race fans of Sha Tin into taking out a mortgage to buy a watch?
Any aspirations of buying an average Longines product would probably inspire turnover, because the average Hong Kong racegoer would need all of $10 of a jackpot-boosted Triple Trio to buy one.
Longines does a lot through its association with racing, from its sponsorship of the Prix de l'Arc de Triomphe, Dubai World Cup, Hong Kong's own international races and, of course, the China Horse Club's memorable "renaissance of racing" on mainland China last year.
Longines has been there at all of those meetings with its massive clocks, with celebrities and waif-like models displaying the latest in precision watchmaking.
The mystery here? Why the JRA, a government organisation holding a monopoly on gambling and the largest tote hold in the world, needs to bow down and allow a sponsor to dictate where loyal fans can place banners.
Whatever Longines are paying, it shouldn't be enough to sell its soul.
But the perpetual mystery out of Japan is the bizarre antics of the cameramen and those in the TV production room.
Just when you are settling in to watch one of the great races of the year, it's time for a pan through the field, pausing occasionally to focus on how the final two or three horses in the field are faring, leaving the viewer to simply guess what might be happening up front.
A simple, one word question for the JRA: Why?
Meanwhile, at home, Joao Moreira broke through to another level at Sha Tin, smashing a special threshold reserved for only the absolute legends – a rarified place among the pantheon of Hong Kong's best jockeys.
No, it wasn't five winners that took him there – it was the crowd's reaction after he was beaten on hot favourite Divine Calling.
What sounds like booing as Moreira comes back to scale on the third-placegetter is actually a long, drawn-out rendition of Sha Tin's favourite swear word (we won't write it here out of respect for our bilingual readers).
Moreira should take heart – he has now officially taken Douglas Whyte's mantle.
Forget winning the championship, getting abused by 20,000 or so rabid gamblers is what it is all about – a feat title-holder Zac Purton is yet to truly master, despite his great success and sometimes spectacular failures.
Moreira has an amazing strike rate and won last season's "most popular jockey" award in a landslide.
Such is his popularity he could probably defeat Leung Chun-ying and win the vote for Chief Executive, even if China doesn't bend and single-handedly end the Occupy protests.
But when you get rolled on a 1.4 favourite, this is what happens.
The mystery? How a group of people can love and loathe a jockey in the space of minutes.
These are the same fans that after booing – sorry, swearing – promptly went back to tote windows to take the $1.03 available about the Brazilian winning the Jockey Challenge.
The biggest mystery of all though, is how to treat the trials of unraced horses trained by a man who is enough of an enigma himself: John Size.
Country Melody's odds drifted into the "never zone" yesterday – beyond 30-1, a price threshold past which illegal bookmakers will let you have as much on as you want with a 24 per cent discount, and a mark that once passed, seems to make legal tote prices drift dramatically.
The fact Size horses rarely get off the bit in a trial – and if they do, it is usually seen as a bad sign – makes matters confusing sometimes. Trialling on fewer than, say, six occasions is seen as a good sign. So Country Melody had four trials, but was pushed and shoved in one of his trials and showed little.
Even then, Country Melody's win looked dominant enough but left us with a lingering mystery of its own after he came down the fast lane that is the grandstand rail on the straight course.
More mysteries: sorting that straight-track form out is a puzzle for another day.