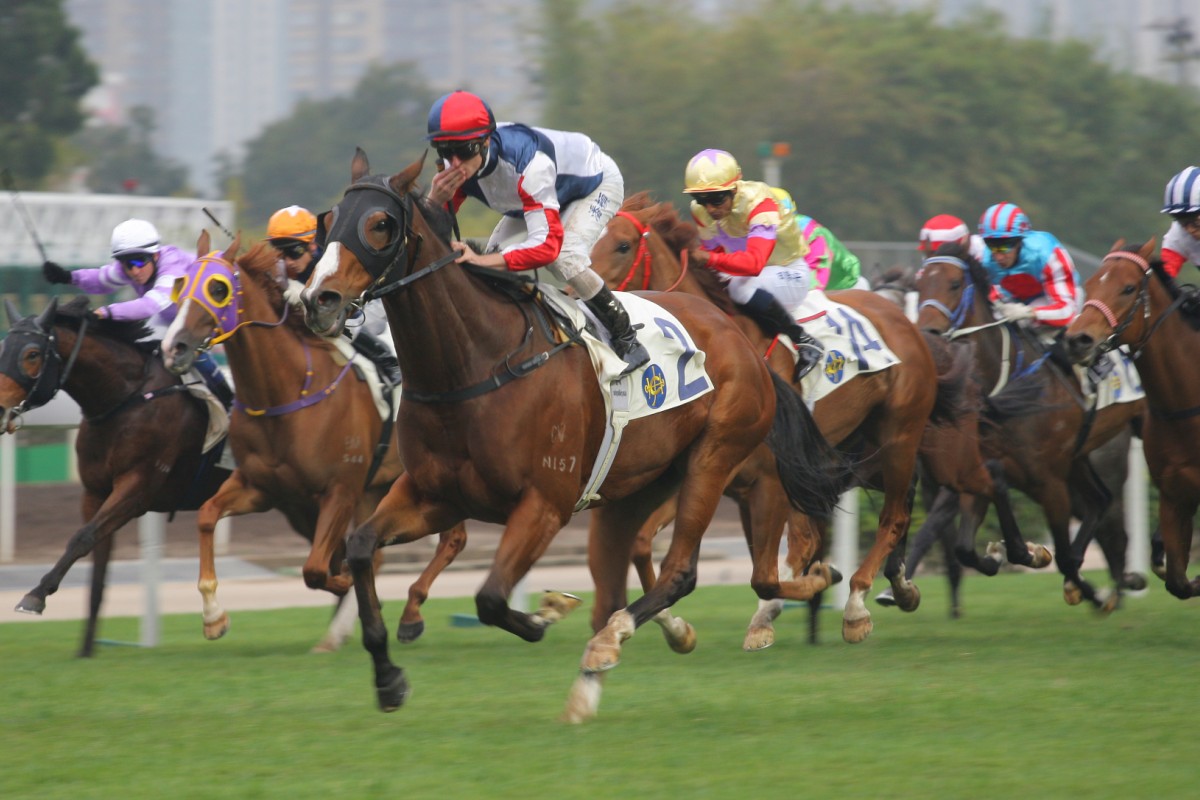 Some strange Sunday happenings at Sha Tin, and in Brisbane, Australia, were a reminder that racing is a sport made specifically for gambling, while a simulcast race from Japan was an example of how astronomical betting turnover and the romance of the turf aren't necessarily mutually exclusive.
While stewards are likely to come down hard on Lui, Maxwell is simply the butt of jokes for his "weird" non-shot dismissal
Apprentice Dicky Lui Cheuk-yin will be the centre of an upcoming inquiry into his handling of Numero Uno in a Class Three handicap at Sha Tin, where he appeared to endeavour to break a land speed record in the first half of the race.
Whether Lui's navigation was a case of impropriety or just gross incompetence, he has questions to answer and looks like spending a stretch on the sidelines after his sub-21 second split set up the race for backmarkers to storm home.
Racing is a sport where the protection of the customer and the perception of its integrity is paramount, so whatever Lui's motives were – whether they be sinister, or he had no idea how fast he was going, or he was unable to control his mount, it doesn't matter – there's still a responsibility under the rules to give his horse every possible chance.
It goes without saying that Lui's "death by lactic acid" tactics didn't give Numero Uno much hope of catching his breath, let alone achieving the best possible result.
So hard questions will be asked by stewards and this is where racing differs from other sports – not just because its funding comes primarily from wagering, but that on-field inconsistencies are investigated and, "But sir, it was an honest mistake," or, "I just had a bad day," aren't valid excuses.
The fact race winner Racing Hero was heavily backed in the final minutes of betting, and is a horse that requires pace in a race, doesn't even need to be used as evidence. Lui went way too fast, gave his mount zero chance and his tactics helped facilitate a favourable result for others.
Imagine if this attitude was carried into other sports? For a start, Australian cricketer Glenn Maxwell might be facing a "running and handling" charge of his own after this inexplicable "leave" of the first ball he faced in a Big Bash League Twenty20 match on the same day as Lui's inexcusable brain fade.
Of course, even though a study this year estimated up to US$500 billion is bet on cricket each year, the sport doesn't receive a financial return from wagering. So, like many other sports that attract massive betting turnover, cricket officials aren't proactive about integrity measures - just reactive.
Rather than monitor integrity matters from within, the International Cricket Council outsource to companies that monitor betting patterns and rely on investigative reporters to find the "rats in the ranks".
That one race's hold represents more than three-quarters of the day's turnover illustrates that a sense of occasion means something to Japanese fans
Like cricket, and outside of racing, most sports aren't interested in protecting the interests of the punter.That's not their responsibility.They are just intent on maintaining a relatively clean public image. That's why crafty punters in the crowd at Big Bash League games have been taking advantage of lags in live television broadcasts and stinging bookmakers by betting in-play, which have seen them ejected from matches. The only party getting hurt there are unregulated bookmakers fielding on the matches.
So while stewards are likely to come down hard on Lui, and he will be excluded from the sport, Maxwell is simply the butt of jokes for his "weird" non-shot dismissal, but no action will be taken and no explanation sought.
Meanwhile, at Nakayama on Sunday the Arima Kinen – perhaps the race of the year and dubbed the "Arc of the East" by some – attracted the usual outrageous betting handle Japanese feature races generate.
Although Hong Kong beats its Asian neighbour on a race-by-race basis at most meetings, Japanese punters really open the shoulders when it comes to the big days, and in particular the big races.
The Arima Kinen, a race where the public votes on the make-up of the field, holds the mantle as the biggest tote-only betting race in the world. Almost 39 billion yen (US$322 million) bet on the home tote is an extraordinary number, but the fact that one race's hold represents more than three-quarters of the turnover for the day is illustrative that a sense of occasion means something to Japanese fans (calling them customers doesn't seem right, despite the staggering figures).
A common observation from visitors to Sha Tin for international day is that the atmosphere is "strange" because the activity on the betting board seems to matter more than the horses. The Class Two handicap to close the day carries more than the Hong Kong Cup.
Hong Kong's biggest betting day of the year by far is the Chinese New Year meeting and that's for cultural reasons because it's just another day of racing as far as the quality of horses running around is concerned.
The most amazing and educational aspect of Arima Kinen day was after dark once the racing had finished, when 40,000 of the 115,878-strong crowd stayed back to pay tribute to retiring champion Gentildonna, who capped her wonderful career with a win in the feature. She emulated another Sunday Racing charge, Orfevre, who received a similar send-off 12 months ago.
Maybe if Sha Tin punters were offered free caps or key rings they would all stay after the races, and a few thousand hardy souls stuck around for some fireworks on international day, but how many would stay back to simply applaud a retiring horse?