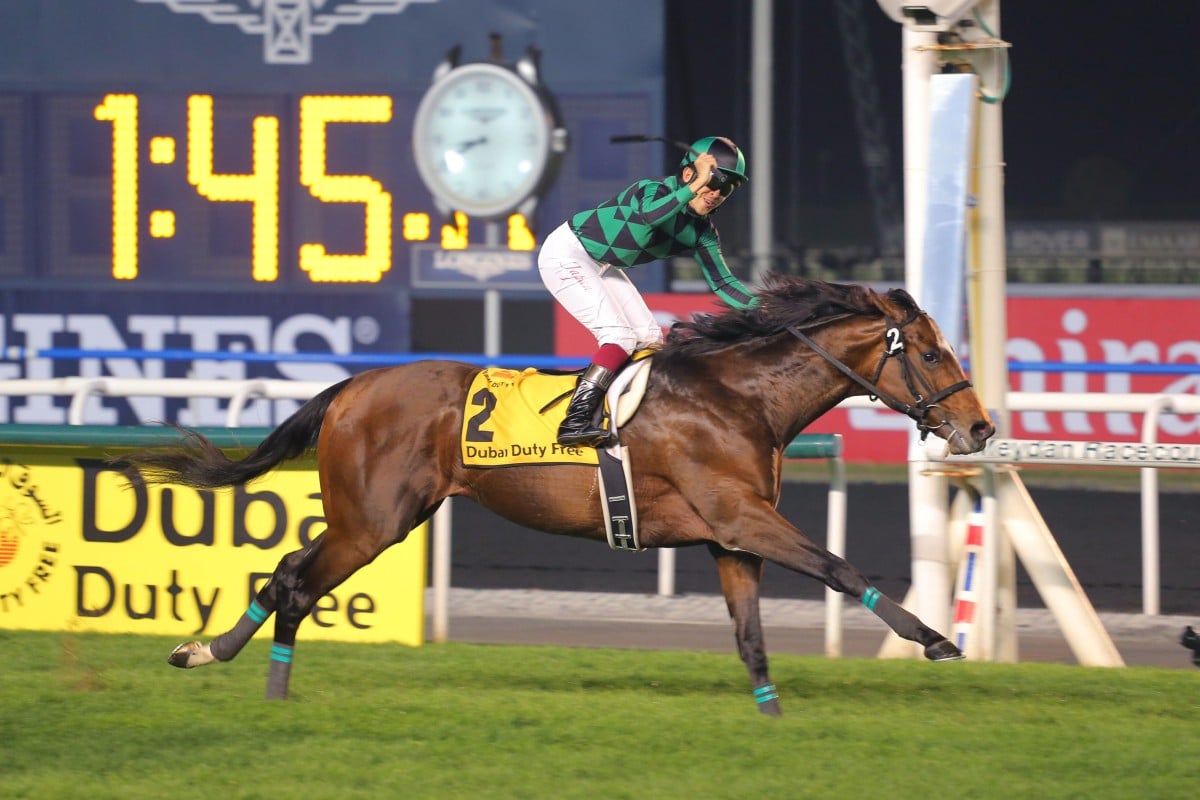 The world racing year that was 2014 will be toasted in the next seven days with two separate awards functions on either side of the Atlantic – but what would happen if elements of both were combined to essentially create the Oscars of world racing?
In the United States, the annual Eclipse Awards will be held at Florida's Gulfstream Park racecourse on Saturday night.
The awards are selected by a voting body of approximately 250 people, comprised of Daily Racing Form (DRF) columnists and writers, members of the National Turf Writers and Broadcasters (NTWAB) - effectively representing the rest of the American racing media - and racing secretaries belonging to the National Thoroughbred Racing Association (NTRA). The awards are completely subjective and at the hands of the voters, much like the Oscars.
There are 17 categories – 12 for horses, five for the human participants – but the jewel in the crown is the Horse of the Year.
In what has been an incredibly open season in American racing, there has been an immense debate about the merits of each of the Horse of the Year candidates – as well as some of those that missed the final cut.
There's Kentucky Derby and Preakness Stakes winner California Chrome, who lost form in the middle of the year but returned to finish third in the Breeders' Cup Classic before winning at Del Mar to close his season. Notably, he won on both dirt and turf, as well as winning on a synthetic surface right at the end of 2013.
Then there is his Breeders' Cup Classic conqueror Bayern, an inconsistent front-runner who has been scintillating at his best but won the Classic in controversial circumstances and also flopped badly in two of the premier three-year-old races, the Preakness Stakes and the Travers Stakes.
Completing the trio is English import Main Sequence, who won four staying Grade One races on turf – far from a strong division in the US, although at his last start, he did hold off subsequent Hong Kong Vase winner Flintshire in the Breeders' Cup Turf.
The debate between racing fans has made for some tense arguments and a fair bit of slagging, in particular both by and towards the California Chrome fans affectionately (or disparagingly) referred to as "Chromies".
For the analyst, though, it has raised the question: what constitutes a worthy winner of Horse of the Year? Is it consistency across the course of a season? Is it raw ability? Is it the backstory or the ability to win the hearts of fans?
Each voter tends to have a different opinion, which makes the end result totally unpredictable. Speaking to three American fans on Thursday, all three were confident they knew who would win the Horse of the Year award – and all three nominated a different horse.
It's dramatic and a fitting conclusion to a stellar year.
Then, on Tuesday night in London, the equine stars of 2014 will be honoured at the Longines World's Best Racehorse Ceremony, celebrating the horses that finish atop the Longines World's Best Racehorse Rankings.
Those rankings, compiled by handicappers representing each member jurisdiction of the International Federation of Horseracing Authorities (IFHA), are more of an objective exercise than the Eclipse Awards. Well, as objective as opinions can be in racing, an inherently subjective game.
Unlike the Eclipse Awards – where voters tend to look at a horse's overall season – one spike performance can put a horse at the top of the rankings. While it is difficult to know whether Just A Way's Dubai Duty Free romp was a spike, given he was tested at distances outside his comfort zone for the rest of the year – his win in the Yasuda Kinen over a mile was followed by three runs at a mile and a half – the six and a quarter length win at Meydan in course record time will be enough to see him claim the World's Best Racehorse title.
The battle for second was made interesting by Epiphaneia's four length Japan Cup win and Able Friend's performance in the Hong Kong Mile. Able Friend is expected to be rated 127, and he is expected to be rated on par with Europe's top three-year-olds Australia, Kingman and The Grey Gatsby, as well as his Champions Mile conqueror Variety Club. Where Epiphaneia rates among those is up for debate, with Japanese handicappers traditionally harsh on their own races, but he may take outright second on his own.
If the rankings were to be applied solely to American racing, then Bayern (125) would be Horse of the Year ahead of California Chrome and the now-retired Game On Dude (both on 124).
Really, though, where is the drama? Where is the excitement? It's all pretty sterile and predictable, and while it recognises excellence, it fails to recognise one of racing's strengths – its uncertainty.
Instead of a tradesmanlike approach to comparing horses, races and performances, simply using ratings, how would experts from different countries measure up form from around the world?
So, The Griffin would like to propose a new showpiece racing event in January each year, which we humbly suggest should be named 'The Griffins'.
Combining the best of the Longines World's Best Racehorse Ceremony with the Eclipse Awards – international racing awards voted on by racing officials and journalists from around the world – it would be racing's answer to the Oscars.
Instead of a tradesmanlike approach to comparing horses, races and performances, simply using ratings, how would experts from different countries measure up form from around the world?
How would an Australian assess California Chrome against Bayern? How would an Englishman decipher Able Friend against Designs On Rome?
And then, take it one step further. In voting for Horse of the Year, how does one assess California Chrome against the likes of Able Friend, Just A Way, Australia, Kingman, Variety Club, Treve and Lankan Rupee?
How would an Australian assess it? How would an American? An Englishman? A Hongkonger?
It would be hard to compile a voting body that would be totally fair to every jurisdiction, though.
One way is to give every IFHA member an equal vote.
That would mean the 58 member countries of the IFHA would each get, say, five votes, creating a voting body of 290.
The flaw in this is obvious, though.
Say the United States, where the vote would likely be split between Bayern, California Chrome and Main Sequence. In Hong Kong, it would probably be split between Able Friend and Designs On Rome. In Australia, it could go any way with horses like It's A Dundeel, Fiorente, Protectionist, Lankan Rupee and Terravista all possibilities.
In smaller countries with one standout, though, their horses would be likely to garner more votes. Take Macau, where Wonder Mossman would likely receive the top points from all judges.
What's not to say Macau's five voters would all give him top points, while Hong Kong's five voters are split between Able Friend and Designs On Rome. That would leave Wonder Mossman ahead of both of John Moore's superstars.
While a 10-1 points scale like the Eclipse Stakes would even it out in the end, with horses from bigger jurisdictions likely to scrape more of the minor points, it still seems a bit skewed.
However, recognition deserves to be given to countries with stronger racing as determined by the IFHA. The IFHA publishes a list of the top 100 races each year based on a three-year rating average.
At the end of the 2013 season, the list had 26 races from Australia, 20 from the United States, 17 from England, 11 from France, nine from Japan, six from Hong Kong, four from the United Arab Emirates, two from Ireland and Germany and one each from Singapore, Canada and South Africa.
If votes were awarded proportionally, though, it would then be skewed towards horses from Australia, the United States and England, making it racing's version of the Coalition of the Willing.
Instead, we suggest that every IFHA member gets a certain number of votes, while the countries represented on the top 100 list get a far greater representation.
However it would be decided, though, the simple question is: who would win the Horse of the Year award?
While this blog's personal top three would be Just A Way, Able Friend and Bayern, with a slight leaning to Just A Way, it is unlikely that the Japanese galloper would win. His Dubai success seems a distant memory, replaced by his slightly dull efforts stepped up to 2,400m, and the performances of Epiphaneia and Gentildonna since would probably come to the fore of voters' minds.
Instead, the winner would probably be a horse like Adelaide, who won in Ireland, the United States and Australia and was placed in England and France, or Variety Club, another who would get support from multiple countries. Or maybe the focus will be on the winners of those traditional big races - the likes of California Chrome, dual Derby winner Australia or Arc winner Treve.
Nevertheless, these are all hypotheticals and they will never be answered. They can be debated and argued, but at this stage there is no definitive answer bar the view of world handicappers on individual performances.
It would be a win for the racing industry if one day, the world's Horse of the Year is decided by the global racing community based on their efforts across the span of a season.
And besides, we haven't even touched on the red carpet – John Moore in a safari suit would be all that is needed.