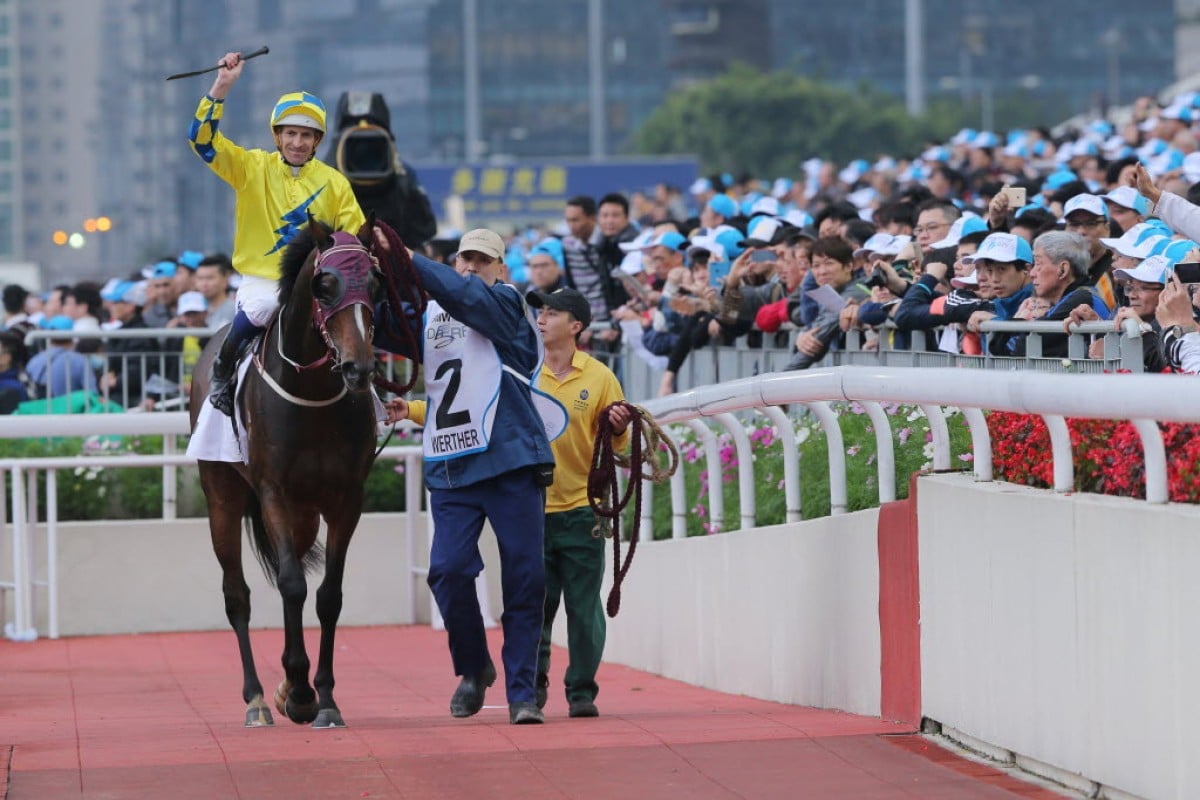 The great South African trailblazer Michael Roberts held court with media from all over the world on Thursday morning at Summerveld training centre, near Durban.
Now a trainer after a fall ended his riding career in 2001, the man affectionally known as Muis waxed lyrical, delightfully recalling his memories of his days as British champion jockey and his association with horses like Mtoto, Lando and Lyric Fantasy.
However, it was his final statement, his playful parting shot specifically aimed at The Griffin, that got minds racing and began days of debate amongst the international racing media.
"What is Hong Kong's biggest race? I'm not sure," he said. "You've come to Durban for our biggest race, and most places have one, but with Hong Kong I am not sure."
The feeble answer was the December internationals, but as was pointed out endlessly, that is a collection of four races, not one premier event.
So the dominant discussion for the next half hour centred around Hong Kong racing as journalists debated Roberts' question: what is Hong Kong's biggest race?
Every country has a seminal race, the one event that every owner, every jockey, every trainer wants to win and that captivates a region's psyche and atmosphere better than most other sporting contests.
And it is the race which becomes synonymous with a jurisdiction, which is known all across the racing world as being that country's best event.
Some are self-evident: the US has the Kentucky Derby, the UK has the Derby at Epsom on the flat and the Grand National for jumps fans, Australia stops for the Melbourne Cup, South Africa has the Durban July.
But what is Hong Kong's seminal race?
Ask any South African and they will tell you that, without a doubt, it is one of the four international races in December. Although, get a cheeky local on his day and he will say it should be the Champions Mile, given Variety Club's 2014 romp in the May feature was their most recent victory in Asia.
But ask any Hongkonger and they will almost certainly say the Hong Kong Derby, especially if the main stipulation is that it is the race every stakeholder wants to win.
The Hong Kong Derby sparks irrational spending, flawed decisions and rushed preparations, all in the quest for March glory.
It is the race above all others that owners want to win, and the majority of tried horses (Private Purchases) that come to Hong Kong have been bought with that very aim in mind.
There is more of a build-up, at least within Hong Kong, towards the Derby than there is for any other race or meeting, and more not often than not, it is the Derby winner that is named the most popular horse at season's end.
It is also the race that represents history and tradition, something that is a common theme with other major events.
The Hong Kong Derby was first run in 1873, not quite as old as England's Derby (first run in 1780) but comparing favourably with the Melbourne Cup (1861), the Kentucky Derby (1875) and the Durban July (1897).
However, outside Hong Kong, the Derby is barely a blip on the radar, receiving little interest compared to the four December internationals or the three spring features.
Perhaps it is due to familiarity of horses, with those races open to visiting gallopers, perhaps it is the big prize money on offer, or perhaps it is the fact that plenty of international racegoers flock to Hong Kong in December and April, but those big events attract far more interest than any of the other 770 races on the Hong Kong programme – well, except when Pakistan Star is involved.
So, what is the answer to Roberts' question?
Leading local trainer Sean Tarry, when asked what was so special about the Durban July to South Africans, put it very succinctly – and perhaps gave us an answer to our own dilemma.
"It's the history and tradition of the race that makes the Durban July, it's the race that every owner wants to win and it has been the launching pad for some great horses," he said.
On that score, it is game, set, match for the Hong Kong Derby.