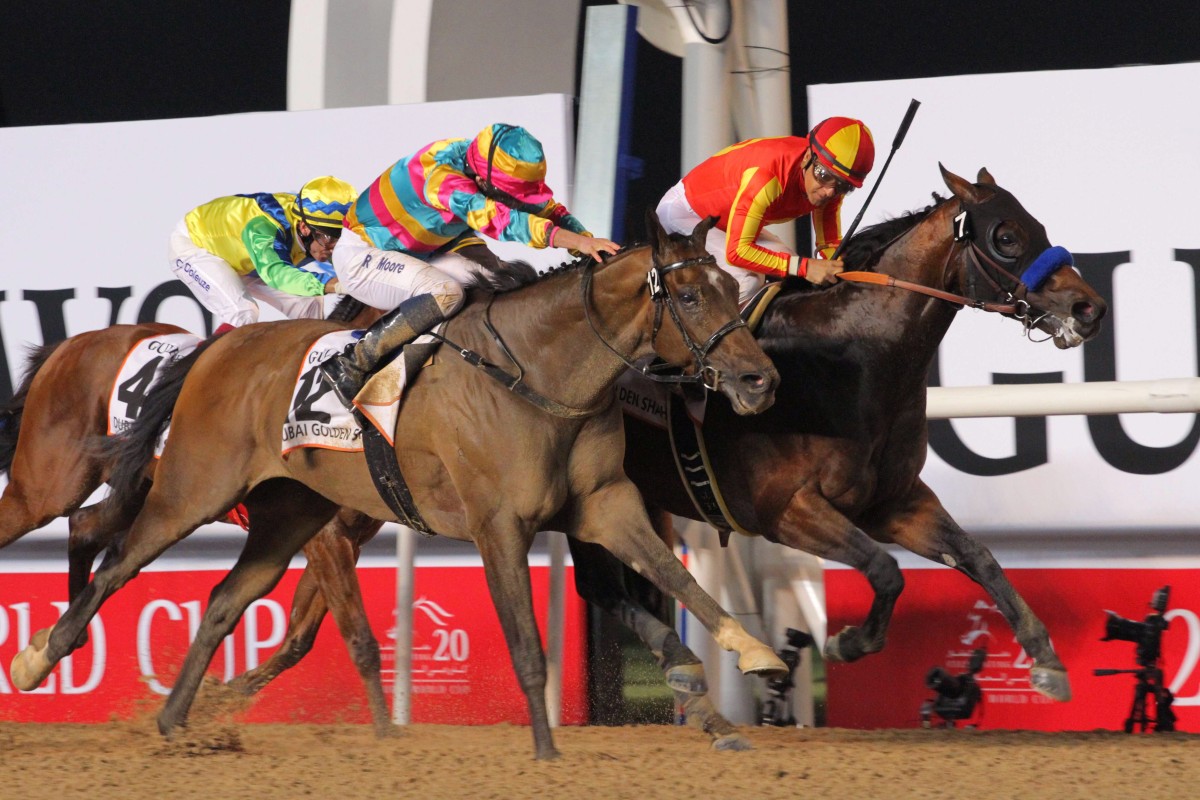 Sha Tin's all-weather track, the one that isn't really an all-weather track at all, seems to have unwittingly become world racing's new hotbed of dirt sprinting talent and at the same time has created a race programming and horse ratings conundrum for the Jockey Club.
Firstly, that name: all-weather track.
In this column at least, the "AWT" is hereby known as "Rich Tapestry Raceway" in honour of the horse that truly took Hong Kong to the world and opened a can of worms at home
It has been discussed at length already, but there's nothing all-weather about it and it needs a new name, and a cool one – after all, Hong Kong is now home to some of the world's elite dirt sprinters.
In this column at least, the "AWT" is hereby known as "Rich Tapestry Raceway" in honour of the horse that truly took Hong Kong to the world and opened a can of worms at home.
There was a time that a horse trained at Sha Tin but capable of mixing it with the best dirt or synthetic surface sprinters in the world was labeled a "freak", a one-off rarity that didn't need to be catered for.
The name Dynamic Blitz comes to mind – around five years ago he was considered unbeatable on the Sha Tin dirt and won a Group Three on the old Tapeta surface at Meydan.
But it was trainer Michael Chang Chun-wai's pioneering spirit, necessity and Rich Tapestry's ability, of course, that truly broke the mould when he won the Grade One Santa Anita Sprint Championship late last year and subsequently started favourite in the Breeders' Cup Sprint.
In the process he highlighted an issue for the club, one that may not really have, or require, a solution.
There is a group of horses with ratings on dirt that far exceed their ability on turf, and maybe that's no different to before, but now it is a group whose trainers are now looking abroad at alternatives worth serious money.
Having a handful of horses travel elsewhere isn't really an issue, the problem is having those same horses run in turf races in which their lofty, dirt-acquired ratings make them 100-1 chances.
Yes, this is a turf jurisdiction, but what about a horse like Gun Pit? The son of Dubawi was one of three track record breakers last Wednesday, but isn't close to being competitive off 105 when entered in a turf race.
Now, we are only talking about a relatively small group of horses, with ratings gained in races that represent just 10-12 per cent of the total races held, but if the Jockey Club attitude is "too bad", then expect not only more talented horses heading overseas, but less competitive top end racing at home as well.
Yet, there might be a way to get the best of both worlds.
Could dual ratings – one handicap for turf and another for dirt – be the answer? Or would that create just another set of problems?
For horses coming through the grades it most certainly wouldn't work, but maybe different ratings once a horse cracks 100 could be fair. That would mean that while Gun Pit's current mark of 105 on the dirt stands, he would still be eligible for a Class Two off 100 and his handicap up for re-assessment. Too confusing? Possibly. Open to exploitation? Of course! These types of things usually are, especially if implemented in a knee-jerk manner and not properly thought out.
Gun Pit's trainer Caspar Fownes is an advocate for not only more high-rating dirt races, but also a return to more Group races at Happy Valley – a quirky track that creates similar ratings discrepancies of its own.
Fownes trained a "Valley freak" in Noble Conqueror who, in the end, had two chances per season to be competitive. I guess in that way he wasn't that different to many horses who reach a ratings ceiling and, to be fair, any horse rated 100 or more has by definition already been richly rewarded with the best per-race prizemoney in the world. But in between competitive starts, these horses have absolutely no chance.
Pleasure Gains is the current poster child for the Valley specialist – a winner of his last two at the smaller track, taking his rating to 115, he has finished unplaced at odds of 47-1, 34-1 and 35-1 at his last three trips to Sha Tin under handicap conditions and started well over 100-1 when making up the numbers in the Longines Hong Kong Cup. Off a rating gained at Happy Valley, Pleasure Gains is just another also-ran at Sha Tin.
There were a couple of eye-opening and game-changing aspects to the performances of Rich Tapestry and, in particular, Super Jockey at Meydan on Saturday night.
One, it seems as though third-placed Rich Tapestry isn't a freak at all, given Super Jockey's outstanding effort to run second, and two, it won't take any arm-twisting to get Hong Kong horses into the field for the world's biggest dirt races anymore.
Not only has Rich Tapestry won a big one at Santa Anita, and started favourite on Breeders' Cup day, he and Super Jockey were second and third in the equal richest dirt sprint in the world on Saturday – the second year in a row Hong Kong has filled two of the top three in the Golden Shaheen.
Jockey Club head of racing Bill Nader had to work overtime to get Super Jockey into the Golden Shaheen, and unsuccessfully made a case for Gun Pit to be put into the field for the Godolphin Mile. Maybe next time around – or potentially come the Breeders' Cup later this year – there will be a place for a horse like Gun Pit.
A couple of random observations, the first really a quick aside: Hong Kong-trained horses (or is it jockeys?) are stupidly fast out of the gates.
Watch the break in the Golden Shaheen and see who the front runners are after 100m. Maybe Americans don't hold a mortgage on gate speed after all? Nor dirt track ability.
In reality, Rich Tapestry and Super Jockey are probably not the best dirt trackers in Hong Kong. Part of the reason their trainers were so desperate to get overseas is because they sit in the dreaded "dead water zone" of being the fifth or sixth best sprinter in town on turf.
Aerovelocity flies on the dirt surface in trackwork and trials and would start probably start favourite at level weights in a race against Rich Tapestry, even on a track that is now (unofficially) named after him.
It's not like Rich Tapestry's owners tried to buy a dirt tracker either – his pedigree screams Derby and distance racing. If you took a cross section of Australia's top sprinters, you would probably find a Breeders' Cup Sprint contender or two racing in a jurisdiction that has virtually no dirt racing at all.
So maybe this isn't a problem at all - call it growing pains. Because even without winning at Meydan, Hong Kong went up another notch in the world respectability ratings with confirmation that we can produce dirt trackers, too – even if it happened by accident.