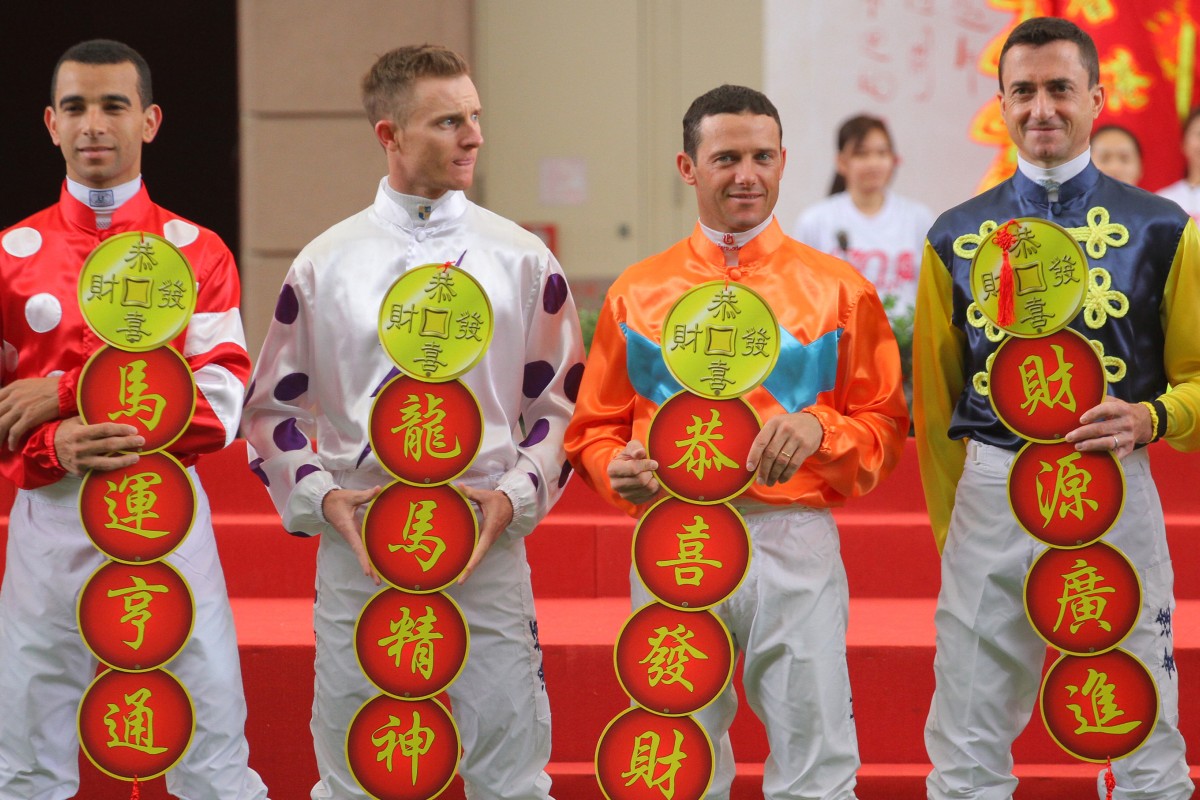 The absence of the two apex predators of Hong Kong racing from the last two meetings has resulted in a renaissance of the "Douglas Whyte v Brett Prebble" rivalry, with the two seasoned jockeys partying, or at least riding, like it's 2009.
Before Joao Moreira versus Zac Purton, who have been suspended from the last two fixtures, it was Purton versus Whyte, and before that – and still the most intense rivalry of all – was Prebble versus Whyte.
The shift has been seismic. We are less than five seasons removed from the epic 2009-10 battle when Whyte (100 wins) pipped Prebble (99). Now they are a non-threatening third and fifth on the ladder.
A self-effacing Whyte said it best last week after riding four winners at a Moreira-less Sha Tin meeting: "What do they say? When the cat's away? I have to take what I can get these days."
With Purton also joining the Magic Man on the sidelines through suspension, Whyte and Prebble have put on an "old school" riding clinic.
First, Whyte rode a double last Wednesday but was beaten in the Jockey Challenge by Prebble, who only had one win but three second placings.
On Sunday at Sha Tin, Prebble produced a show-stopping ride on Thunder Fantasy, a contender for ride of the season, while Whyte won the Jockey Challenge with a double, giving him at least two wins at each of the last five meetings. Whyte has 12 wins from 46 rides this month at a, dare we say it, "Whyte-esque" strike rate of 26 per cent.
Maybe Whyte's alleged fall from grace ability-wise hasn't been as dramatic as his critics in the mostly faceless Twitterverse have made out. In fact, many judges have him riding better than he has at any time in the past two or three years.
Whyte, a 13-time title winner and rider of more than 1,600 winners in Hong Kong, has 61 winners in 2014-15 – statistically still a very good season, by most standards.
Early last month Prebble and Whyte took their long-standing rivalry offshore for a Group One duel in Melbourne, when Prebble won the Australian Guineas on Wandjina from Whyte on Alpine Eagle. Maybe all they need is to get away from Purton and Moreira.
This isn't about age, it's about opportunities.
While Whyte is 43, not overly old by jockey standards, Prebble is still a relatively young 37, still hungry, and – as his perfectly executed ride on Thunder Fantasy showed – he has still got "it".
If it's about opportunities, Prebble has had few of those – at least from a quality standpoint. As has been highlighted here more than once this season, riding the fifth or sixth best horse ain't what it used to be. God help the rest.
Moreira, Purton and Whyte have ridden 42 per cent of the winners this season. Extend it to the top five and you've got more than half the races covered.
Prebble, who is fifth in the premiership, has ridden in just 14 races less than Purton this term – 331 to 345 – yet has ridden less than half as many winners, 29 to 72.
The average starting price of their mounts is revealing here: Purton's rides jump at an average price of 10.32, while Prebble's rides start at an average of 20.8. So statistically speaking, the market says the quality of Prebble's rides are half as good as Purton's.
So while Purton and Moreira are truly world-class riders right at their peak athletically and their record-chasing rivalry is one to savour, maybe the top-heavy nature of the jockeys' championship has as much to do with the top-heavy nature of the races themselves – contests with long tails that often have five or six uncompetitive runners.
Moreira returns on Wednesday night chasing his 100th winner of the season, and Purton is back on Sunday, along with some pretty talented visitors – Olivier Peslier (who Moreira recently labelled the best rider in the world), Hugh Bowman, Tommy Berry, Craig Williams and Yuichi Fukunaga.
It's back to the usual dog-eat-dog competition.
So if Whyte and Prebble go a day without riding a winner on Sunday – something that would have been unthinkable three years ago – maybe we shouldn't be so quick to judge.