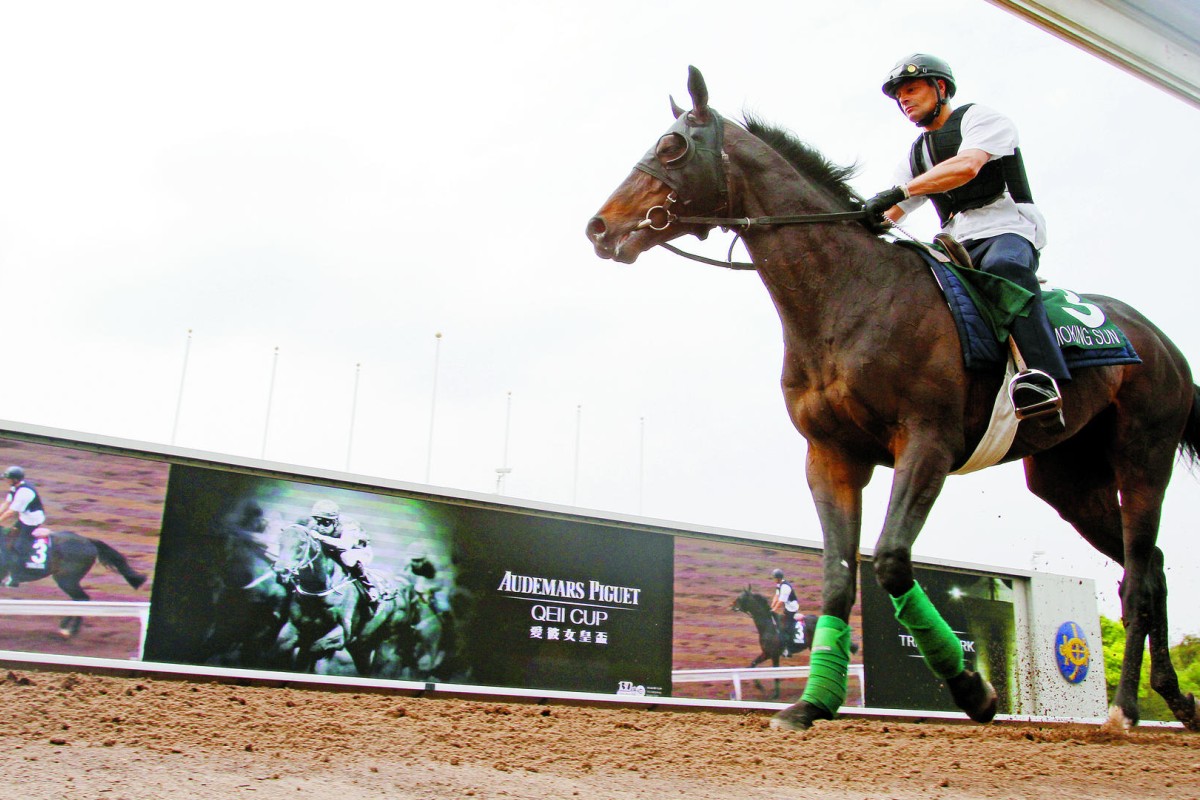 The Jockey Club is justifiably beaming at having a horse owned by the famous Niarchos family racing in Hong Kong for the first time in Sunday's Audemars Piguet QE II Cup, but someone forgot to tell the thoroughbred in question, Smoking Sun, of the significance of the occasion.
Smoking Sun, a six-year-old stallion, was quite the lad at trackwork on Thursday, in an altogether uncooperative mood. Racing folk refer to this tendency to prop and refuse as "jacking up", and few traits in animal behaviour are more frowned upon.
Twenty four hours later, the Pascal Bary-trained Smoking Sun looked ready to turn on more of the same on the Sha Tin all-weather track, but ultimately gave his hard-earned consent to a steady piece of work, the middle section of which constituted 800m in 51.5. The best part was his relaxed, agreeable outlook as he sauntered off the track, looking bright and well and - dare we say - ready to compete.
While the global headline stealers in horse racing for the past three decades have been Godolphin, Coolmore and Juddmonte, the Niarchos family has still been a significant force, quietly accumulating more than 120 wins at Group One level.
When patriarch, Greek shipping magnate Stavros Niarchos was at the height of his powers, the family gained its first big break in acquiring Nureyev as a yearling in 1978.
Niarchos paid US$1.3 million for the well-bred son of champion sire Northern Dancer - at the time, the second-highest price ever given for a yearling. It proved a stunning investment.
Apart from securing a piece of racing infamy as the disqualified winner of the 1980 French 2000 Guineas, Nureyev went on to sire 135 stakes winners. His first crop of a mere 23 foals contained seven individual Group winners and from there, he went up the charts with a bullet.
Nureyev's signature filly was Miesque, a scintillating racehorse, who owned the Breeders' Cup Mile in 1987 and 1988, as well as winning another seven Group Ones in England and France. Her best son was the champion French miler Kingmambo, who went on to become a decent stallion, too, as well as the paternal sire of Japan's globally ranked sprinter Lord Kanaloa.
Japan's representative in Sunday's HK$20 million feature is Staphanos, who had another quiet morning on Friday after a rip-roaring piece of work on Wednesday.
Staphanos, a lightly raced son of champion Deep Impact, breezed 600m in 37.1 on the turf track, the last 400m in 22.8 and the final 200m in an impressive 10.7. Horses do not register numbers like that in training without performing well on race day, and the record of the Japanese in this race already merits great respect.