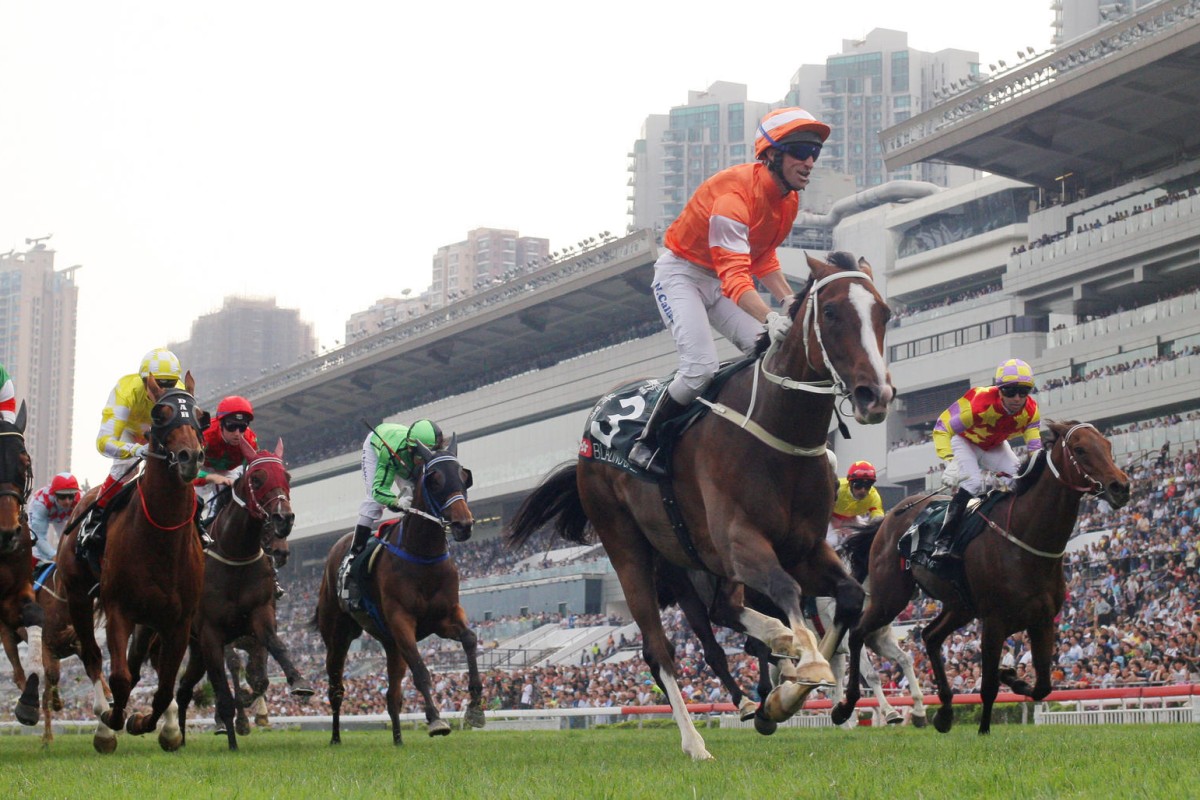 When it comes to the early crow, Neil Callan could almost have called it after 100m of the HK$20 million Audemars Piguet QE II Cup yesterday when Blazing Speed seemed to just materialise in his perfect spot passing the winning post the first time.
"From the gates, he jumped great and I couldn't believe it, I landed in my position so early and the rest was just getting him relaxed and in a rhythm and waiting for the straight," Callan said after Tony Cruz-trained Blazing Speed had brought up the biggest win of his life or his jockey's, putting two lengths between himself and a top field that bickered desperately over second. "The race was a little stop-start, but it slowed down and got going again at the right times for me. Before the turn, I was saying to myself, 'wait for the straight, wait for the straight' like Tony's always telling me. So I counted to 10 and waited for the straight and then, once I let him down, I thought he'll take a bit of getting now."
Blazing Speed had already collected a Group One Stewards Cup at 1,600m in early 2014 for Mirco Demuro then surprised Designs On Rome with a walloping in the Group One Champions & Chater Cup at 2,400m last May, giving Callan what was then the biggest victory of his career.
"I've already got a big picture of him on the wall - now I might have to get a bigger one," Callan laughed after superseding that success with the QE II Cup. "To be fair, his whole career he has run big races where some small things just didn't go his way. There was one Hong Kong Cup he stumbled at the gates and ran great, and when Umberto Rispoli rode him in the Gold Cup in February behind Designs On Rome, he'd committed to the outside and then everyone moved out so he didn't get room. He has always been right on the heels of these horses and when everything went his way, he was always going to win a really big one."
Cruz, who won the QE II Cup twice in its very early days as a jockey, was winning the race for the first time as a trainer and added to that storyline.
"When he failed in the Hong Kong Cup in December, he pulled up lame, but otherwise he is a healthy, straightforward horse and he makes it as simple as it looks to train him," Cruz said. "It's a great feeling to win this now as a trainer - all I said to Neil was to get cover, ride a patient race and he rode the perfect one."
Asked if he had bypassed Dubai to keep the horse fresh for the QE II while others, including Horse Of The Year Designs On Rome had been jaded by the overseas trip, Cruz said that had not been a particular plan.\
"No, he went there last year and didn't run well so we never had Dubai in mind," Cruz said.
"He is entered for Singapore next month but I think it's doubtful he'll go. I think the Champions & Chater will be his next target as he's defending it this time and then I'll sit down with the owners and think about whether we should programme him to run somewhere overseas next season," he added.
While the winner was clear cut, only a long head separated the next five across the line, with Japan's Staphanos getting the verdict for second just in front of Criterion, Designs On Rome, Packing Llaregyb and Helene Super Star.
The win took Blazing Speed's earnings past HK$31 million, a nice return on the 41,000 guineas required for agent Dan O'Donnell to purchase him for the owners as a yearling.