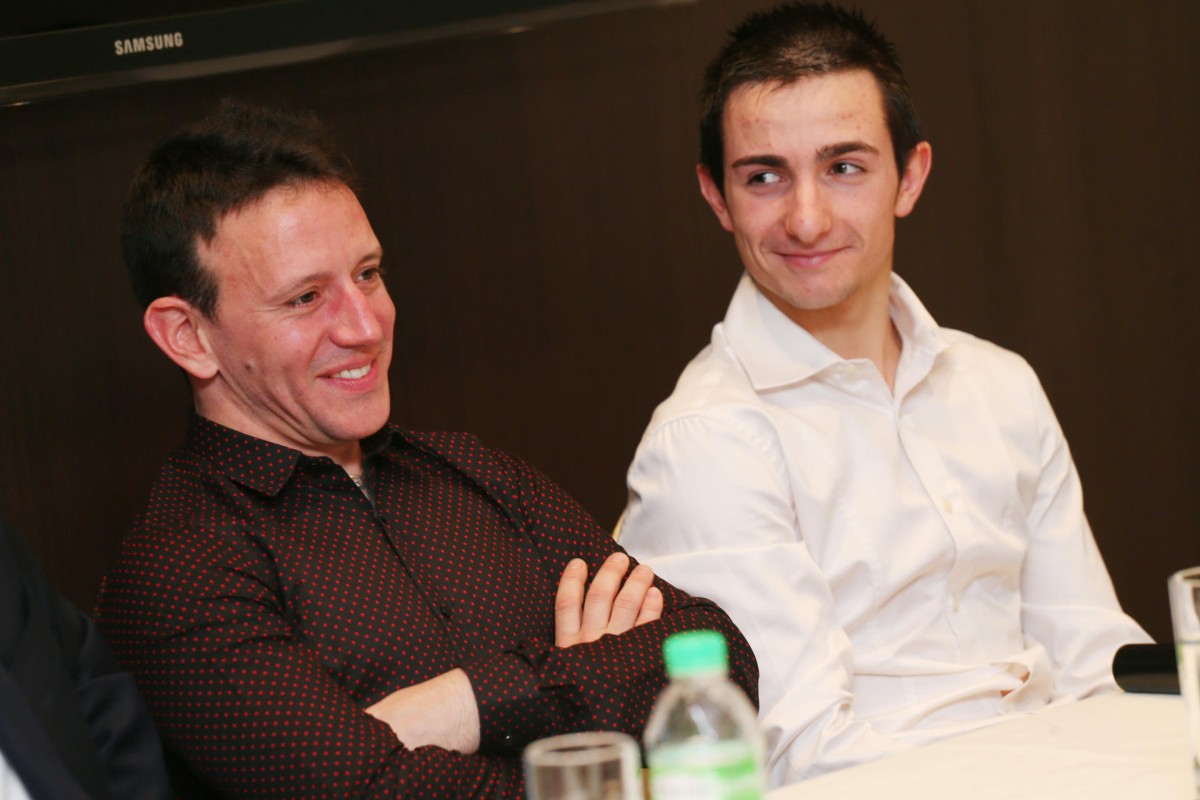 Where in the world is a seven per cent strike rate considered an outstanding effort?
Right here, right now in Hong Kong, where it is hard enough to succeed as a pinch-hitting jockey anytime, let alone under the brutal regime enforced by the merciless Magic Man, Joao Moreira.
Where in the world is a seven per cent strike rate considered an outstanding effort?
It is that current climate that makes Gregory Benoist's return of five wins from 75 winners so far during a winter stint a performance worthy of note, as well as Vincent Cheminaud's haul of three. When told he was doing well after Sha Tin's New Year's Day fixture, Benoist raised an eyebrow and asked: "Really?"
A short-term licence for visiting riders can be a lot of things. It can be the start of something big and the announcement of a future star – think Christophe Soumillon, Tommy Berry, Olivier Doleuze and Maxime Guyon – or a brutal reality check, like the horror shows endured by Mikael Barzalona, Colm O'Donoghue, Tom Queally or Maxime Guyon, the second time around.
Actually, the experience of the mid-season recruit is usually one of two things – sink or swim – but Benoist and Cheminaud can probably consider their experiences somewhere in between. After all, with five wins already, they are on target to ride more than the aforementioned Barzalona, O'Donoghue and Queally combined during their inauspicious stints of similar lengths.
Considering the absolute savaging Moreira is dishing out to established rivals, the French-based pair can be justifiably proud and are both worthy of a return visit sometime in the future.
Even though they hold two of the most-sought after positions in world racing – Benoist as number one for Al Shaqab Racing in France and Cheminaud as first pick for trainer Andre Fabre – that pedigree meant virtually nothing to local trainers and fans. While locals have become more globally aware, brand recognition is everything and the newcomers' names would have barely registered.
With applications on the table from more well-known names, some of them with proven track records, the licensing committee took a punt on Benoist and Cheminaud and it has paid off – even if there were doubters early, as there always is for those not carrying big name status.
Missing the start is an affliction that has blighted many a European's stay, and the knives were out early for this pair – anytime there was a slip-up, a slender margin here or there, the riders were scrutinised and judgments were quickly made. As one experienced rider said, "You're going into a pigeon-hole whether you like it or not..." - and it's best not to be filed under the hard-to-shake heading, "Can't get horses out of the gates."
Happy Valley highlights the world of difference between race styles. Benoist, a veteran of riding in Japan and with some experience in America, had watched the replays and heard the advice from jockeys that have ridden at Happy Valley. The basic gist of it: horses jump fast. Riders have to be razor sharp out of the gates and have a plan A, B and C, and be ready to think up another plan for when it all goes wrong. And basically, a rider must find a position, or suffer the consequences, in the vital first few seconds of a race.
Come midway through December, and having already gaining some practice, when Derek Cruz issued pre-race instructions to the Belgian-born Benoist before he rode Kim Glory at a track some have described as better suited to greyhound racing, the experienced 32 year-old wasn't concerned.
Cruz asked for him to be fast away and push on to lead. "No problem," Benoist said. He ended up last.
Benoist didn't do much wrong – maybe a half-length slow at the jump, sluggish to muster speed and unable to match it with the cavalry charge surging forward, then a bump here or there. They have gone less than a furlong and Benoist has been spat out the back, through no real fault of his own.
The 1,000m start is just as explosive – a quarter horse race, followed by a hairpin turn and what can quickly turn into a helter-skelter dodgem car run to the finish.
"It is so different to France, or anywhere else," Benoist said last Friday after a day that brought a win, an unlucky second and a Group Three third. "I have ridden in different places, so you think you are ready for it but you have to experience it to know. It happens very quickly."
To put Benoist's effort, and the current landscape, in perspective, he has a strike rate only just below Neil Callan and Douglas Whyte, and seven per cent is batting better than Gerald Mosse, Nash Rawiller and Chad Schofield.
Putting a dent in everyone's income is Moreira, who has an overall strike rate of 29 per cent as he begins a three-meeting suspension that has his rivals throwing parties and hoping he never comes back. The Brazilian has managed to stay on track more often this term, and rides in nearly every race he is available for, so his 76 winners from the 301 races run this season represents more than one in four overall.
That leaves some very good riders, veterans accustomed to success, scrapping over the three-quarters of the pie that the ravenous Moreira leaves after he has had his fill
That leaves some very good riders, veterans accustomed to success, scrapping over the three-quarters of the pie that the ravenous Moreira leaves after he has had his fill.
Benoist, in particular, has laid a solid platform for a return in the future. Cheminaud winds up his eastern adventure in two weeks, while Benoist – who has drawn praise and significant support from Caspar Fownes and other solid stables – has another month to go, including the next three Moreira-less meetings.
Of course, leaving and coming back is no guarantee of success. As mentioned earlier, Guyon was flavour of the month in 2010-11, when he rode 15 winners, including a famous Hong Kong Derby triumph on Ambitious Dragon, before returning 12 months later and struggling badly, riding five winners and eventually taking his whip to Keith Yeung Ming-lun in apparent frustration.
Then there's the cautionary tale of South African Richard Fourie – lightweight de jour in 2012-13, he returned from a two-year stint in his homeland to what must seem like a parallel universe.
Fourie had 34 wins in his rookie campaign, but has only managed four so far this time around.