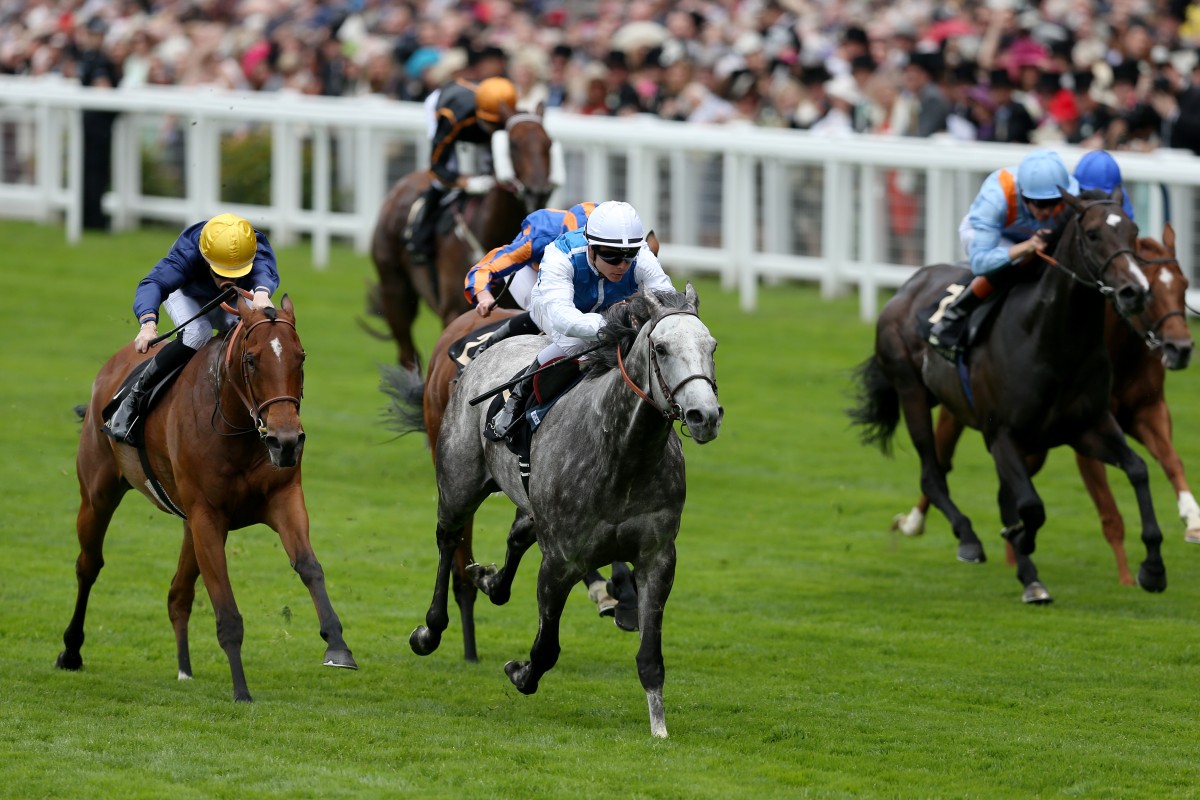 Of course, as the old saying goes, one misstep and "the best laid schemes of mice and men go often askew."
And so it was, after writing 1,000 words about how Able Friend would likely travel to Dubai in March to tackle his conquerers Solow and Maurice in a winner-take-all battle over the Meydan 1,800m, that the news filtered through: the monster chestnut was to be sidelined for the rest of the season through injury.
That's the folly of trying to predict what will happen in the days, weeks and months ahead – you are on a hiding to nothing, and the likelihood of predicting what will happen in a minute is tough enough, let alone 365 (or in 2016, 366) days from now.
Nevertheless, The Griffin is a sucker for punishment, so this week, we will try to look ahead to figure out what 2016 has in store ­– from the obvious to the outlandish, at home and abroad.
Where to start? Well, the original crux of this blog is as good a place as any.
Able Friend may not join them, but Hong Kong's team targeting Dubai World Cup night this year is set to be bigger and stronger than ever before ­– especially with the Singapore features off the cards and no 1,000m Group One at home.
Expect to see more horses trying to run in features in both Dubai and Hong Kong, with the Dubai Turf to become a big stepping stone to both the Audemars Piguet QE II Cup and the Champions Mile. And with the Chairman's Sprint Prize now a leg of the Global Sprint Challenge, perhaps more of our speedsters will be enticed to run in Dubai's leg, the Golden Shaheen.
Expect to see more horses trying to run in features in both Dubai and Hong Kong, with the Dubai Turf to become a big stepping stone to both the Audemars Piguet QE II Cup and the Champions Mile
So who will go? Veteran Rich Tapestry is set for a three-run campaign at Meydan, culminating in his third attempt at the Golden Shaheen, while rising dirt star Gun Pit has just begun working again at Sha Tin with a Middle East sojourn still on the radar, the Dubai World Cup or the Godolphin Mile said to be under consideration.
Hong Kong Sprint winner Peniaphobia is likely to aim to go one better in the Al Quoz Sprint, having finished second to Sole Power last year, and he will be joined by Not Listenin'tome and potentially Strathmore. Other 1,000m specialists aiming for a berth include 2014 Al Quoz winner Amber Sky, last year's runner Bundle Of Joy and his stablemate Rad.
On the dirt, Super Jockey is also likely to return for the Golden Shaheen, and there are a host of horses yet to book a spot but could easily travel.
One who is unlikely to join them is Designs On Rome, with trainer John Moore indicating that he doesn't feel the horse gets his required pace scenario in the Sheema Classic.
Speaking of Dubai horses, the curtain is set to fall on Rich Tapestry's career later this year, and fittingly, the horse that became the first equine Hongkonger to salute at the highest level in the United States will in all likelihood end his racing life with another trailblazing effort.
He is set to become the first Sha Tin-based galloper to race in South Korea in August, with Hong Kong to join Singapore, Japan and South Korea in racing for the Asia Challenge Cup in Seoul.
Others who look likely to retire include Lucky Nine and Dan Excel ­– and of course, it now remains to be seen whether we will ever see Able Friend on a racetrack again.
At the opposite end of the scale, the focus of the early part of the year in Hong Kong is the four-year-old series, and while the quality of imports looks fairly strong, it appears John Size will be sweeping all before him this time around.
The Classic Mile looks a battle between two of his, Sun Jewellery and Thewizardofoz ­– and a battle of riders too, with Ryan Moore on Sun Jewellery and Joao Moreira on Thewizardofoz – but come March, there will be just one name on the lips of all punters.
Come March, it will be Thewizardofoz who reigns supreme, taking the BMW Hong Kong Derby and setting himself up for a tilt at Horse of the Year honours should he beat the older horses in the spring.
In fact, with no Able Friend on the scene, expect Size to have two contenders for Horse of the Year – last year's Derby winner Luger is on the verge of a comeback and should he not suffer any more issues, he looks a likely type to sweep the mile races in the latter part of the season.
On the global stage, watch Epiphaneia's little brother Leontes dominate the Japanese three-year-old ranks before taking on the world. Could he be the horse to end Japan's Arc heartbreak? Expect him to join 2015 Tokyo Yushun winner Duramente at Chantilly, where France's greatest race will be temporarily held while Longchamp undergoes renovations.
In the United States, after so many years of waiting, could there be another Triple Crown winner so quickly? Secretariat broke a 25-year drought to win the Kentucky Derby-Preakness Stakes-Belmont Stakes treble in 1973, but within five years, two more horses had completed the feat – Seattle Slew (1977) and Affirmed (1978). After 37 years of agony, could there be two in quick succession? Going to say that Mohaymen will get through the first leg at Churchill Downs, but will he show up at Pimlico and Belmont? Also, expect Japan to have a Kentucky Derby runner, with Tapit colt Lani being aimed at the race.
And it wouldn't be a proper prediction sheet without throwing the trillion-to-one dart, hoping it lands, so to the outlandish: with the Olympics set to head to South America for the first time and to Rio de Janeiro, why not turn to Brazil's best (non-football) active sportsman to have the all-important honour of lighting the cauldron?
Of course, we're talking about Joao Moreira, who is going to challenge (but ultimately just fall short of) the 200-win mark for a season – quite extraordinary figures.
I know, I know, come the August 5 opening ceremony, it's far more likely to be the legendary Pele – although Pele never played in an Olympics, to be fair. It probably should be an Olympian – some have made a case for sailor Robert Scheidt, others for marathon runner Vanderlei de Lima. At least Pele played an Olympic sport!
Still, it would be something special to see the Magic Man in front of 80,000 spectators (and most not having a clue who he is) kicking off the biggest sporting festival in the world.
If anyone's willing to offer me a dollar on at trillions, I'll throw away a dollar.
That's the beauty of early January - the year ahead is a canvas, just waiting to be filled with memorable moments and dependable drudgery. And come December, we get to review it all over again.