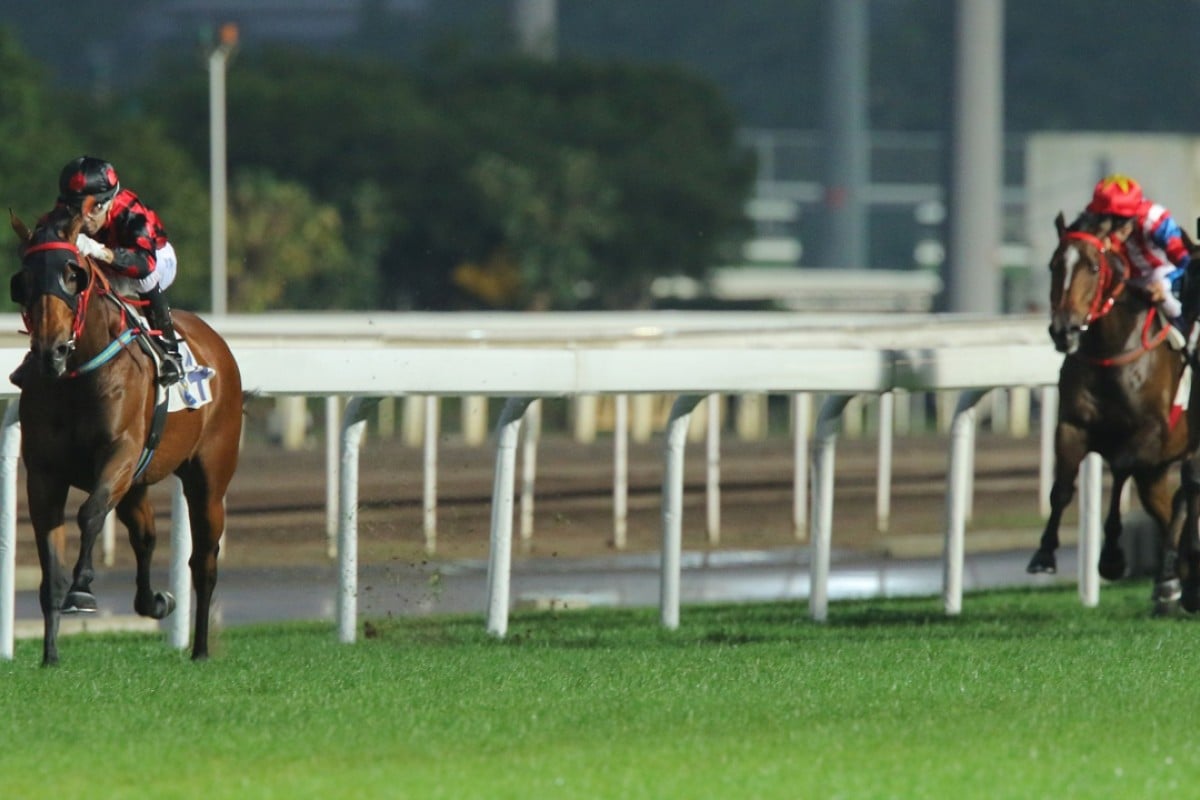 In a winter hibernation since the excitement of last month's Longines Hong Kong International Races? Never fear, we get it. There hasn't been much to get excited about since A Shin Hikari & Co lit up Sha Tin on December 14.
Good news: this Sunday's meeting at Sha Tin marks the start of a succession of regular feature races that stretches right through to the Champions Mile meeting on May 1, and Sunday's Hong Kong Classic Mile is the first leg of the four-year-old series, which culminates with the HK$18 million Group One BMW Hong Kong Derby on March 20.
For those who don't know their Blizzard from their Thewizardofoz and are looking for quick catch-up, we present our "Crash Course: Hong Kong Classic Mile edition".
THE 'HOME-GROWN' HEROES
While most went on a buying spree through Europe last year, desperately trying to find the 2016 Hong Kong Derby winner or just a runner – paying exorbitant prices as they threw in bids for anything with a half-decent vet report and a rating higher than 85 – the top two were here already.
Some expensive imports have already fallen by the wayside, a few will be competing against each other in 1,800m Class Threes 12 months from now – and will still find it "too short" – but all of them have two horses to catch: John Size-trained pair Thewizardofoz and Sun Jewellery.
Rated 105 and 110 respectively and already looking ready for the big time, they strike a similar type of look to John Moore-trained stablemates Able Friend and Designs On Rome, who ran roughshod over the 2014 series, filling the quinella in all three legs.
Interestingly, Thewizardofoz and Sun Jewellery are that rarest of birds in Hong Kong – the home bred. Alright, not necessarily "home breds" in the strictest, most traditional sense of the term, as there is no room for breeding in Hong Kong, and that's because it is very difficult to deliver a foal in an apartment complex. Yet it is notable that, given the annual spending spree madness that descends on owners from this quirky corner of the racing globe, that the top two picks for Sunday's race were bred by their respective owners in Australia.
How ironic, that after years of spending tens of millions on horseflesh, with horses like Irian, Bubble Chic, Ashkiyr and Savvy Nature all carrying some variation of the distinctive black and red-striped silks, that the Siu family may have found what is potentially their best-ever horse in their backyard. Or at least on a lavishly appointed stud farm they own and out of a super expensive mare they bought.
Let's not get this twisted, this is no rags-to-riches tail of the little guy taking it to the big spenders.
To get Thewizardofoz, Martin Siu Kim-sun forked out A$3 million (HK$16.1 million) for Princess Coup at auction and then paid a A$176,000 service fee to set up a date with super sire Redoute's Choice.
It isn't exactly Joe Janiak living in a caravan and paying A$1,250 plus GST for a tried horse like Takeover Target, is it?
Still, hats off to him. Same goes to Sun Jewellery's owner, Tung Moon-fa, whose family race horses with the "Tan Tat" prefix in Macau and Australia, including Sun Jewellery's dam, Tan Tat Star, and Sun Jewellery's stakes-winning half-sister, Tan Tat De Lago.
THE WANNA-BE LOTHARIO
Spending £1.5 million (HK$16.7 million) on a horse, as Pan Sutong reportedly did to acquire Consort, usually brings with it high expectations.
One of them, especially for a man with designs on setting up his own breeding empire, is that the horse, if at all possible, has some residual value as a stallion once his racing career is over.
Heaven knows Pan needs a little bit of passive income after he famously had more than US$11 billion wiped from his company's value during one particularly volatile day on the Shanghai Stock Exchange - a market that makes the last minute of betting on a race at Sha Tin look predictable.
Upshot: the pressure is on not to have Consort castrated – which brings with it some issues with the horse's sometimes unruly attitude and what could easily become just plain old bad racing manners. John Moore now has a dilemma: to geld, or not to geld. Leave it too late, and "behavioural quirks" can become more ingrained, unmanageable and ultimately irreversible issues – especially in the tight confines of Sha Tin's stables.
Anyway, being the lad that he is, and feeling his oats, Consort is rumoured to have, ah, how do we put this, "made a pass" of sorts at the lead horse on his way to the starting gates for his first start last month.
Thankfully, Consort's unwanted advances were left unrequited by the lead horse – but still, as cricketer Chris Gayle found out in Australia a few weeks back, there's a time and a place for these types of shenanigans and it's not in the sporting arena.
The lead horse is an old gelding, of course, not that there is anything wrong with that, and hey, he is pretty cute.
We understand – in the end what else is there for a red-blooded male to do in a stable complex that at last count contained a solitary mare?
That one girl is Bernard's Choice, and even then she is in Class Five, so not exactly a catch, and a bit of a moody thing if you ask people around the yard.
Now, the spotlight will be not only Consort's on-track performance but his focus during the pre-race parade, as we look for signs of testosterone-driven, or just plain brat-like, behaviour.
On a side note, the Jockey Club's "man-in-a-horse costume" mascot has been warned to stay away from Consort at all costs on Sunday.
THE SPRINTER WHO CAN'T STAY
There's always one. The straight-up tearaway sprinter with the requisite rating whose owners demand their prized import takes his place in the Classic Mile, or even the Hong Kong Classic Cup or Derby itself, despite their running having more chance of negotiating the return of those missing Hong Kong booksellers than racing over further than 1,200m competitively.
This time it's Me Tsui Yu-sak's Divine Boy entered, although it seems some sanity has prevailed and the sprinter will stick to what he is good at. the son of Street Cry is a three-time winner of that notorious staying test that is the 1,200m course at Happy Valley – and he goes around there again on Wednesday. He still holds an entry for Sunday's race though and who knows? Maybe if he makes it four straight wins the owners will get over-excited and throw him in on the quick back-up. Crazier things have happened, but not many crazier things.
If Divine Boy did line up he would join an illustrious list of horses with dubious staying credentials to have competed in the "classics", including future Group One sprint winners Little Bridge (beaten 45-plus lengths in the 2011 Derby), Joy And Fun and Green Birdie, who all ran in the race that all Hong Kong owners want to win.
Sill, a good sprinter's class can carry a horse a long way against his own age group – Lucky Nine won the race in 2011, beating Xtension, and Caspar Fownes' Irish import was second to Ambitious Dragon over 1,800m in the Classic Cup.
But, back to reality, let's just hope that if he does take his place in the field, Divine Boy can settle better than Tsui's last inexplicable Classic Mile entrant, Wah May Star – who, with blinkers on first-time, of course, broke land-speed records when going stupidly fast as leader in the 2013 Classic Mile.
The grey son of Fusaichi Pegasus rocketed though his first 1,200m in 1.09.71s – a time which would have seen him destroy the opposition in the two 1,200m sprints held that day.
Way May Star wilted to finish 11th, then pushed on to the next two races in the series, of course. Anyway, we digress, if the 91-rated Divine Boy does run, and rip along in front, then at least there'll be speed on – something that always seems to be a question mark in these four-year-old races.
THE DARK HORSE
Consort might be the headline horse, but stablemate Werther is one of the more unassuming imports to have arrived for this year's series.
From a modest background, looking exposed at his rating with unconvincing form on paper and boasting a narrow body that barely breaks 1,000 pounds on the scales, Werther will never win first prize in a beauty contest.
About the only thing Werther has going for him is runs on the board.
Even after impressive trials, Werther was sent out 16-1 on international day, but gave his Class Two opposition a caning over a mile.
For all of the hype that the "big two" have in this race, something they don't have is a mile win on their resume. Same goes for Lucky Bubbles, Blizzard and Dashing Fellow – a trio who look nice horses in the making, but each with distance queries to some degree.
THE LONG TAIL
As for the rest, well, don't worry about a mile win – the rest don't have a local win on the CV, and there could be up to four runners resuming from long breaks and getting a first taste of racing here.
Outside of the established top-rated horses with exposed form, not many of the four-year-olds have shown much as yet, other than perhaps Sunday's Class Three winner Eastern Express, and what initially looked a nice crop is now looking decidedly shallow.