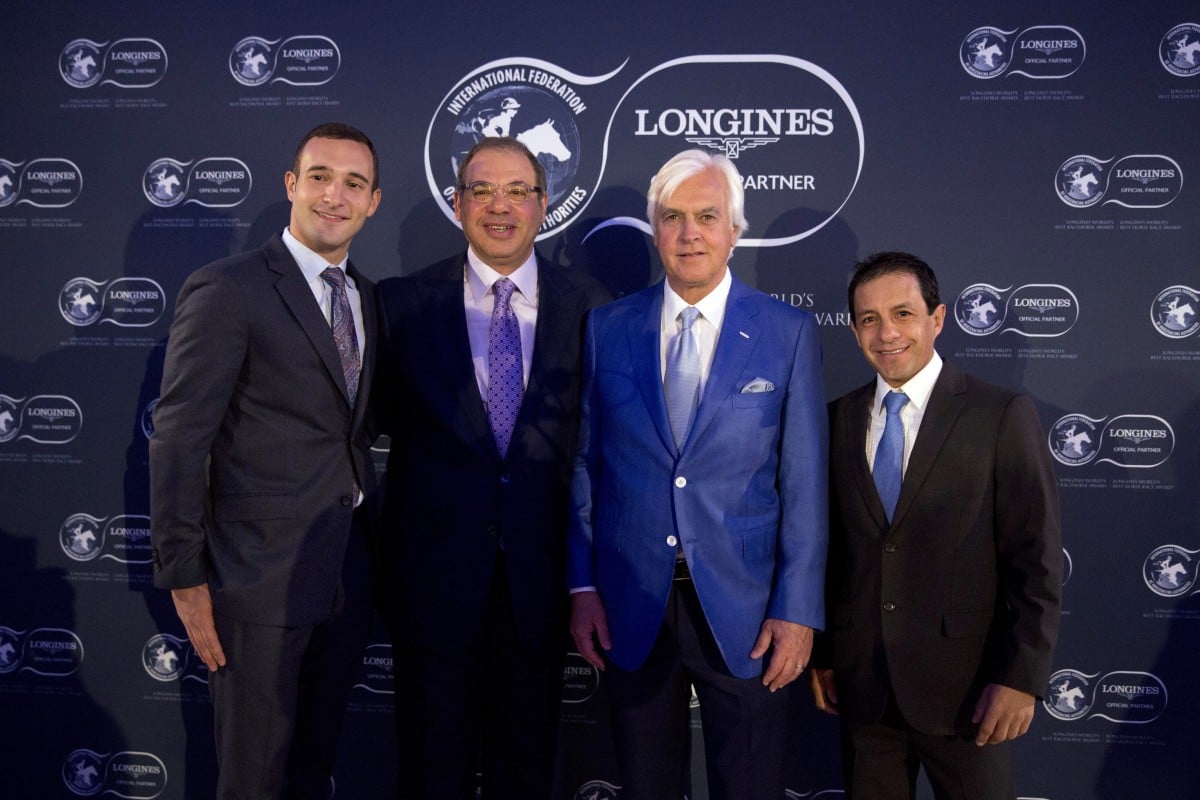 The Griffin had the honour of being in London (or was it Paris? Victor Espinoza certainly thought so…) for the Longines World's Best Racehorse Awards last Tuesday as American Pharoah was anointed the equine king of 2015 and the Prix de l'Arc de Triomphe was crowned the world's greatest race.
Prominent owners, trainers, jockeys, breeders and administrators joined a large English media contingent and a smattering of journalists from around the world at one of London's most well-known hotels, Claridge's in Mayfair, to celebrate the racing year that had ended almost three weeks earlier.
The horses were the focus, although they very easily could have been eclipsed by Bode Baffert, the 11-year-old son of American Pharoah's trainer Bob. Talk about charming and charismatic! Very similar in ilk to Nash Rawiller's son Campbell, who charmed all-comers at Sha Tin during international week, hopefully both are persuaded to remain in the racing industry long-term.
Hopefully, they will one day enter an industry which has a more substantial global racing awards ceremony in place, although the Longines awards are the first step in that direction.
Nevertheless, we want to look forward, and there is so much more that could be envisioned from such an event. There is so much more that could be achieved, and so much more attention could be drawn if a different format was adopted.
Congratulations @AndrewNJHawkins, winner of #HKIR journalism award presented at @worldsbesthorse function in London pic.twitter.com/j5oPmQPU9V

— scmpRacingPost (@SCMPRacingPost) January 21, 2016
Every major global sport has a signature event, a time when the world's best can gather to celebrate the stars of that given sport from all over. Racing, however, remains regionalised, insular, preferring to instead focus on the best from each jurisdiction rather than attempting to create debate between jurisdictions.
This is despite the fact horses are travelling more than ever before and it is becoming easier to follow the sport of kings in a plethora of countries.
It's not uncommon for Americans and Canadians to stay up into the early hours watching racing from Hong Kong, nor is it unusual for Australians to bet on European fixtures as one day seamlessly transitions to the next.
Horse racing is a global sport, and it deserves to be treated as one. And while the Longines rankings do stir up debate to some extent, it is essentially based on the views of 18 people.
The current format sees 18 handicappers representing the full members of the International Federation of Horseracing Authorities (IFHA) meet for a week in Hong Kong in December to determine the top 100 racehorses of 2015. This final list, the Longines World's Best Racehorse Rankings, was released after the ceremony, along with a list of the top 100 Group One races for the year - determined by the average rating of the top four placegetters in each race over three years.
The top three horses are recognised at the awards ceremony in London - so in 2015, American Pharoah was first on 134, Golden Horn second on 130, while Treve and Shared Belief shared third on 129.
"We spend a number of days during international week in December debating the merits of close to 400 horses, trying to give them a number," said Nigel Gray, Hong Kong's chief handicapper and the co-chairman of the Longines World's Best Racehorse Rankings Committee. "It can lead to quite a few heated debates and arguments, but in the end it is a matter of consensus and opinion. And there are a number of factors that come into play, such as how the form of a race has worked out or historical context."
We spend a number of days during international week in December debating the merits of close to 400 horses, trying to give them a number. It can lead to quite a few heated debates and arguments
"For example, take Able Friend's rating of 125, reached twice in 2015. His most contentious effort was in the Premier Bowl. Conceivably, we could have given him a rating like 130, placing him on par with Arc winner Golden Horn - he gave six pounds to 120-rated Gold-Fun and 11 pounds to 119-rated Peniaphobia, so either would take him to a rating of 126 or 130 respectively.
"However, all things considered, we felt 125 was an accurate assessment of that performance and that both Gold-Fun and Peniaphobia ran below their best for different reasons. Also, we couldn't say with any comfort that Able Friend performed better that day than he did when he recorded a mark of 127 in the Hong Kong Mile in 2014."
While handicappers are undoubtedly well placed to judge the merits of form globally, The Griffin believes that a better model exists - and it also came to the fore in the last week in the form of America's Eclipse Awards held at Gulfstream Park in Florida last weekend,
The Eclipse Awards are decided by 282 representatives from the Daily Racing Form (DRF), the National Turf Writers and Broadcasters (NTWAB), and the National Thoroughbred Racing Association (NTRA), and they vote in more than 20 categories based on divisions and age.
They are very similar to the Cartier Awards in Europe, while most jurisdictions have some awards function in place, but the Eclipse Awards is the best format that could be adopted globally.
The way The Griffin envisions a future World Racing Awards, each full member of the IFHA - all 18 of them (19 soon, with Uruguay entering the fray) - would adopt a panel of, say, 20 members. They can be jockeys, trainers, owners, journalists, broadcasters, administrators.
The 20 panel members would vote in each category, with the collective top five receiving points. Each country's votes would be tallied to produce an overall winner.
Ideally, it would be held at a time when the world's racing folk are in the one place - and potentially, that could be the night of the Hong Kong International Races, with the panel members getting the chance to vote in the hours before.
However, where that leaves a race like the Arima Kinen is somewhat questionable, so perhaps its current position in January remains.
It is worth a try, though, in an attempt to invigorate an awards ceremony that at the moment does little to ignite the passions of the global racing community.
One criticism pointed out when this idea was raised was the notion that there are still such big gulfs between countries on areas like drug rules, scheduling and
However, this could be a conduit to further global cooperation - although it would be foolish to suggest that harmony on awards could lead to harmony on drug rules.
There are other features that a truly global racing industry should embrace and encourage, like a world racing hall of fame - but slowly, slowly. Baby steps.
The Longines World's Best Racehorse Awards are a start, but hopefully they will lead to something the racing world can celebrate and appreciate - something that is worthy of the sport of kings.