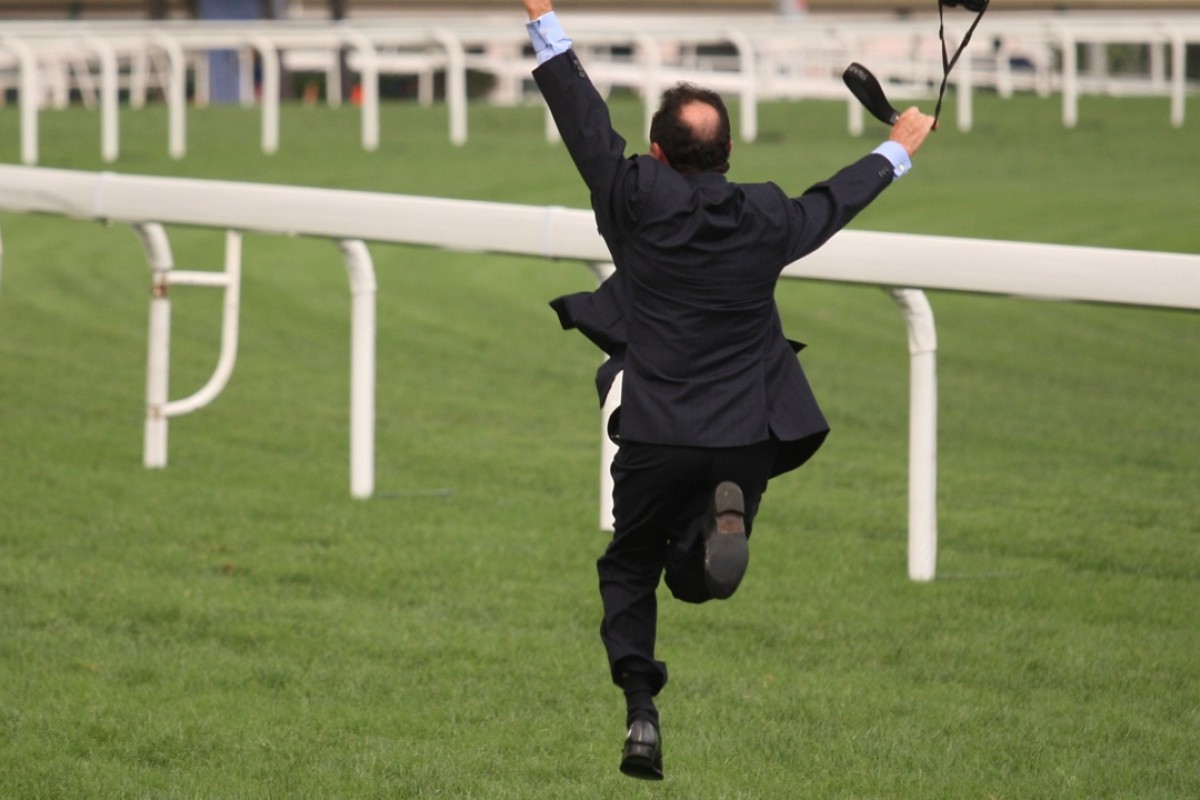 In the space of 24 hours this weekend, the past and future of Hong Kong racing will be on display on opposite sides of the continent, sitting in stark contrast and presenting a need for significant change.
Macau sits in the past, Dubai represents the way forward, and the Hong Kong Jockey Club has a timely opportunity to make a paradigm shift
Macau sits in the past, Dubai represents the way forward, and the Hong Kong Jockey Club has a timely opportunity to make a paradigm shift – albeit one that sits at odds with their current direction.
The local feature on Sunday is the Group Three Hong Kong Macau Trophy, the first leg of the two-race interport series featuring horses from both sides of the Pearl River Delta.
Each year, the Hong Kong Macau Trophy begins to look more and more outdated, to the point it seems a sad relic on the racing calendar, a nod to the shared history of the two ports but with an ever-widening chasm in depth between the two jurisdictions.
Whether it is the improved quality of Hong Kong's horse population or an indictment on Macanese racing – we suspect a little of both – there is simply no reason to continue with the interport series, especially with Hong Kong throwing open the doors to all open-age Group races (bar the interport contest).
WATCH: Arpinati wins the 2015 Hong Kong Macau Trophy
This year's race may have drawn a full field of 14 but looks a nine-runner Group Three handicap, although a competitive one, for the recent statistics are damning for Macau's contingent.
Each of the last three years, the Macau raiders were completely outclassed. All had at least five raiders (2014 had six), each year the best any visitor could manage was eighth, with Macau filling positions 12, 13 and 14.
The most newsworthy of the visitors this year is last season's Macau Derby winner The Alfonso, who made headlines in June when he was injured in a freak accident at the Macau Jockey Club complex only weeks after it was revealed Hong Kong champion Viva Pataca was living in substandard conditions in the same stables.
Oh, and the fact Hong Kong has a Macanese rival in the Silly Horse Name Stakes, with Allan Tam Man-chau's Bobo So Cute joining the likes of What Man Horse, Everyday Lettuce and Big Bang Bong in what is a more competitive affair than the Group Three itself.
Sure, there could come a time when Macau has a horse worthy of being able to take on Hong Kong's best on the racetrack and not just in monikers, but with the majority of Group races now open to international competition, let them target those events. The need for the series is simply no longer there, and so it wouldn't surprise if this weekend's Hong Kong Macau Trophy is the last interport race held at Sha Tin.
The need for the series is simply no longer there, and so it wouldn't surprise if this weekend's Hong Kong Macau Trophy is the last interport race held at Sha Tin
Mere hours earlier, Hong Kong racing takes a further step down a path it has avoided for so long when two Hongkongers run at Meydan's Super Saturday, the trials night for the Dubai World Cup meeting on March 26.
It is another foray into top-level dirt racing on the world stage, led by Michael Chang Chun-wai's Rich Tapestry – a hot favourite to win his second Mahab Al Shimaal after his Al Shindagha romp. There is a changing of the guard of sorts, though, with Caspar Fownes-trained Gun Pit the new potential flagbearer as he aims to book his Dubai World Cup ticket in the Al Maktoum Challenge Round Three. On Saturday, he takes on star American galloper Keen Ice – the only horse to beat Triple Crown winner American Pharoah in his three-year-old season – and last year's runaway UAE Derby winner Mubtaahij, with Kentucky Derby winner California Chrome and consistent Frosted awaiting in the World Cup itself.
WATCH: Keen Ice wins the 2015 Travers Stakes, defeating American Pharoah
Hong Kong's emergence as a dirt force has been somewhat surprising. Sure, Bullish Luck finished third in the World Cup almost a decade ago, even if he was beaten 10 lengths by Invasor, but Hong Kong is still a turf jurisdiction, with dirt playing the role of Donald Trump's poor cousin. The Sha Tin all-weather track is a frustrating, heartbreaking, much maligned track ­– it rarely plays the same and it is a last resort for many a disappointing galloper.
Nevertheless, there is no doubt it holds a place, however much resistance there is from administrators and media alike.
Until now, it has been a niche surface, providing a hint of variety in a city with only two racecourses. Once horses reach a certain level, dirt opportunities are few and far between, with the majority of races on the track in the lower classes.
The paradox is, Hong Kong horses continue to thrive abroad on dirt. Rich Tapestry won at the highest level in America and started favourite in the Breeders' Cup Sprint, the overall performance in Dubai on dirt last year was strong and more horses are getting their ratings up to triple figures on the all-weather track. Indeed, a natural by-product of improved quality has been a small number of horses who come to Hong Kong and can reach a certain level on dirt that they cannot reach on turf. Gun Pit is the perfect example, although his Centenary Vase sixth perhaps suggests he can reach a higher level on turf than expected.
This year, it looks like Hong Kong may be represented for the first time in all three open-age dirt races on the Dubai World Cup programme, if Gun Pit can secure a berth in the US$10 million feature.
The Golden Shaheen looms as a battle once again between Hong Kong and the United States; in the red corner, Rich Tapestry and Super Jockey, as well as first time visitor Domineer and potentially Master Kochanwong; in the blue corner, X Y Jet, Marking and maybe Kobe's Back.
And it looks likely that Hong Kong will have a runner in the Godolphin Mile regardless, with eight-year-old Dan Excel likely to be given his first chance on the surface at his 49th career start.
Dirt racing will never be number one in Hong Kong. It will never be on any level that promotes it to even footing with turf racing. That said, the lack of opportunities for dirt horses is becoming more and more striking as our horses step up on the world stage.
Look at Rich Tapestry. Between his Hong Kong Sprint runs in 2013 and 2015, he only ran at home once, in April 2014. Otherwise, he was building his reputation as a globetrotter, winning in Dubai and the United States and performing admirably in Japan and Singapore.
Fownes has been open in suggesting Gun Pit is for sale, should any cash-rich Qatari sheikhs or opportunistic American businessmen want a runner on Dubai World Cup night, while the owners of Domineer have mooted sending the sprinter to the United States to continue his career.
The Jockey Club has always maintained a policy of trying to keep the best horses at home for the big races, while encouraging overseas ventures at suitable spots in the calendar. And yet, for dirt horses, the only options are to travel or to switch to turf – and who wins in those scenarios?
The time has come for Hong Kong to introduce a rich Group race on dirt, if not two. Whether over 1,200m or 1,650m, in the lead-up to the Hong Kong international races, as prep races for Dubai or as a complement to the spring features, surely there is a market now for at least one dirt feature a season.
In any case, a Group race or two on dirt would surely make so much more sense than the Hong Kong Macau Trophy.
Surely, it's time to switch out the old and bring in the new.