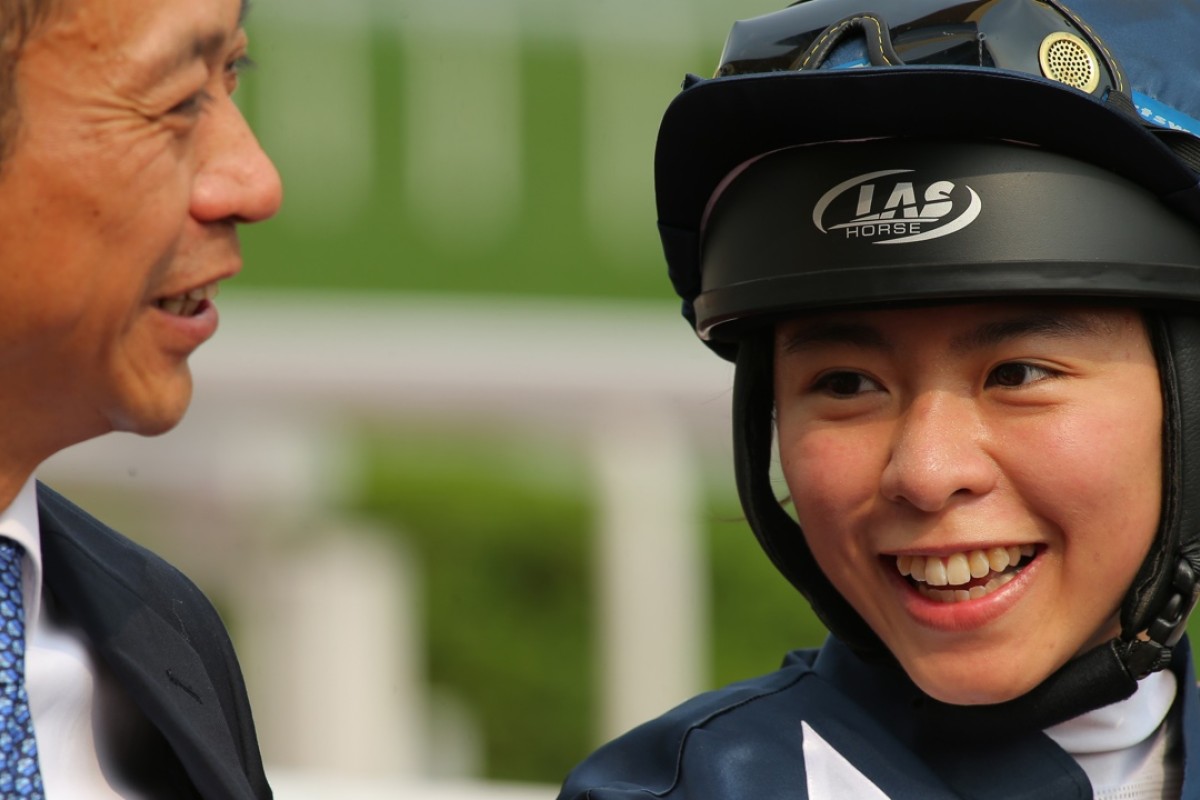 A confidence-building win on Lucky Ever and the ride of her life on former Group One hero Amber Sky has 10-pound claimer Kei Chiong Ka-kei on a high ahead of her Happy Valley debut on Wednesday night.
Chiong has now ridden a winner at the last two meetings, having only ridden at three meetings since her return from injury, and stewards have again cleared her to compete at the smaller track after she rode at barrier trials at the city circuit on Saturday.
"I am excited, it is a very different track to Sha Tin," said Chiong, who was due to ride at the Valley before her fall on international day in which she broke two fingers in her right hand.
The 23-year-old expected to have two rides when fields are released this morning.
"I am glad I have just a couple of rides to ease in, I will be more careful with the turns there," she said.
I am glad I have just a couple of rides to ease in, I will be more careful with the turns there
Trainer Danny Shum Chap-shing has now supplied two of Chiong's four career victories after she took advantage of a low draw on Lucky Ever, sitting outside the lead and kicking away in the straight.
"We wanted to find cover, but he jumped well so I let him relax and ended up where he did, and then he just kept going," Chiong said. "He gave me a great feel coming into the straight and I felt like I was going to win."
Chiong also had that winning feeling, at least for a few fleeting moments, on rejuvenated star Amber Sky, who seemed to appreciate the youngster's 10-pound allowance.
As expected, Amber Sky bounced in front but the Ricky Yiu Poon-fai-trained speedster stayed there for much longer than most had expected and managed to hang on for third.
"He has such fast barrier speed, and it is just natural speed, you don't even have to push him," Chiong said. "Right until the last 100m, I thought I was winning – but I could feel the field coming."
WATCH: Dreams come true for Hong Kong's first female jockey for 15 years
It was a big day for the two apprentice jockeys – Chiong later finished second on Go Go Win in the last and Jack Wong Ho-nam, now claiming seven pounds, ended a long run of outs with Mister Marc's Class Five victory.
"It's been a quiet part of the season, so it was a relief to get that one," said Wong, who now has 13 wins for the term but hadn't won since January 17 and had reached a 57-race run of outs. "Kei is probably getting a few of the rides now that I am claiming seven and she has 10."
Wong even found the lighter side of Class Five battler Mister Marc, calling the Me Tsui Yu-sak-trained six-year-old a "specialist" of sorts.
"He's a dirt and Class Five specialist," Wong said. "He can't really compete up in grade, but in Class Five he is very honest."