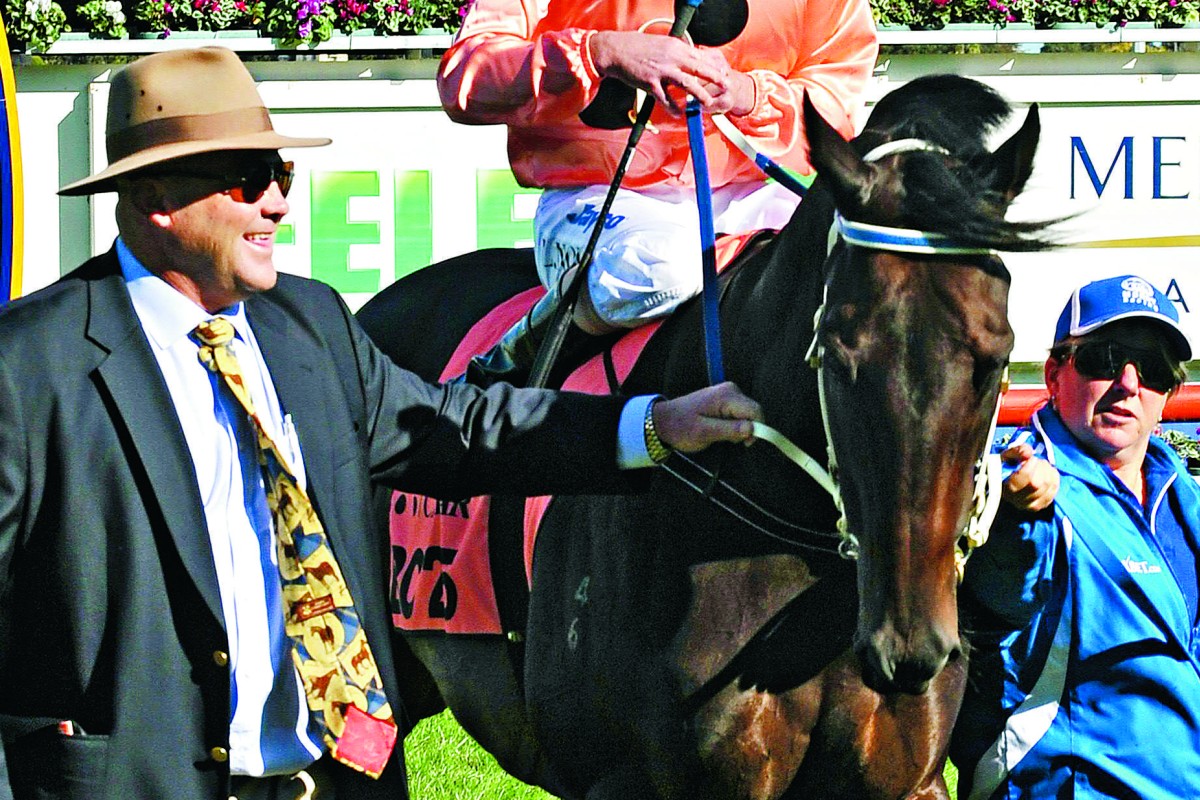 When trainer Almond Lee cruised past his performance requirements with "Bond, James Bond" style by landing a treble at Happy Valley, it was a timely reminder that we still have two other trainers under pressure to do the same thing.
And without wanting to put too fine a point on it, it doesn't look so good.
Maybe he should be recruited for Hong Kong, since at least he won't have an existing business to unravel, would be a success and is media and public relations-friendly
Sean Woods and Andreas Schutz are battling to find their 15 wins and, as much as anything else, numbers are against them doing it, particularly in Woods' case.
It was a thought that occurred to us again yesterday. Black Caviar's trainer, Peter Moody, announced definitively that he was leaving racing after being handed a six-month suspension arising from Victoria's cobalt inquiries that have been so long-running they make The Phantom Of The Opera look like a pilot show.
Maybe Moody would be a candidate to fill one of the two spots which look likely to become available at season's end? He says he has had enough and is quitting training, even after the six months is up, but said himself he doesn't really know anything but racing. We figure he'll train again when the fog lifts, since he's pretty good at it and might find that an attractive reason for returning.
Maybe he should be recruited for Hong Kong, since at least he won't have an existing business to unravel, would be a success and is media and public relations-friendly – all ticks, although his counterparts here would probably prefer less competitive arrivals.
What's that? A drug cheat? Well, hold on fella. After 18 months of Moody being tipped upside down, the findings out of Victoria SPECIFICALLY concluded that he was not guilty of giving any horse cobalt as a performance enhancer but his six month-ban was issued under the rule dealing with a trainer's responsibility to present a horse drug-free for racing.
It's the same rule under which penalties have been handed out in the past five years to John Size, Francis Lui Kin-wai, John Moore, Schutz, Ricky Yiu Poon-fai and most recently for Tony Millard's HK$30,000 fine over Strathmore's positive test that saw him withdrawn an hour before the Hong Kong Sprint. It's a rule under which most trainers are penalised at one time or another.
Anyway, it would need Moody to decide first to opt back into training, so it's a kite flying in the wind but no spicier than some of the others. Dale Romans, David Hayes, Gerald Mosse, even Douglas Whyte, all have had mentions. Pick the odd men out.
Jockeys need to retire and get some runs on the board as trainers before they might be considered. It isn't like the old days
We wouldn't knock any of those, but for a current jockey to get the nod would require the club to backtrack on a principle officials have been wheeling out for over a decade – jockeys need to retire and get some runs on the board as trainers before they might be considered. It isn't like the old days.
The club has not, recently anyway, rushed to fill empty spots. After David Oughton's departure it was more than four years before the man who ostensibly replaced him, Richard Gibson, arrived at Sha Tin.
Yet that replacement issue will take on a more urgent feel one expects when it next emerges.
Whether the Jockey Club's application for five more race meetings is due to a turnover downturn or not, it is linked to the Conghua training centre near Guangzhou and the club's ability to have a larger horse population. That, in turn, requires more races and also trainers.
There is an argument about spare stabling at some yards and not others even now, but the reality is that owners don't want to be railroaded into "choosing" a trainer simply because there's no room at another inn.
With the Jockey Club confident that just over two years from now a proportion of horses will begin training out of Conghua, the clock will be ticking this time on replacement trainers.
Full circle for John Moore with New Zealand-bred double
John Moore seemed to have been left triumphant, if a little apprehensive, by his one-two result in the Derby with southern hemisphere-sourced horses, Werther and Victory Magic.
The market for horses in Europe had been Moore's playground from the days of Viva Pataca onwards but, a decade down the track, that market has become so much more difficult and expensive a sandbox.
Once upon a time, New Zealand was the hunting ground for Australians wanting Caulfield or Melbourne Cup horses but, after Sydney's Chris Waller so effectively began to pluck stayers from the middle grades in Britain and Europe cheaply and made them pay well Down Under, that changed.
As a result, the European market has risen from the middle up to the point of being unviable. One of the northern hemisphere Derby horses Moore did find, Consort – later transferred by owner Pan Sutong to Richard Gibson – reportedly cost more than the total Derby prize money so there's no better example of the market having become too expensive, despite the promise shown in the colt's Derby fourth.
So, for Moore's dominant Derby quinella to have come with two New Zealand-breds turns things full circle, back to where he sourced his first Derby winner 21 years ago, Makarpura Star.
The apprehension? Moore wouldn't be drawn out on the change of direction either before or after the Derby and we figure that was the trainer imagining how his phone is going to be ringing off the hook now with Kiwi accents on the other end.
From Dubai to Chengdu
While most eyes are on horses going from somewhere else to Dubai this weekend, racing in mainland China takes another baby step forward with a group going the opposite way just over 24 horse before the world's richest race, the Dubai World Cup.
Wen Li, founder of the ChinaHorseRacing.org website, reports that Friday is the day that more sixty Dubai-based race horses fly out, flight bound for the Chengdu Dubai International Cup meeting near, yes, Chengdu.
With five races run from 1,400m to 2,218m the third annual Chengdu event is to be run in April, again using the rules and personnel of the Emirates Racing Authority.
We have had no word on the rescheduling of the Hong Kong Jockey Club-sponsored meeting at Chengdu which had to be called off last November when an equine influenza outbreak at Wuhan affected the participating horses.