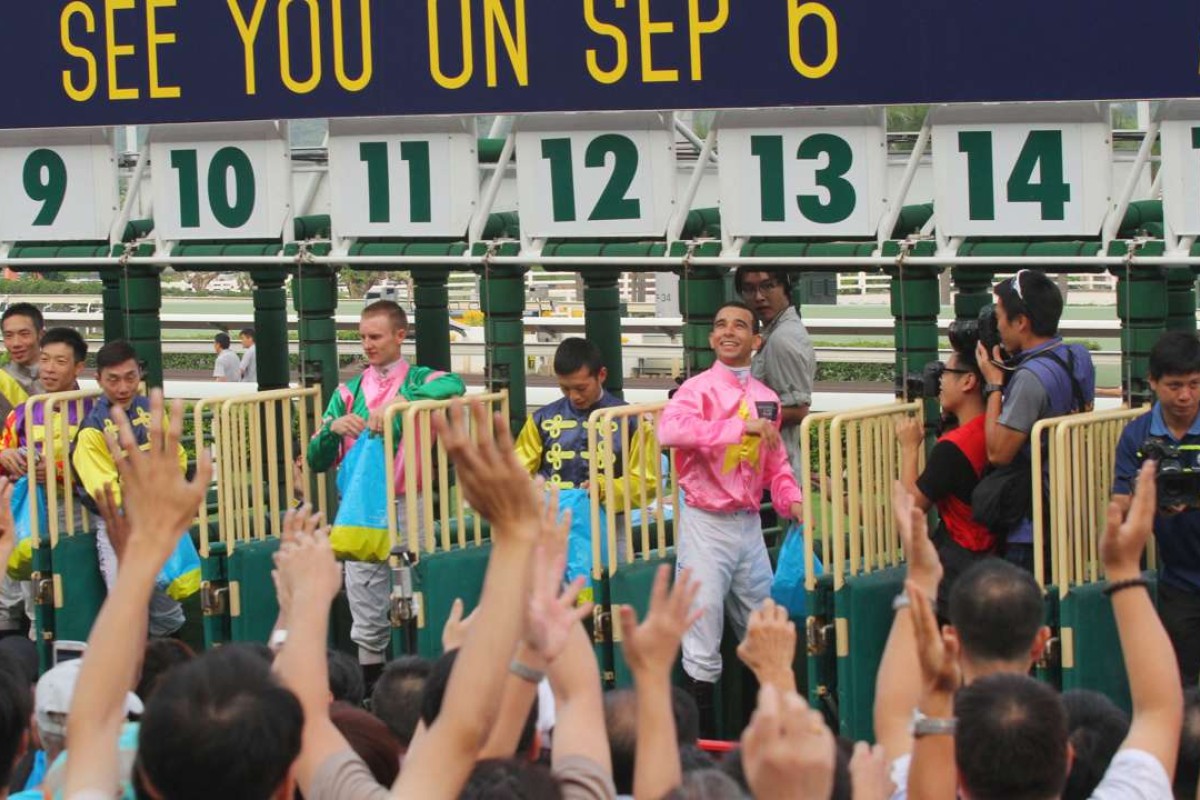 It doesn't get any better than Sunday at Sha Tin – two all-time equine greats, Maurice and Chautauqua, at the top of their game putting in performances for the ages.
No, really, it doesn't get any better. That was it, that was the high point for the season – it is all downhill from here.
So what now?
While it may look like there isn't long to go with just 18 meetings before a well-deserved off-season break, it's a well-known fact that the weeks between Champions Mile day and the season finale don't happen in dog years – they happen in light years. The final quarter of the season seems to take twice as long as the first three quarters.
Why? Because from a racing perspective, not much happens in big races. There is only one more domestic Group One, it's probably the weakest on the calendar and, to put it bluntly, people are getting grumpy.
That is no surprise given the weather – it is either hot or raining, or both, and it's so humid that the same people that laugh at John Moore for wearing a safari suit in September start asking for the number of his tailor so they can get their own made.
So what is there left to look forward to in 2015-16? Welcome to the Happy Lucky Dragon Win end-of-season survival guide.
Leading local
Usually, Horse of the Year awards go in this space as a point of discussion, but guess what? Before we can even start talking about it, Horse of the Year is over – is there anything that can happen between now and the end of the term that would mean Werther isn't given the top gong? The BMW Hong Kong Derby-Audemars Piguet QE II Cup double is already enough, but the four-year-old could now become the first horse in more than 10 years to take the treble of the Derby, QE II and Standard Chartered Champions & Chater Cup – joining Vengeance Of Rain who achieved the feat in 2005.
Not only do Joao Moreira and, to a lesser extent, John Size have the jockeys' and trainers' championships sorted, but each of the horse of the year category winners looks below par as well.
A single Group One win at 1,200m each to Peniaphobia and Aerovelocity indicates a somewhat forgettable vintage for the sprinters, while injury or retirement robbed miler of the year of two possible contenders in Able Friend and Luger. The winner at this stage will be Giant Treasure, courtesy of a Stewards' Cup win and a second in the Hong Kong Mile.
Here's one to ponder though – now that the vast majority of Hong Kong's Group One races are open to all-comers, why not open the awards up to foreign raiders as well? Maurice as champion miler, anyone? The beast took the two biggest mile races on the calendar here, so why not? If Hong Kong want to play with the big boys and become a "stallion-making jurisdiction", then let's get serious about it.
Anyway, what's left? Kei Chiong Ka-kei's quest to become leading local rider this season, that's what. KK's post-injury resurgence has already been the feel-good story of the season and if she can beat home the boys – she trails Keith Yeung Ming-lun by three after a double on Sunday – it will cap a remarkable rookie season for the 23-year-old.
Joao watch
This jockeys' championship has been a case of "Joao versus Joao" all season really, but now that the smoke has cleared after a hectic two weeks of feature race build-up, he leads by 74 wins (!) and it appears as though the Magic Man is on track to comfortably beat his own record of 145 wins set last season.
So how many winners will the Brazilian ride?
Take a guess, pluck a number out of thin air, but as it stands he is striking at slightly better than two per meeting. Maintaining that and a bit more for an entire season and riding 190-plus would be a remarkable achievement.
With Size still to unleash some talented unraced horses with points in hand, and Moreira a strong possibility to be aboard plenty of them, could he even make a run at what would have once been an unthinkable 200?
After Joao Moreira's four wins yesterday, he's on target to break season record of 145. Now at 132, 18 meetings left pic.twitter.com/nQ2tQjUCB5

— scmpRacingPost (@SCMPRacingPost) May 2, 2016
Yasuda Kinen
There are more under-appreciated Group Ones in Japan than anywhere else, which is saying something, as there aren't many Group Ones there full-stop. There are only two Group Ones open to all horses at a mile and the Yasuda Kinen at Tokyo is one of them.
So June 5, strap yourself in for something special – hopefully Maurice is there looking for back-to-back wins, even if the trainers of Hong Kong's visitors are hoping he isn't.
So, who wants to be a club jockey?
It's that time again for what could be our favourite, if a touch brutal, reality show: "Who wants to be a club jockey?"
Here's the pitch: watch in amazement as champion riders from major racing jurisdictions ride 100-1 shots to fast-finishing fourths and cry with them as Joao Moreira gets asked to ride those same long shots at their next start – and he wins.
"Who wants to be a club jockey?" is a riveting fly-on-the-wall expose into an ego-crushing attempt by the Jockey Club to see who can survive having their career strike rate cut to pieces – only the strong survive!
A total of eight fresh faces have ridden on short-term stints this season as the Jockey Club cast the net far and wide in what has been a clear push to rejuvenate the local scene.
Bravely battling it out throughout the summer season of "Who wants to be club jockey?" will be two heavyweights that are stars in their homelands, but just another two faces in the sky full of stars that is a morning at Sha Tin trackwork.
South African champion Gavin Lerena has scrapped and clawed his way to five wins so far, which isn't a bad return on paper – but two were on Longines International Jockeys' Championship night and he has had to work overtime for every single one of the others. He has been riding mostly camels, with his bodyweight of 122 pounds an instant obstacle, and the timing of his visit also putting a squeeze on opportunities.
Same goes for Kiwi Opie Bosson – he must have wondered what he has signed up for when he walked into a jockeys' room on his first day and saw 27 other jockeys down to ride, including names like Hugh Bowman, Ryan Moore and Yutaka Take.
Bosson faces the same challenge of being stuck at the upper end of the weight scale, but now that the madness of the spring features is over, and some suspensions begin to bite into the numbers, he should be able to find some rhythm.
With most of the European visitors from earlier in the term unlikely to want a full-time spot next season, it will be fascinating to see if either of these newcomers grasp a chance to stick around - or whether they do enough to warrant it.
A new race
Late season Group Three sprints and miles in Hong Kong are the best kinds of races. They are the type of competitive contests with wide markets that bring those who have sworn off the punt unstuck.
From an equine perspective, they are an opportunity for up-and-comers to strike with a low weight and a chance for veterans stuck in ratings no man's land to get what might be an annual shot at winning.
Joining the Group Three Sha Tin Vase (1,200m) and Group Three Premier Plate (1,400m) as races for sprinter-milers late in the season comes the Group Three Lion Rock Trophy, a mile handicap with the same 95+ ratings band, on May 29.
These races should be shown to officials in Australia as exhibits A, B and C of how a proper weight scale makes racing exciting – if only the time-honoured Doncaster and Epsom Handicaps at Randwick were still real handicaps.
The Lion Rock Trophy will feature a clash between John Moore's in-form duo Helene Paragon and Rapper Dragon – creating another "who do I ride?" dilemma for Moreira.
Also there could be Packing Pins – he might have to carry top weight, but looks ready to take another step after a third in Sunday's Champions Mile.