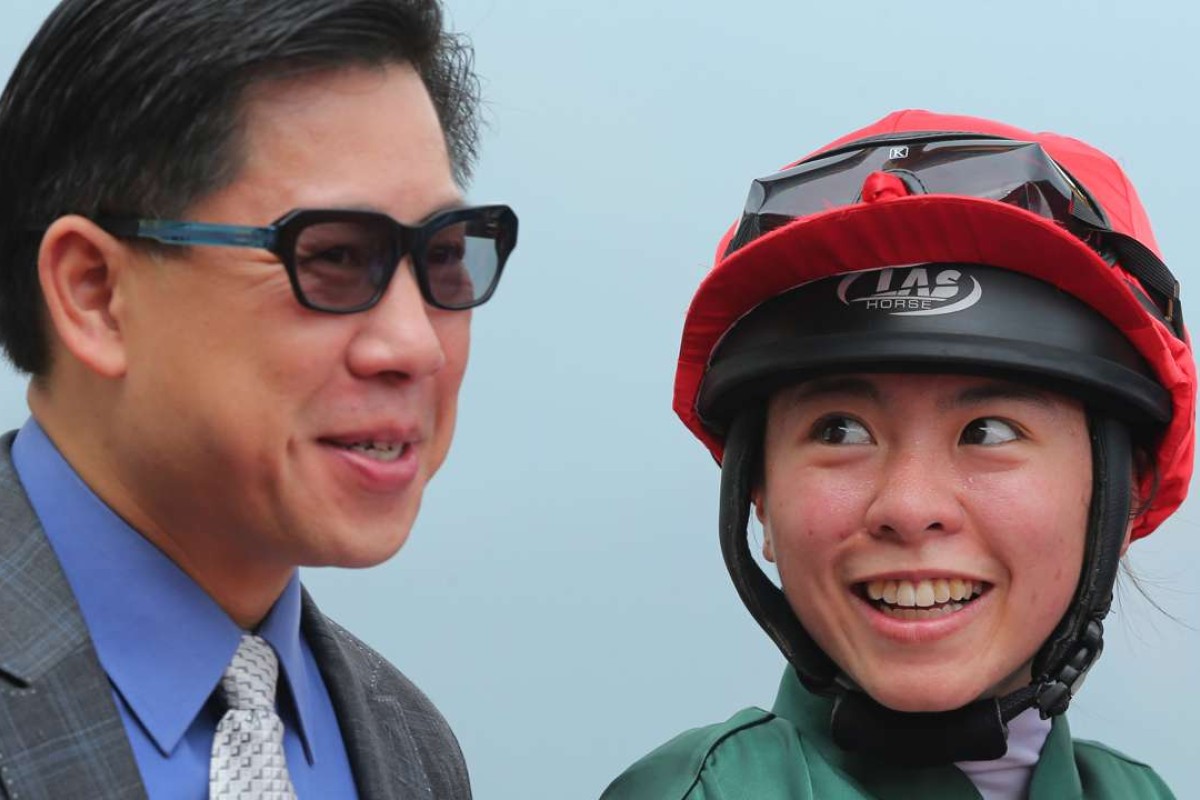 Far from jumping belatedly on the Kei Chiong Ka-kei bandwagon, trainer Dennis Yip Chor-hong was an early adopter of the star apprentice, but it took until yesterday and some lead-at-all-costs tactics to get their first wins together as a trainer-jockey combination.
Yip has been one of Chiong's biggest supporters during her rookie campaign, at least as far as rides are concerned, with 23 of her 217 rides being for the stable this season and many of those coming early in the term when the 23-year-old was struggling for wins.
Chiong was zero for 21 for Yip, though, before aggressive tactics on Metallic Star and a similarly single-minded display on Travel First produced a double and took Hong Kong's only lady jockey to 25 wins and a spot in the top 10 of the jockeys' championship.
"Kei keeps on improving," Yip said. "It was easier to get her on my horses at the start of the season than it is now though."
It was easier to get her on my horses at the start of the season than it is now though
One of Chiong's best attributes, Yip said, was having the necessary discipline to ride to instructions – and although it might have seemed the directives given on both winners were pretty simple, that wasn't the case.
Yip said Chiong had actually been given the option to hand up the lead if Metallic Star was taken on, but Chiong came out with the whip and, with the rail out in the C+3 position, ensured she wasn't crossed when joined in the middle stages as well.
"He isn't a horse that has a lot of early speed and you have to push a lot to get there, so it took a long time, but once you get in front he will just keep travelling," Chiong said of a seven-year-old that had dropped to a career-low rating of 57 and hadn't won since October 2013. "He won pretty easily, in the straight I was looking at the big screen and I knew I was going to win."
The margin wasn't anywhere near as comfortable for Travel First, an English import that has looked a reluctant winner and just edged out Ultimate Glory in a deceptive photo finish that Chiong thought she had lost.
"Maybe the horse has a long nose," Chiong said after displaying what has become her trademark strength in a close finish.
On an all-weather track rated wet slow, Chiong was even more determined to maintain the lead on Travel First and when Joao Moreira moved up to her outside on Happy Surveys, she wasn't budging.
"No way I was letting him cross, he doesn't have any dash so the best chance he had was to lead all the way," Chiong said. "I'm not sure that he doesn't want to win, he tries hard, but he is just very one-paced."
Travel First was a high-priced purchase after winning two from six in England and finishing fourth behind Born In China in the 2014 Britannia Stakes at Royal Ascot, but has been a huge disappointment since.
Yip received Travel First by way of stable transfer earlier this season but can see little in the way of upside for the five-year-old, especially now that he goes up to Class Two.
"I think he had everything his way today, with the track the way it was and the claim," Yip said.