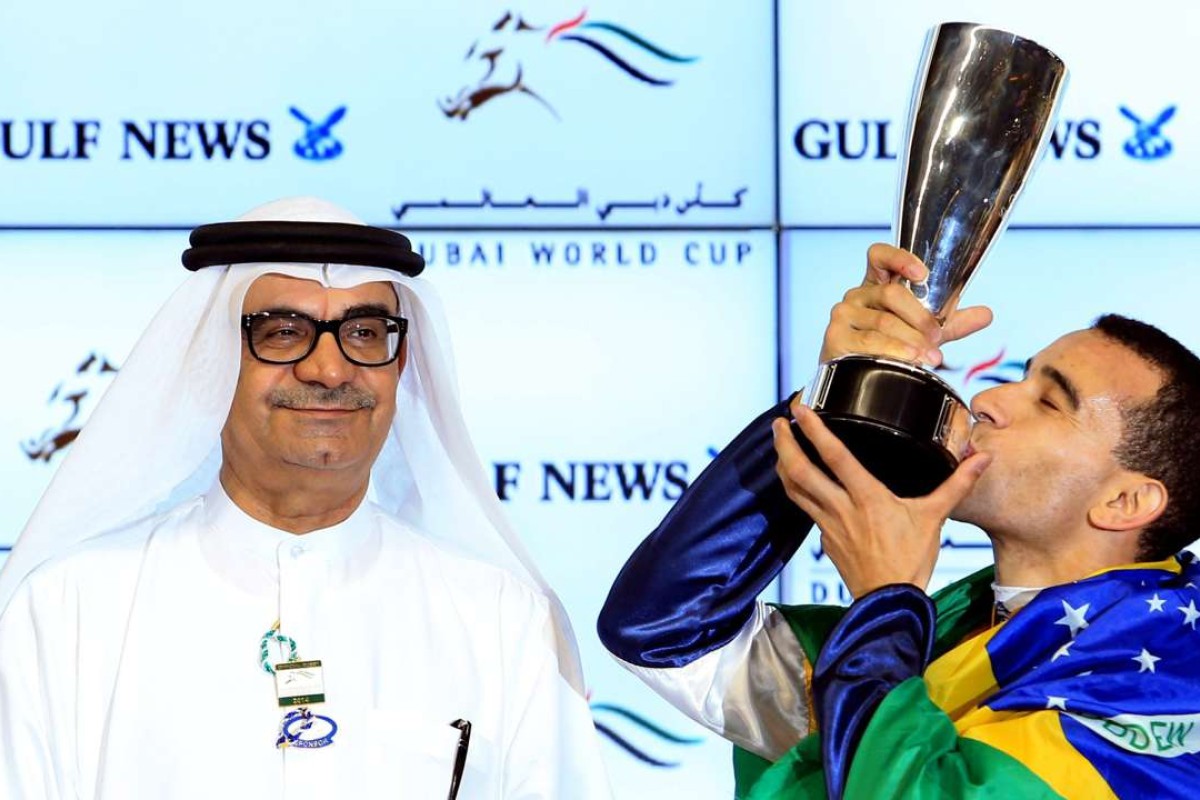 We hear Brazil will be looking for a new president later this year. Well, look no further: we might have just the man the embattled country needs right here in Hong Kong racing, an environment where a jockey's political manoeuvring and people pleasing play as big a part as on-track skill.
The campaign is already taking shape. "Vote one: Joao Moreira! The homegrown Brazilian boy come good, champion of the working class, charismatic, cool under pressure and fantastic at getting one out of the gates fast in a Happy Valley sprint."
OK, that last skill is probably not useful in the political arena, but there is one highly underrated attribute of Moreira's that is transferable – being a political mover and shaker around the Sha Tin trainer's stand.
The sheer number of winners Moreira rides is mesmerising, but the Magic Man reached a milestone on Sunday that while perhaps a little less auspicious than some of his records, was no less significant.
By winning on the the aptly named Happy Friendship in a Class Five dirt race, Moreira has now ridden a winner for all 24 trainers, adding Sean Woods to the list (and just in the nick of time, too, with Woods skating on thin ice when it comes to retaining his licence for next season).
To ride a winner for every trainer in itself isn't that amazing, but what is stunning is how quickly Moreira has found his way into the winners' stall for every stable, in less than three years.
And even more astonishing is the fact that he is yet to have a falling out with any particular trainer – not to our knowledge anyway.
This is where Moreira's political skills shine – managing the expectations of Hong Kong's trainers without bruising egos, and also without upsetting thousands of famously demanding Jockey Club owners.
This balancing act requires the dexterity of a master juggler combined with the diplomatic skills of a United Nations envoy on assignment in Afghanistan.
Managing the affairs of his home nation of 200 million people might seem like a relief, but his adoring fans would take $1.20 that Moreira can find a cure to the Zika virus, revive an ailing economy and ensure the Rio Olympics begin on time and run smoothly – all during the six-week off-season.
On the score of keeping trainers happy and not getting a ban from one stable or another, the wise old heads will say, just give Moreira time.
It is probably true, nothing lasts forever in this fickle game and even the strongest trainer and jockey combinations come to an end at some stage, but the way Moreira has been able to keep everybody happy has been the most underrated aspect of the 31-year-old's meteoric rise.
Is there anybody in racing who says "no" to more people than Moreira in Hong Kong racing?
Wait, did you hear that? That was the wailing of rival jockeys as they read that previous line. They'll be screaming, "Give us a break, poor Joao, talk about quality problems!"
And true, having to knock back three or four rides per race isn't exactly the type of challenge Jacky Tong Chi-kit has had to face each week for the past few seasons.
Still, if we work at the conservative rate of three "nos" per race over the course of a season, that works out at more than 2,300 disappointments for people – all delivered as politely as possible by Moreira.
Which horse to ride is another first world problem Moreira faces, and this is where politics plays a big part as well.
It isn't as simple as which horse will win an individual race. There are many considerations, primarily future support from that stable or owner, or perhaps the projected upside of an individual horse.
The microscope is on Moreira more than any other rider when it comes to his decision-making.
He moves the betting markets with which horse he chooses, and he doesn't get the help of a jockey manager – no rider does here – but admittedly he has made some high-profile choices that have raised eyebrows this season.
The most famous one is Werther, John Moore offering the ride to Moreira when the horse was to make a local debut on international day, but he rode Ishvara instead for Benno Yung Tin-pang.
Hugh Bowman jumped on Werther and not only won that day, with Ishvara unplaced, but rode his way to two Group One wins and three Group One seconds on the four-year-old.
Bowman knows all too well the pain of jumping off a future star. The champion Australian jockey rode a gangly youngster named So You Think to a maiden win, and then a Group Three as a three-year-old – we will let Bowman finish the story.
"I jumped off So You Think and he won five Group Ones from his next eight starts," Bowman said last week. "Sometimes the cookie crumbles your way, sometimes it doesn't."
More often than not, it might seem like the cookie has crumbled the wrong way for Moreira this season – he chose Thewizardofoz over Sun Jewellery, as most judges would have, and that horse won two Group Ones.
Then he again chose Thewizardofoz over Peniaphobia last month before watching the Tony Cruz-trained sprinter run away with the Group Three Sha Tin Vase on Sunday.
Given the amount of decisions Moreira makes, it must be said he hasn't done too badly. Not only could Moreira have been on Werther at one time – he had actually ridden every other horse except one in Sunday's Group One Standard Chartered Champions & Chater Cup, and that was the rank outsider Ambitious Champion.
Oh, and here's a few figures to say Moreira makes more good decisions than bad ones – 143, the number of wins he has so far this season, 78 clear of nearest rival Zac Purton with 12 fixtures to go. He's two short of his own all-time record, which is 30 clear of Douglas Whyte's career peak.
Speaking of Whyte, comments from the Durban Demon in Alan Aitken's timely feature in the Sunday Morning Post suggested Moreira has unprecedented pulling power when it comes to bumping rivals off plum rides.
"There's no way I had the same power that Joao has now," Whyte said. "There was no way I would be able to get somebody off a horse that had ridden it two or three times, brought it into progressively better form. The trainers would say 'sorry, he's stuck with it, he's been loyal and I'll give him a couple more goes'."
It is a suggestion that is scoffed at by a few jockeys who rode against Whyte during his 13-season reign of dominance. They say the only difference between Whyte and the current championship holder is that Moreira can ride light and thus doesn't miss out on any offers.
For context, it must be said that those that rode under the Whyte regime probably developed more than a little antipathy towards their tormentor and that Moreira plays the role of the benevolent dictator.
Still, it is probably early days in the Moreira era, and it's still a dictatorship – as nice as Moreira might be when it comes to saying no to an owner, there is no real polite way to ring for a ride and replace a rival jockey on a promising horse.
Just as time will be the truest test of trainer support, and of whether Moreira can keep all of the balls in the air at once, let's see how his rivals feel about him if he maintains his current strike rate for another decade or so, which isn't inconceivable.
Not that what his rivals think really matters at all, but if things do start to take a turn for the worse for Moreira and some key relationships sour with trainers, there's always that presidential spot in his homeland to fall back on.