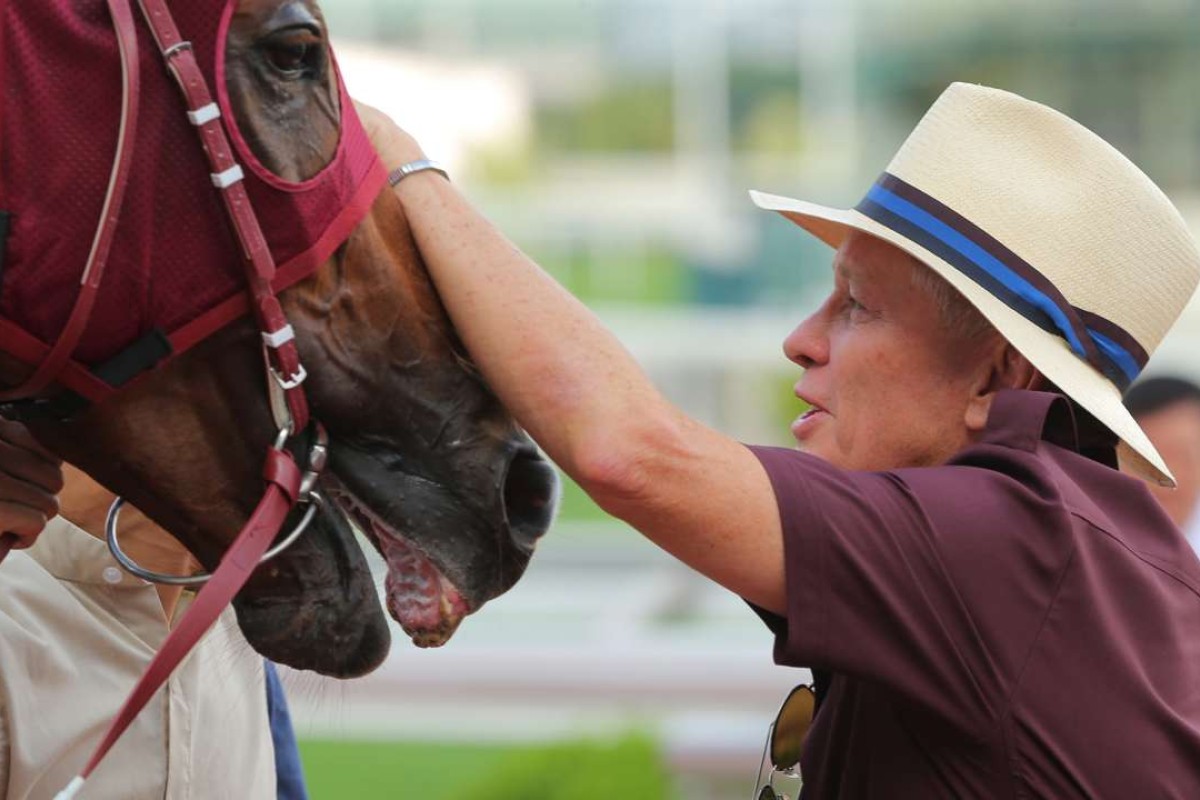 There are, as of this week, close to 300 days until the 2017 Hong Kong Derby, so it might be just a little too soon to start the annual Derby hype-a-thon – but what the hey, let's go with it anyway.
Has a trainer ever held as strong a hand at such an early stage as John Moore does right now?
Rapper Dragon's Group Three mile win on Sunday made the three-year-old the '17 Derby elect, and while even throwing out the phrase "May Derby favourite" for a race held next March might seem absurd, it is appropriate for a horse Joao Moreira dubbed a Group One winner in waiting.
That type of praise from Moreira is basically God speaking from above around these parts – in fact, these quotes on Rapper Dragon weren't spoken, they were etched on to two tablets and passed onto a reporter on Ma On Shan Peak.
"I will win a Group One on Rapper Dragon. I would never normally say that about any young horse, but I am so confident that this horse will win a Group One," Moreira said, or etched.
Rapper Dragon was impressive at a mile on Sunday, just as he has been winning four of his last five starts against some pretty tough older horses – even if he has been getting weight off most of them at his last two.
Bottom line is, he has been ticking all of the Derby boxes. Upside? Check – he is still a baby in terms of his mental development. Distance query? Nope – none, the horse doesn't overrace and even required a little niggle to keep up with the field. Temperament? Great.
Seems like a can't miss proposition really, but ironically, the horse's rapid development might be his biggest drawback from a Derby perspective, with next season's race programming tricky for a horse now rated 114 after a seven point rise in the ratings for the most recent victory.
If Moore wants to stick to the four-year-old races, as he stated on Sunday, and not throw Rapper Dragon into Group races until then, there won't be many opportunities.
Rapper Dragon entered some rare company on Sunday by winning a Group race as a three-year-old – the last locally-trained horse to do it was Peniaphobia when he won the Group Two Jockey Club Sprint in 2014, while before that you have to go back to Lucky Nine in the 2010 Group Three National Day Cup.
That could be the race, or at least the race that used to be called that, when Rapper Dragon sees his first action for the new season (it is now the Celebration Cup).
Then there's the Class One 1,400m on international day, the "Show Off Stakes", but Rapper Dragon isn't the only bullet Moore has to fire already in his search for a sixth Derby win.
Recent arrival Montaigne, formerly with Anthony Cummings, and soon to be known as Beauty "Something" after being purchased for big bucks by Patrick Kwok Ho-chuen, brings with him a likely lofty rating and high expectations.
Than there is former Mick Kent trainee Hattori Hanzo, who will probably be called Let Me "Something" as he will wear the silks of So Kai-sing. He was this year's winner of the Group Two Phar Lap Stakes, a race Winx won a year previously before progressing to become one of the best miler-middle distance horses in the world.
Griffin Trophy winner People's Knight has lost his way a touch after showing some promise early but could still progress.
Flying under the radar is Sunny Way – formerly known as Suits You, he won last year's Listed Chesham Stakes at Royal Ascot, where he beat subsequent Group One winner and star filly Ballydoyle. Sunny Way suffered a setback with a stress fracture in December, sidelining him until February, but he has since been gelded and is back in work.
Suits You wins the Chesham Stakes at #RoyalAscot – start a FREE one month trial now: http://t.co/Kq894nVmaH http://t.co/YYQiAQ5XWy

— Racing UK (@Racing_UK) June 20, 2015
Leaving aside southern hemisphere three-year-olds like Green Card and Bad Boy, who look outright sprinters, Moore is still in an unprecedented position – and all of this without even stepping into Moore's traditional happy hunting ground of Europe, from where four of his five Derby winners originally hailed.
So look out Royal Ascot – the chequebook will be out in force, and you can be sure races like the Tercentenary Stakes and Britannia Stakes will produce plenty of Hong Kong interest.
After all of that, the horse Moore might be most excited about right now is Eagle Way, but that's because Moore owns the Australian-based stayer, who will start close to favourite in the Queensland Derby in two weeks after a slashing run in the Grand Prix Stakes last weekend.
Mackintosh holds off Eagle Way & Howard Be Thy Name to win the G3 Grand Prix Stakes at Doomben! @blake_shinnhttps://t.co/T890bbpAbw

— Sky Racing (@SkyRacingAU) May 28, 2016
"It would be ironic if my first Group One win in Australia was as an owner in the Queensland Derby, not as a trainer," Moore said on Sunday.
Eagle Way will join Team Moore at Sha Tin carrying the stable colours and raced by the same syndicate who campaigned Dominant.
It's probably worth reflecting on the fact that this would have been Moore's final season had the rules not been changed and essentially handed him a five year extension – and it certainly seems the safari-suited one intends to make the most of every season he has left.