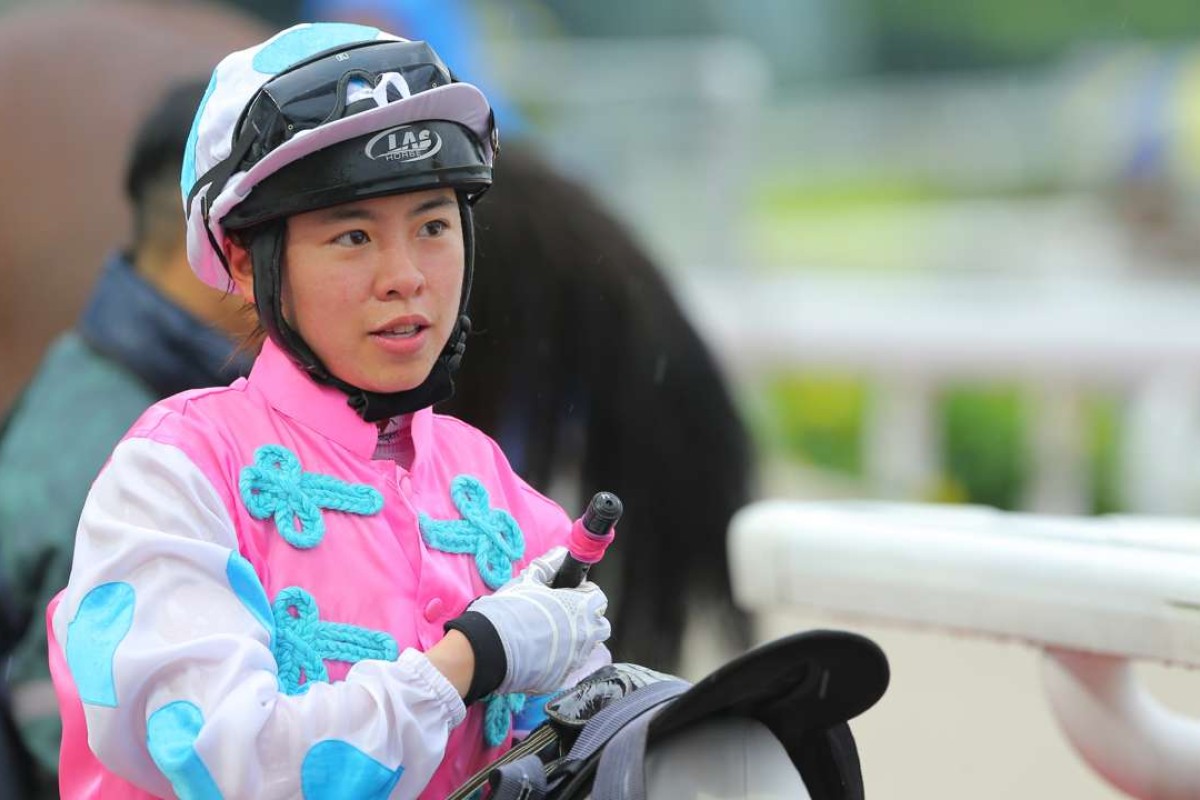 Regency Darling and Lucky Girl are effeminate names, especially for geldings, but the pair provided Hong Kong racing's leading lady Kei Chiong Ka-kei with a running double to close yesterday's Sha Tin meeting and helped her retake the lead in the absorbing battle for the inaugural Tony Cruz Award.
Keith Yeung Ming-lun had drawn level for leading local honours on Thursday at Happy Valley and an upset early in the day on Winning Boy kicked him one clear in the race for the prestigious prize.
That was before Chiong's front-running double put the 23-year-old fan favourite up by one in the to-and-fro tussle with seven meetings remaining in the season.
Chiong was replacing none other than record-breaking jockey Joao Moreira on Lucky Girl, with trainer Dennis Yip Chor-hong taking the blinkers off the long-striding four-year-old and giving the seven-pound claiming apprentice what has become a common set of instructions.
"I just told her to let him stride forward and lead," Yip said of a horse that was a surprise entry in this year's Hong Kong Derby, finishing a game sixth to Werther, but who had since been beaten twice as favourite with Moreira aboard. "Joao has been riding him back in the field and in between horses, Lucky Girl hasn't run to his best – he has a big stride and I think he needed some room. He is still learning and he will be good next season."
Chiong had to edge her way to the front on Lucky Girl from an awkward barrier, but made good use of the long run down the back from the kind 1,800m starting chute.
"He jumped slow, but he has some natural speed, so I didn't need to hunt him, I just let my horse relax and he was able to just slowly slide forward," Chiong said after her 31st win of the term, leaving 14 more wins before her seven-pound claim expires.
While Lucky Girl had enough natural dash for Chiong to find the front, Regency Darling required a little more vigour by Chiong to take up his role as pacesetter as the four-year-old went back-to-back for the apprentice.
"He doesn't have the same type of speed, but if you get him in front he will try," she said. "He is a good horse, the type of horse that will just keep trying for you."
Regency Darling has won three from five this term and trainer Manfred Man Ka-leung said Chiong was a perfect fit for another horse with a long stride.
"That's why we sent him forward, the girl is good on those types of horses," he said. "She rode a good race for us."