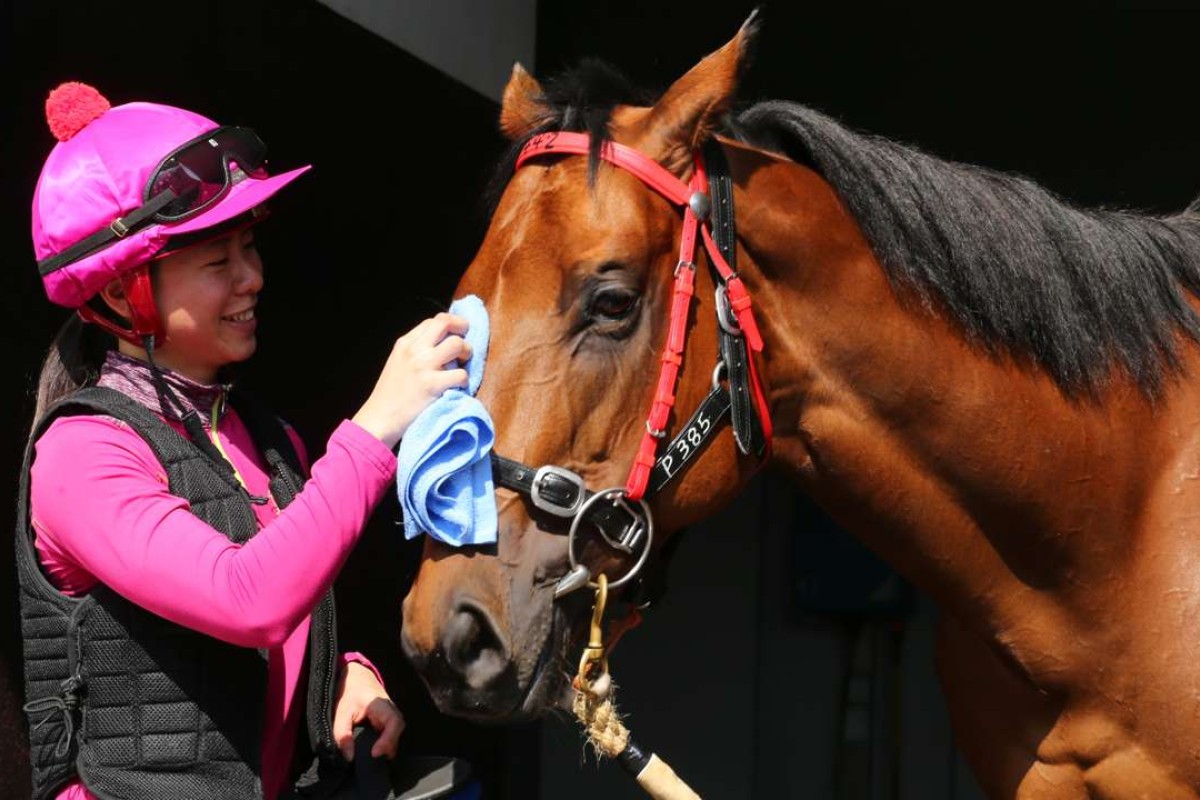 Jockey Club officials hope unprecedented mainstream media interest in star jockey Kei Chiong Ka-kei's remarkable rookie season translates into an increase in applications to the club's racing trainee course.
Hong Kong's only female jockey, and the first in 15 years, is the likely winner of the inaugural Tony Cruz Award for leading local rider after 34 winners this season with three meetings remaining, and the media turnout at a press conference on Monday reflected her overwhelming popularity with fans and the media's fascination with her story.
Maybe because I am optimistic, I don't feel too much pressure
More than 40 accreditations were granted to non-racing media, up from just 10 last year, and the usually reserved 23-year-old gave 19 separate one-on-one interviews to television and radio reporters.
"We are already hearing that Kei's results have attracted interest from a lot of youngsters. Early indications are good and there have already been submissions for the course today," said Apprentice Jockeys' School headmistress Amy Chan Lim-chee.
Applications close on July 20, with a maximum intake of 25 students after a first cut of young hopefuls are put through a long assessment process including a fitness test, an interview and riding test, before finally attending an orientation and selection camp.
Chiong has come through the school and is now blazing a trail of her own.
"Maybe because I am optimistic, I don't feel too much pressure," Chiong said. "Even if I have pressure, I convert it into a driving force."
Even though Chiong became the first local female jockey to compete in Hong Kong since Carol Yu Wing-sze in 2000, it is unlikely it will be as long before another female apprentice works her way through the ranks.
WATCH: Kei Chiong share the secrets of her success
Six of the current 14 racing trainees are girls – the most ever – and Chiong is already proving an inspiration.
"I want to succeed like her," said racing trainee Scarlet So Ka-lai, 20, from Wong Tai Sin, who started her training about 19 months ago.
"She has many wins and is as competitive as the guys. Her achievement is a confidence builder for me."
Apprentice Jockeys' School warden and fitness instructor Jacky Chan Chung-lun believes Chiong's amazing story can spark a new wave of interest.
"Maybe before people were thinking that a girl couldn't compete in Hong Kong against the men, but Kei has shown the girls that they can make it," he said.
WATCH: Female apprentice Kei Chiong chats about her prospects
Chiong's media appearances have been restricted during her first season of riding, but Amy Chan said the cautious policy had also contributed to the youngster's excellent riding record.
"The media strategy with her has been all about focus – it is too difficult to handle media at the same time while you need to handle your daily riding, and we don't want to push her too hard," Chan said.
"We've waited until the end of the season and this day, and now she is starting to feel more confident and comfortable to deal with this."