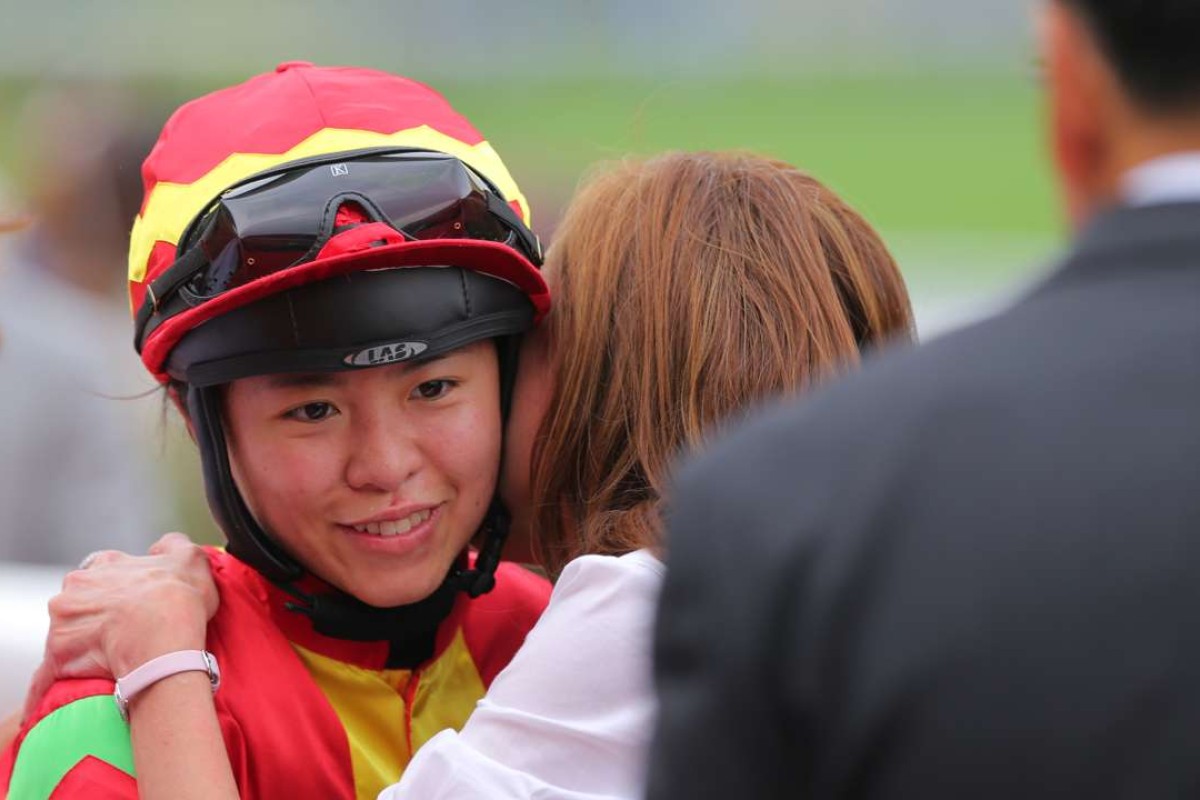 Accidents, racing incidents, and in the end, winning.
These were the hallmarks of an eventful opening day for Jockey Club apprentices, with Jack Wong Ho-nam emerging as a new star and a worthy challenger to Kei Chiong Ka-kei's reign as premier junior.
Maybe there was too much nervous energy about after eight weeks away – racing was tight and full of tension.
Off and running: 2016-17 racing season starts with a bang at Sha Tin racecourse
Wong won two, showing poise and a lovely sense of timing on front-runners, but it was KK who stole the show – and not entirely for the right reasons.
The crowd favourite was suspended for two days for careless riding, hit the deck in another – the blame entirely on her shoulders – and, to her credit, bounced back to strike a gusty blow with a win of her own.
Nerves were understandable for new 10-pound claimer Dylan Mo Hin-tung – as if the 22-year-old's local debut in front of 63,963 fans wasn't enough, his booking on the hard-to-handle Amber Sky had train wreck written all over it.
The youngster had a job many an experienced jockey has found too difficult – that is, smoothly navigate Amber Sky around a turn – but he still made a mess of things and found himself in hot water from stewards, squeezing up the field in desperation to avoid being stuck wide.
Maybe we should have known it would be one of those up and down days. Rumour has it a pig fell off a table at the Jockey Club Riding Development Board's pre-season bai-sun ceremony – not a great sign for the apprentices, it must be said – and even on race morning, Hong Kong's highest-rated horse was running loose in the quarantine area, having being startled by a horse manure truck.
You couldn't make that stuff up. But then, the raceday itself had a serious edge. Before race four, Vincent Ho Chak-yiu was hurt in a nasty parade ring incident as Harbour Victory reared and drove the jockey into the ground.
He was assessed and later cleared of fractures.
It was a meeting where even Joao Moreira – he of God-like status in just about all of Asia now, and pencilled in for somewhere around 200 wins this season – barely found a break.
Chiong's fall left her shaken, but clearly not too stirred up. Most expected her to pack her bags and go home, or to hospital, after coming off Super Man, having persisted in poking through a gap that just wasn't there, but she is anything if not game and broke through for her first win of the season on Multimax three races later.
Felix Coetzee, elevated to a full-time role mentoring the apprentices, clearly has plenty to work on with his group, but he has some building blocks. As much as it was a rough piece of riding that saw Chiong fall, the courage and determination she showed to dust herself off and stay in the game is indispensible.
Just as indispensible is the attitude of Wong – he boasts an exemplary off-track manner that more than matches his on-track skills. Wong handles himself with media and connections in a style reminiscent of some of the biggest names in the sport. It's a trait that can take a young jockey a long way, and one, that if lacking, can stop career progression in its tracks.
Mo's early efforts were admittedly shaky, including the messy jam in the feature, but he later managed a second on Regency Baby and Coetzee was there after the card lending a calming hand. They'll have time to do some videos when Mo sits out three upcoming meetings.
The expectations couldn't have been higher for Chiong – 37 wins, the Tony Cruz Award, most popular jockey and her status as the only female jockey have artificially elevated her profile to a place not exactly in line with her ability at this stage.
Wong may have entered this term as the forgotten apprentice, but Saturday's display helped him take a big step out of KK's shadow and he certainly seems to have designs on taking her crown as number one.