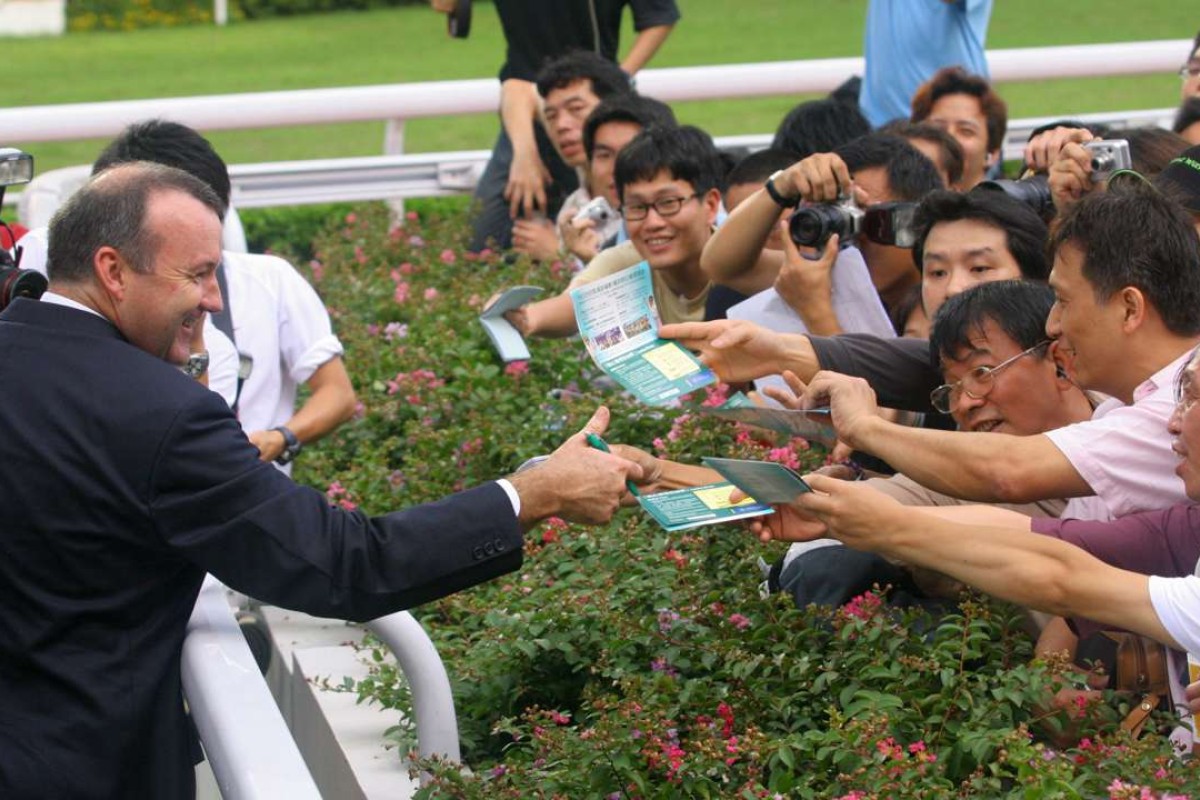 WANTED: Expat horse trainers to fill one of two recent vacancies at Sha Tin. Group One-winning experience preferred, youth a plus but a proven ability to adapt to challenging environments key. Starting date flexible.
The Hong Kong Jockey Club doesn't need to advertise for one of the most sought-after positions in world racing - it's more a case of "don't call us, we will call you" here. Still, there are a pile of CVs sitting somewhere in the Jockey Club's Sports Rd headquarters having been perused recently.
The departure of Andreas Schutz and Sean Woods at the end of the 2015-16 season has created two vacancies in what must seem like a professional utopia to outsiders: the best per-race prize money in the world, administrative headaches – like chasing money from owners – instantly solved, and one of the only places in the world where owners' demands to buy horses outstrip the supply.
Still, it takes a special and unique kind of skill-set to truly make it at Sha Tin, and any new candidate is arriving at a pivotal time of change: a soon-to-open mainland training centre in Conghua will provide new logistical challenges and the retirement of big race power John Moore is due soon enough.
Let's run through five would-be candidates – a mix of those squarely in the frame, and others being more hypothetical "what if?" types.
Still, these are five fine horsemen ideal for the job. Many high profile names haven't been considered – a trainer like John O'Shea, for instance, who may have been bursting to join the ranks five years ago, is now head man for Godolphin Australia, and isn't about to give that up. We have gone with five we believe could be realistic options at some point in the short-to-medium term.
WESLEY WARD
Wesley Ward ticks many boxes and brings an American X factor that would be a hit in the commingling era.
Ward is a master of travelling horses across the Atlantic. He is relatively young at 48 and he is affable, making him media and owner-friendly. He trains in similar conditions as he would have access to at Sha Tin but, being an American trainer, knows how to operate a remote string at the same time – a situation many existing licencees are likely to be dreading when Conghua gets a soft opening next season.
Being able to train dirt winners isn't anything more than a small footnote on a CV, really, but it's a plus nevertheless. But it is Ward's success at Royal Ascot that really catches the eye when it comes to this role. Another side note is the former jockey's strong association with Joao Moreira; Ward was an early adopter of the Magic Man's services and very nearly had the Brazilian move to the States before Asia came calling.
Then there is the Jockey Club's thirst for diversity. It's an unwritten rule that the licensing committee seeks like-for-like replacements – that is, northern hemisphere for northern hemisphere – so that's another box ticked.
ED WALKER
A young, well-presented trainer with a clean reputation on an upward trajectory, Newmarket-based Brit Ed Walker fits the profile of a man for the future.
Does Walker have the booming resume right now? Hmm, maybe not – he has only been training since 2010, but in some ways the CV strikes a similar look to the most recent import, Richard Gibson, whose first five seasons have to be considered, overall, a success.
It does stand out that Walker hasn't won a Group One, but balancing that out is the fact he has won in Australia, taking the 2013 Lexus Stakes with Ruscello.
A sneaky factor is that Walker already has strong ties with some of Hong Kong's biggest owners, including the Siu family, winning the Group Three Craven Stakes earlier this year with Stormy Antarctic donning the classic black and red striped silks. But Walker not only trains nine horses for the Sius, but also among his string are expensive purchases for Robert Ng Chee Siong (owner of Dibayani and Daliapour), and Marces Lee Tze-bun, who paid HK$6.8 million for a gelding by Choisir at the Hong Kong International Sale (now named Admirable and with David Hall).
So Walker has a knack of attracting cashed-up clients, many of them from Asia, and that's the type of profile that will help, as would his relative youth and the ambition and energy that brings.
What could stand in the way of a move for Walker is his developing relationship with other powerful owners and a recent move to Lester Piggott's former stables, Eve Lodge. Would he want to let that go?
DOUGLAS WHYTE
This suggestion comes with as much respect as possible and a major proviso – it's not a suggestion he should retire. An all-time high of more than 1,700 wins and 13 straight titles earns a few privileges, the first of which is the absolute and unequivocal right to decide on his own terms when he would like to stop riding.
But do those riding achievements entitle Whyte the right to transition straight into a Hong Kong training career upon retirement? The answer should also be yes.
Another of the Jockey Club's unwritten rules is that jockeys don't go straight from riding to training – that rule was bent for local legend Tony Cruz, it won't be for Gerald Mosse, but it should be for Douglas Whyte.
Despite having never trained, Whyte is a ready-made candidate in many ways and has a Hong Kong-specific awareness some prospects will never develop. For one, he knows the system inside and out and understands the quirky local racing culture – something that can take a new trainer years to master, if they ever do. What Whyte lacks in actual experience, he makes up for with his knowledge of and passion for thoroughbreds.
Whyte's working relationship with John Size was marked by the steady progression of horses, common sense race planning, and all with a focus on education at barrier trials and trackwork. The South African is a horse nut – he has spent time, his own spare time during the off-season, with "horse whisperer" Monty Roberts.
And how about this for a reference. Here's Michael Chang Chun-wai two seasons ago, basically admitting Whyte prepped limited type Boy Oh Boy to back-to-back victories.
"If Douglas decides to become a trainer, we are all in trouble – truly, he is a very good horseman," Chang said at the time.
Of course Whyte, now 44 but with plenty of time to decide when he wants to pursue other interests, insists he is still hungry. Yet if there is a current jockey who would make it as a trainer, it's Whyte.
PETER MOODY
Let's not beat around the bush here when it comes to any possible Jockey Club-Peter Moody tryst: there's a one word passion killer. Cobalt.
Now, any six-month drug ban is usually tantamount to a life ban from Hong Kong's ultra-sensitive system, but as Post racing editor Alan Aitken correctly pointed out last season - "...the findings out of Victoria SPECIFICALLY concluded that he was not guilty of giving any horse cobalt as a performance enhancer but his six month-ban was issued under the rule dealing with a trainer's responsibility to present a horse drug-free for racing."
Moody declared he was "over it" when he walked away from training earlier this year. He now has other commitments within racing, but none that would necessarily quench the competitive appetite of a man who has scaled the heights of the sport.
Moody's resume, sans cobalt, is fantastic – premierships, a successful traveller of horses, media friendly, and of course, brilliantly guiding the career of arguably the greatest sprinter of all time, Black Caviar.
Too soon? From a public relations perspective, possibly it is still too close to controversy for the super-sensitive Jockey Club, but nobody would doubt Moody's ability to succeed.
DAVID HAYES
If you are not aware of David Hayes' resume, go Google it. We'll wait here while you read through it though, you'll be a while.
When David Hayes left Hong Kong after a nine-season stretch – which included two titles and 17 Group Ones – in 2005, he insisted he would be back, and maybe now is the perfect time to fulfil that promise.
OK, straight into opinion mode – Hayes is the candidate that SHOULD be given a licence. This whole column could have been a case for him, and unlike the other four, there might more in it for the club as there is for Hayes to come back.
Here's why: despite Hayes being 55 and at the older end of the scale for prospects, he still could have as many as 10 seasons left, 15 if he returns in the same vein in which he left, and his prior record fills some gaps that are sorely lacking.
Hayes might be the only trainer in the history of Hong Kong racing to leave, willingly, at or near his peak. Not only did it preserve his reputation, in absentia, his status might have even grown.
There's no doubt Hayes would have the strongest support of any trainer that could fill a spot and he would shake things up at the top of the standings. This would particularly be so in big races, where the John Moore monopoly on high quality imports, and overall stranglehold by the big four stables, is starting to feel a little stagnant.
Hayes was Moore before Moore was the big money trainer, and he can again bring some glitz and glamour to proceedings. Then there's the fact Moore is nearly done, with only three seasons left – at least under the current rules – which leaves a huge void to fill.
The club also needs someone to show it is possible to win races based out of the Olympic stables – get the bad smell out of the joint, so to speak, and change the feng shui. Woods and Schutz struggled out of the modern facilities, complaining all the while, and with all due respect to the current tenants, Chang and David Ferraris, even they would benefit from a change in perception about the yards at the south-eastern end of Sha Tin racecourse.
Would Hayes leave nephew Tom Dabernig to run Lindsay Park? Perhaps it is more possible now than ever, given Hayes' son Ben joined the training team officially as of August 1.
As with Whyte, the question shouldn't be whether Hayes is the right man for the job. It's simply whether he wants the job, as he is as sure-fire a hit as you are going to get in what is a relatively high risk situation.