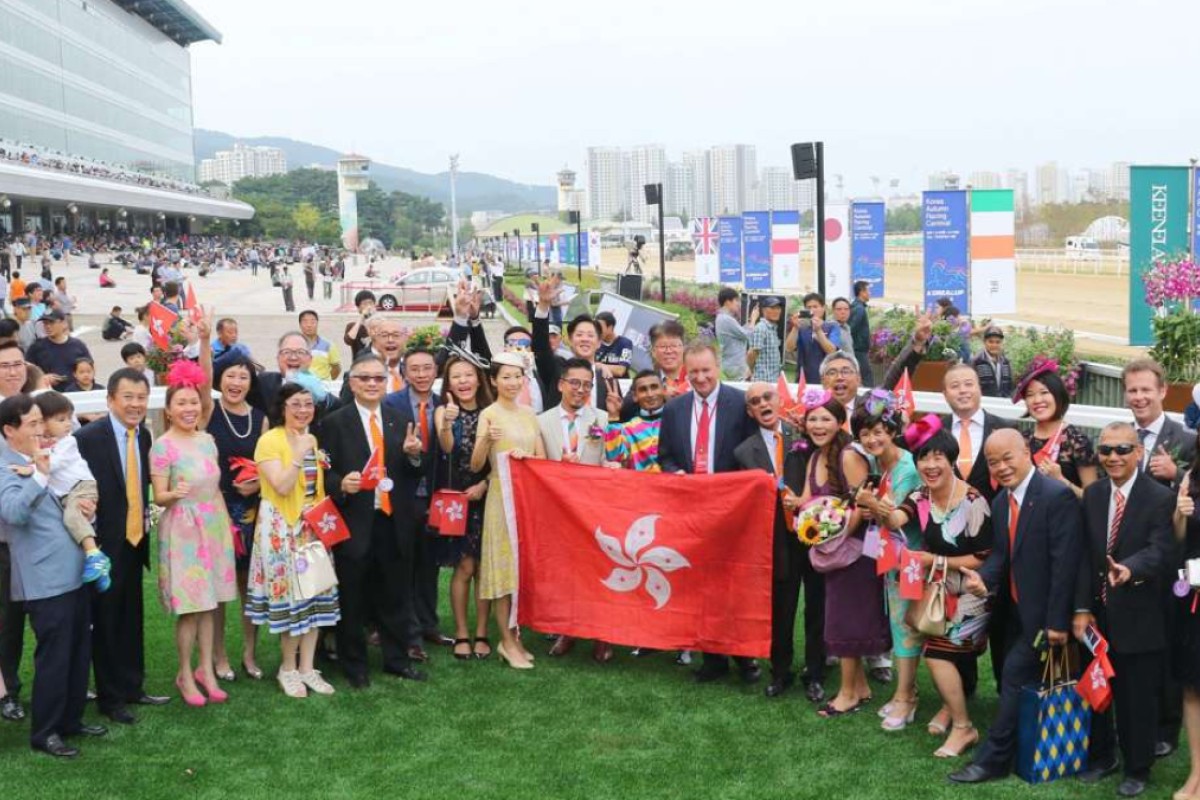 Asian racing's sleeping giant or sand track oddity? Well, racing in Korea probably sits somewhere in between, but whatever the state of the actual sport, a trip to Seoul racecourse should be on the travelling race fan's bucket list.
Huge spacious grandstands, deck chairs, K-pop princesses and a waterfall, yes, a waterfall, make a trip to "LetsRun Park", as it has been rebranded, a wonderful trip for all of the family.
That's right - family. One of the first things to note about a trip to Seoul's only racetrack is that there are families and young people, it's an atmosphere somewhat similar to neighbouring Japan.
Perhaps it's a little less intense, but it's not uncommon to see mum and pop perusing a form guide while the little 'uns scamper about on the grass in front of the towering grandstands.
Soon there will even be a horse racing theme park taking up all of the infield, currently under construction and nearing completion. It's called Whinny World.
Of course, this blog isn't afraid to tackle racing's biggest topics head-on: stupid or quirky horse names, plushies and the Japan Racing Association's mascot Turfy are all on the agenda here so when we heard there was an on-course theme park called Whinny World we were pushing for an exclusive.
Unfortunately, much to our disappointment, it turns out Whinny World is being built for actual children, but there you go - KRA providing fun for the whole family, not just hardcore racing fans.
That's not to say there isn't some good-old fashion punting going on. The KRA boasts some of the highest turnover in the world, ranking, from a per-race perspective, behind just Japan and Hong Kong.
It's just that the massive wagering doesn't stop the KRA producing a racetrack that feels, what would you call it? Oh yes, happy.
I guess that is why they called one grandstand "Happy Ville" and another "Lucky Ville", which prompted an argument among our group over which it was better to be - happy or lucky (clearly it is better to be lucky than happy).
The KRA has worked hard to change the perception of horse racing and last Saturday the racing press was treated to a presentation titled "Challenges and responses", which detailed how the government organisation is attempting to shake the automatic association with gambling most people hold with racing.
Of course there are other challenges - some unhelpful regulation from government like a 100,000 Korean won (around US$100) maximum bet per ticket just one of the whacky rules in place.
Yet the turnover somehow stays stable. It even took a leap upwards last year after a two-year slide, as 1,926 races yielded more than 7,769 million won - that's US$6.7 billion.
The turnover figures alone are phenomenal, but when the heavy regulations are taken into account it's nearly inconceivable.
Online betting has been banned since 2012 so those figures are made up of cold hard cash, bet in US$100 over counters at the three racecourses, but mostly in the 31 off-course "screen centres" scattered throughout the country.
Add to that severe restrictions on advertising, including a ban on television and billboard advertising and it becomes clear just what a force the jurisdiction could be if given a little leeway by government.
Perhaps a more worrying trend is a dip in attendance over the last few years, although a sharp increase in race meetings could be to blame, and for Sunday's Korea Cup meeting, the course was buzzing with more than 45,000 fans - yet it was still comfortable in most sections (there were also more than 10,000 at the meeting in Busan on the same day).
A "beginners' lounge" was packed at the start of the day, a room full of racegoers - at least 100 - all eager to learn how to place a bet.
On Saturday there was a performance by Sistar, who it seems for the sake of the PG-rated nature of the course, seemed to be a little less scantily clad than usual - and it fit well with the overall bouncy vibe, also featuring on the whopping 127-metre long screen on the infield.
The actual racing? Yeah, it needs some work. Let's face it, the track is diabolical; jockeys and horses not on the speed are forced to contend with a sandstorm of biblical proportions.
Handicapping is clearly an issue, which is obvious when you see some of the wide beaten margins, even given the nature of the track, as is the political separation between Seoul and Busan - the two thoroughbred tracks (there is also weird KRA-sanctioned pony racing is held on the island of Jeju, which is immensely popular).
The standard of racing is much higher in Busan, owing at least in part to a strange socialist-type system among the trainers in Seoul.
Unions have a major influence at the capital's training centre, where trainers distribute prizemoney evenly - imagine how that would go down with John Moore? Staff are paid standard amounts and distributed to yards randomly.
As far as quality of horses is concerned, the phasing out of a cap on spending on imports is a positive move.
From an overall perspective, but still, in comparison with the regional giants Japan and Hong Kong, racing is still in a nascent stage of development, as while the off-track entertainment is in great shape, getting the on-track entertainment right - the actual sport - is the next step.
That's not a damning judgment on the KRA's efforts - there is a lot to like, including the push to internationalisation. Racing purists may well look down their noses at the beach-like track, and admittedly the two big international events held last weekend weren't much of a spectacle.
But here are three things Korean racing has going for it and all three can't be found in many so-called developed racing nations.
Money through turnover, people at the track and ambition. It's a better situation to be in than to have the world's best horses and be wondering where all of the money and people went.