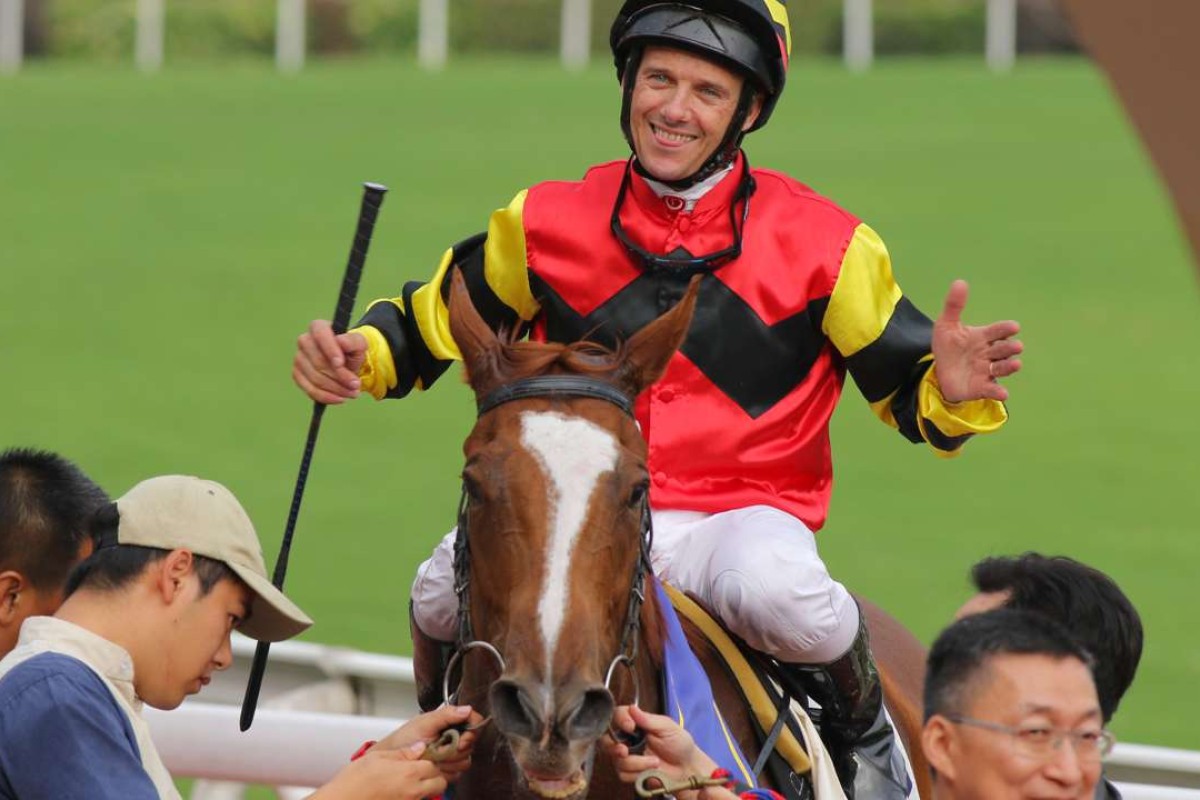 What we took away from Sunday's Group racing is that local prospects for the Longines Hong Kong International Races (HKIR) in December are once again looking strong in the areas where they have always been strong – the sprinter-milers.
Historically, the sprinters have been tough to beat and the news that Chautauqua won't be here was followed by the horse he beat in May, Lucky Bubbles, fighting out the finish of the Premier Bowl with the horse who should have been fighting out second with the Australian grey, Amazing Kids.
Important to note here that the horses which have won the Premier Bowl with light handicaps have always run well on international day, so when we have two of the horses up in the weights going to the wire together, that augurs particularly well for their chances of winning the Hong Kong Sprint.
On top of which, we have a fitter Aerovelocity to come, after he was easily the best of the on-pace runners in a race fought out by the fast finishers, while Peniaphobia will benefit from that effort too.
On top of which there is increasingly the likelihood that the specialist sprinters will be joined in the Sprint by Able Friend as the sands run out of the hourglass on trying to have him ready for the Mile.
No doubt John Moore will leave that decision until after the Jockey Club Sprint, when he will have a better idea of Able Friend's progress back from that long lay-off with injury, but the pendulum must be swaying that way and why not? As we sat here on this day last year, Able Friend's first-up Premier Bowl win had him ranked the world's best sprinter, so it isn't like he can't produce a world class 1,200m performance, even if he is 12 months and an injury older than he was then.
Small in stature but not in substance, Lucky Bubbles returns with stylish Premier Bowl victory
Of course, all becomes clearer after the Jockey Club Sprint but it is looking very good for the home team.
And then there's the Mile.
It ended 10 years between drinks for the foreign milers when Maurice prevailed last year – and there were exceptional circumstances to that as Able Friend was clearly affected by injury – and the Hong Kong Mile looks a solid local property again this year.
John Size had the right take on the Sha Tin Trophy as a form reference – great race but, the way it was run, you could hardly hang any horse that failed to live up to expectations.
It was a spectacle and a stirring contest but a too slowly-run event that featured a fast 600-700m section from the start of the home turn was not how races are usually run. The race was run a full second slower than Simply Invincible's Class Three and more in keeping with a Class Four time, there were several horses brought undone by the manner of the race and Sun Jewellery gave the distinct impression he was too new and would be greatly improved for it.
But we felt the event strengthened Beauty Only's claim as the best miler here and a worthy favourite for December at this stage, especially since the two that beat him home won't be in that race. Nothing about the race really suited Beauty Only – a clip over the ear for conspiracy theorists who assumed Beauty Flame, owned and trained in the same interests, would be used as a de facto pacemaker and put on a good speed.
Daring ride from Karis Teetan delivers Designs On Rome the Sha Tin Trophy
Instead Vincent Ho Chak-yiu rode his own race and assumed, perhaps mistakenly, that going as slow as he could would help his mount to win. Instead it completely dissolved his advantage as the solo leader and enabled the heroics we saw from Karis Teetan on Designs On Rome.
Beauty Only's run, having to make a long chase behind the winner was excellent, pushing him to half a length and never shirking a difficult task. Of course, Beauty Only's racing style is a hurdle but he will prove a stumbling block for any other runner that fancies himself on international day.
Hats off to Happy Valley's wet form
The first season that we were in Hong Kong for the opening meeting of the season, we saw 500mm of rain tumble on the city in a week.
Coming from Australia, where many of the tracks are so overused and maintained on a shoestring that 10mm of rain can turn staging a meeting at all into a real query, we were pretty impressed when the ground that day was only a touch off good going.
Until now, that was the benchmark for us regarding the performance of the tracks at Sha Tin and Happy Valley and, over time, we've got so used to how well they drain that we figure anyone doing "wet form" before the races here is just wet behind the ears as much as anything else.
But last Wednesday's effort at Happy Valley now stands alone – a truckload of rain for 10 hours and then the black storm decides to appear? It should have been game over, but all the track needed was an hour or two clear and it wasn't just racing, but racing well and upgraded to good by the seventh race. Even when you've been seeing the Hong Kong tracks doing crazy, good things for 15 years, it still stands out.
Buried away in racing operations manager John Ridley's comments on the night's performance – and John has been here much longer than we have and was still impressed – was a key factor. Happy Valley was able to drain at a rate of 100mm per hour – that's 30mm per hour faster than the qualifying downpour for a black storm.
Torrential rain can't stop Happy Valley, or Douglas Whyte
Just extraordinary, the saviour of more than HK$1 billion in turnover – given that the club has elected to deal itself out of any emergency rescheduling of washed out meetings – and the reason that really wet going happens so rarely here.
So hats off to Happy Valley and the next time we have three spots of rain during a meeting and you see or hear a comment that such and such a winner benefitted from the soft ground, take it with all the salt you've got in reach.