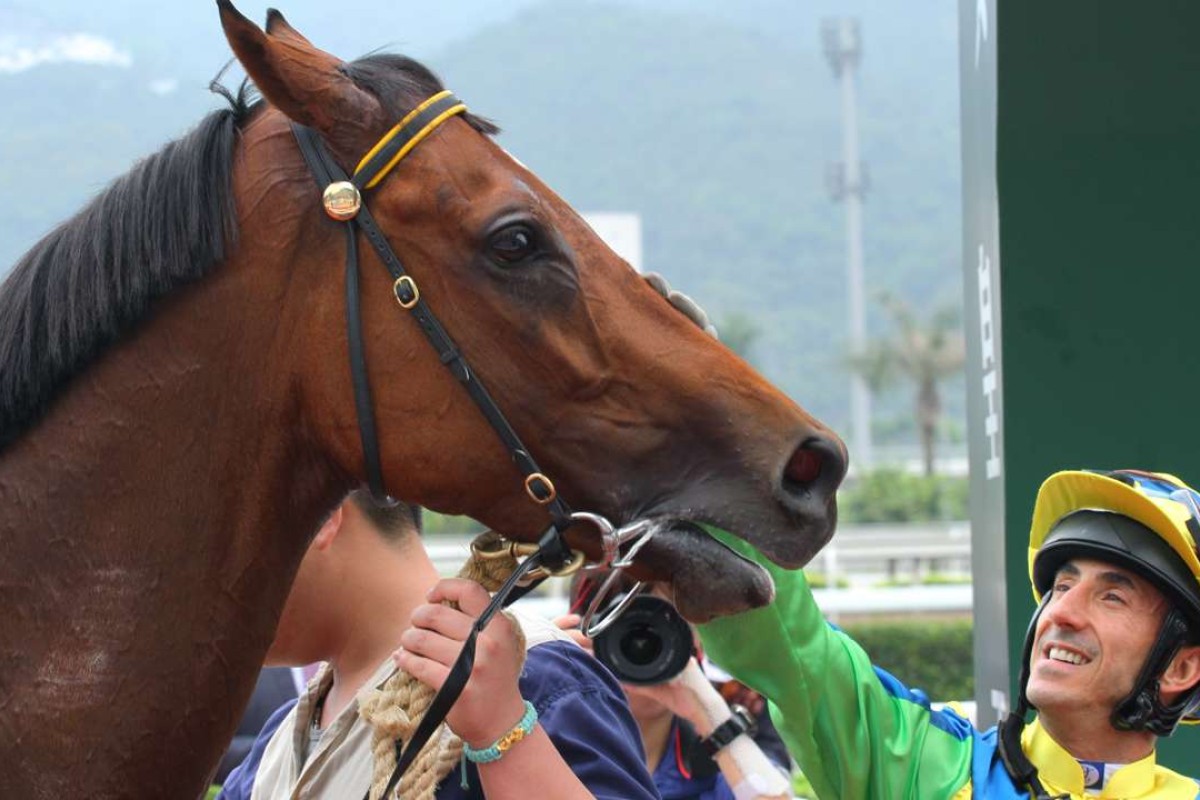 From dismal Derby failure to sparking a dirt track revolution, Rich Tapestry won't be remembered as the best horse of his generation but he helped put Hong Kong on the map in the midst of racing's globalisation era.
Trainer Michael Chang Chun-wai called time on Rich Tapestry's unique career this week – the eight-year-old compiling more than HK$14 million in prizemoney, having competed in six countries but best known for a history-making triumph at Santa Anita a little over two years ago.
Rich Tapestry's dramatic win in the Grade One Santa Anita Sprint Championship was a first on two very important fronts; the first time a Hong Kong-trained horse had won on American soil, let alone in a top grade event, and the first time a Chinese trainer had succeeded in the United States.
"He took us around the world," said jockey Olivier Doleuze, who rode Rich Tapestry at Santa Anita and also won the 2014 Group Three Mahab Al Shimaal aboard the horse in Dubai and 2013 Group Two Sprint Cup on turf at Sha Tin.
"He has been a great companion for Michael and I, he isn't the best horse I have ridden, but he had a big heart and was a fighter. He always tried to run better than he was really capable. It's hard to get a good horse in Hong Kong, you have to be lucky to beat those big stables, but we had something different, on the dirt he was a little bit special."
Rich Tapestry's success came about almost by accident, really, he was a two-year-old maiden winner over a mile in Ireland for legendary Irish handler Dermot Weld and twice ran over a mile and a quarter at three.
The horse was purchased with the Hong Kong Derby in mind but it didn't take long for the phrase "well sold" to be thrown around following five paltry efforts over a mile and further for Chang after arriving; Rich Tapestry was a flop and not getting anywhere near a Derby.
Towards the end of that 2011-12 season though, a switch to sprinting, and then to dirt brought about a remarkable form turnaround, and back-to-back wins on the all-weather track.
The performances were filed away for future reference by Chang and it wasn't until the 2014 Group Three Mahab Al Shimaal that Rich Tapestry actually returned to a non-turf surface and he was triumphant.
Rich Tapestry was second to John Moore's Sterling City in the big one three weeks later, the Group One Golden Shaheen, and then third in the race the following year.
Rich Tapestry was an early flagship for then-Coolmore stallion Holy Roman Emperor, a sire that has had limited impact elsewhere but has found a niche in Hong Kong with progeny like Designs On Rome and Beauty Only among 21 individual winners of 80 races.
Chang's horse also, inadvertently, became a poster child for the anti-raceday medication movement when the trainer refused to use controversial diuretic Lasix on his horse in either of his two starts in California, providing another focal point for one of modern racing's longest running debates.
Of course in the second of those runs Rich Tapestry finished a disappointing last in the Grade One Breeders' Cup Dirt Sprint, with the horse suffering, at least in part, with the condition that Lasix is meant to stop – Exercise Induced Pulmonary Haemorrhaging.
Chang distanced himself from the politics of it all, but in the quiet moments before that failure as favourite on one of racing's biggest days, Chang expressed fear of what was to come, that his horse would "bleed", while his competitors would be advantaged by the use of Lasix.
We will never know if using Lasix would have helped Rich Tapestry or not that day and it doesn't really matter – as Chang already had a Grade One victory in the record books, anyway, sans Lasix.
The success at Santa Anita was all about sport, and the fact that Chang did it "fair and square" only adds to the enormity of the achievement. As does the fact owners Silas Yang Siu-shun, Wong Tak-wai, Ho Chi-keung and Cheung Yuk-tak may have only just broken even after entry fees, travel expenses, the US tax man and the cost of a fantastic celebration party all ate into the winnings.
Even before the amazing achievement of winning at Santa Anita, the horse has also sparked a renewed interest by Hong Kong connections in chasing high-class sprint races.
This year Rich Tapestry was one of four Hong Kong-trained runners in the Golden Shaheen – a race he placed in twice and it turned out that his unplaced effort, his third try at the race, was the last run of an illustrious career.
Father time has caught up with Rich Tapestry, and although the delayed announcement means that the mild-mannered gelding is slipping quietly into retirement, he shouldn't be forgotten when it comes to ranking Hong Kong's most important horses.