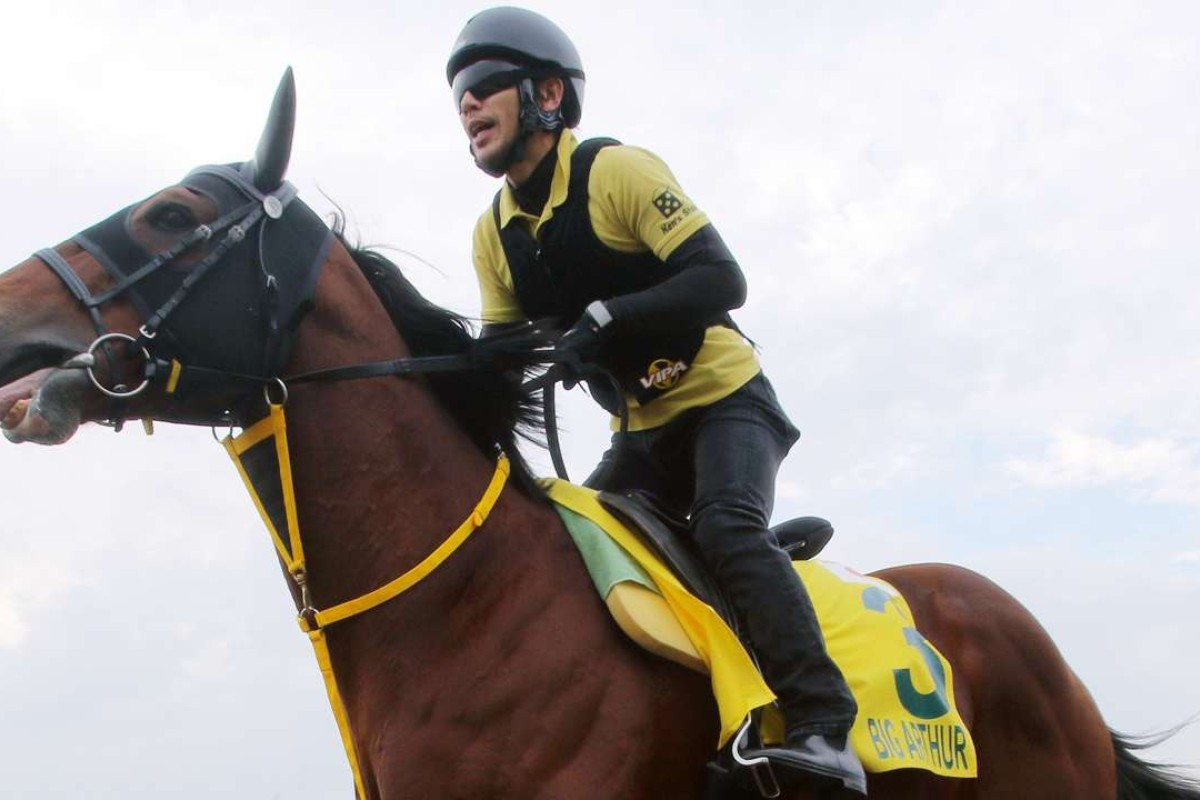 Lord Kanaloa is the benchmark for Japanese sprinters in Hong Kong after two dominant performances, but Big Arthur's trainer Kenichi Fujioka believes his five-year-old could have matched it with the six-time Group One winner.
Mention Lord Kanaloa's name in these parts and people talk in revered tones, so if someone is prepared to say their horse would have a chance against the two-time Longines Hong Kong Sprint champion (2012-13), it's time to sit up and take notice.
If Big Arthur turns up in that sort of form on Sunday, the others are probably running for second.
"Unfortunately they never raced together, so it's hard to compare," Fujioka said.
"Lord Kanaloa also raced at a mile and other distances, while Big Arthur is a specialist at the 1,200m.
"But if we had the chance to meet in the same 1,200m race, we might have a shot at beating Lord Kanaloa."
A major issue stopping Big Arthur, who won the Group One Takamatsunomiya Kinen in March, from following in his compatriot's footsteps is a wide gate.
Once considered on equal terms in betting with leading local Lucky Bubbles, their chances have gone in opposite directions since the barrier draw with champion jockey Ryan Moore now set a big task.
Mixed fortunes at HKIR barrier draw: Lucky Bubbles firms into favouritism, but Able Friend cops outside gate
"I originally wanted a middle gate but unfortunately we ended up with 13, so we're going to have to rely on Ryan's best judgment come Sunday and hopefully they'll get a nice, smooth race," Fujioka said.
"He's in very, very good condition, he's come along so well and we have confidence he'll be able to perform well."
Big Arthur had no luck in the Group One Sprinters Stakes at Nakayama last start, but the horse who beat him on that occasion, Red Falx, is also in town for the HK$18.5 million feature.
While trainer Tomahito Ozeki wasn't drawn into any comparisons with Lord Kanaloa, he is well aware the striking grey ticks a lot of boxes.
"With Mirco [Demuro] in the saddle we haven't lost a race, at 1,200m we haven't lost a race, so that gives us a lot of confidence," he said.
"He'll be at the same level of his Sprinters Stakes win on Sunday."
Speaking of confidence, Australian trainer Gary Moore has lost none of his and is even more bullish about Takedown's chances after coming up with a good barrier.
"I think he'll be very hard to beat now he's drawn favourably in six," Moore said.
Moore dynasty continues as Gary looks to Takedown his rivals in Hong Kong Sprint
"Now that Tony Cruz's horse Peniaphobia has drawn gate one I think he'll probably go and make the running, and I'll just sit outside of him, like we did in Perth, and take it up at 200m and that will be it."
Moore made the statement while sitting next to fellow Australian Gary Portelli, who quipped; "after listening to him, I think I'm going to pack up and go home".
Portelli is also happy with how his dual Group One winner Rebel Dane has travelled.
"He'll be back in midfield or beyond, depending on how quick they really do go. We've got to make sure we give our horse a chance to finish off strongly," he said.
Gary Portelli is combining his two racing passions on this HKIR trip – horses and pigeons
"I just hope that half a dozen or more put a bit of pressure on early and we might be the last horse on the scene."
Champion jockey Joao Moreira, who won the race last year and is partnering Amazing Kids this time around, is sure the pace is going to be hot.
"Everyone knows that Peniaphobia had an easy run in front [last year] and he was able to sprint away turning for home. I don't think that's going to be happening again this year," Moreira said.
"Peniaphobia is obviously one of the horses that I think is going to be right there and trying to lead, Aerovelocity is another one that has a lot of pace and some others, in particular, the international horses.
"I really think the winner will come from fourth and further back."