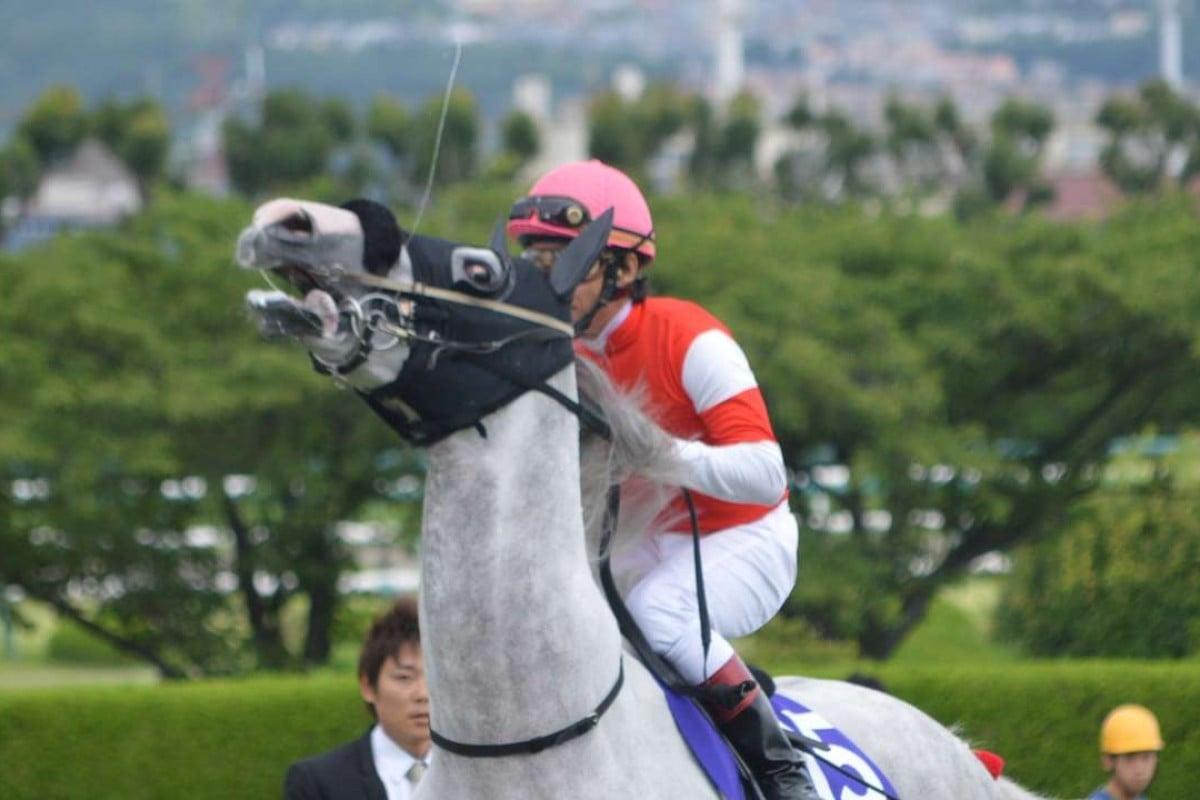 While there seems to be a correlation between leading vote-getter in Japan's biggest "all-star" race, the Arima Kinen, and Horse of the Year honours, in recent years those horses have been completely, certifiably and endearingly, mad.
What is it about these crazy Japanese racehorses? Or maybe crazy isn't the right word, what about "quirky", a word that seems to describe so much about the country's colourful racing culture.
On Christmas Day, Japan celebrates its favourite racehorses with the running of the Group One Arima Kinen, for which most of the field is decided by a public vote.
Let's rank Japanese racing's favourite "maddies", with a "red ribbon rating", the red ribbon being the internationally recognised symbol for a "kicker" when attached to a horse's tail.
Firstly, to make this elite list the horses has to be good – Group race-level good – as there must be plenty of horses that never get close to being their best, forever held back by their unpredictable behaviour.
A prime example of unfulfilled potential was the regally-bred Sweet Medousa, a grey mare by a Satsuki Sho winner, Agnes Tachyon, out of an Oaks winner, Robe Decollete. Sweet Medousa won on debut before deciding she preferred not having a jockey on her back, and channelled her brilliance into attempting to dislodge riders moments after the start and running sideways.
She was retired after three "starts", the last two of which were she plain refused to take part in the race.
So here goes, on a scale of one red ribbon to five, the recent champions that have stolen racing fans' hearts and probably sent their strappers into early retirement with stress-related disorders.
Gold Ship
28: 13-3-2
Won 2012 Arima Kinen, 2013, 2014 Takarazuka Kinen. Six-time Group One winner.
Speciality: Random behaviour, rearing up and electrifying come-from-behind wins.
Red ribbon rating: five out of five red ribbons (or red pom-poms)
Gold Ship is as well-known for being a lunatic as he is a great galloper – which really is something for a six-time Group One winner – but the big question is, as it is with all of those on our list, "how good could Gold Ship have been?".
Gold Ship threw many races away by standing up in the stalls, or just being an all-round loose unit in his races. Still, he was an outstanding stayer, he won two legs of the three-year-old triple crown, was good enough to start 12-1 in the Arc, won back-to-back Takarazuka Kinens and thumped the older horses as a three-year-old in the 2012 Arima Kinen.
But we are here to talk about crazy, and Gold Ship was also M.A.D.. They say horses can take on the characteristics of their trainers, and in this particular case, Gold Ship has more than a bit of his larrikin handler Naosuke Sugai in him – the trainer being one of the more likeable and colourful characters of Japanese racing.
Firstly, before we get into some "best of" (or should that be "worst of"?) Gold Ship videos, let's give thanks to Japanese racing fans, by far the most dedicated in the world, for their exquisitely edited YouTube videos that pay tribute to these lovable and very talented equine rebels.
Secondly, let's get one thing straight, horses kicking people is never funny. But then there's this video, and we don't use this acronym lightly or often, but, LOL. Let's enjoy Gold Fun performing what can only be described as a double whammy thunder kick to two people that can only be described as idiots. Click here.
This is after the 2013 Takarazuka Kinen and it's probably OK to laugh for two reasons; 1. Nobody appears to have been seriously injured, although we haven't followed up to be honest, and it probably did hurt, and, 2. Who cares? As both injured parties were behaving like complete imbeciles.
Take a look, "Idiot A" seems to be saying to his mate, "Idiot B": "These red pom-poms on the horses' tails are so overused these days, this horse is as quiet as a ..." – then, bang.
It's actually quite a skilful manoeuvre Gold Ship has pulled off here (and quite normal horse behaviour really), and if you watch it on slow motion you can see he attempts to deliver a swift kick, separately, with both hind legs, to the mid sections of both the aforementioned idiots.
Luckily, this devoted fan has slowed the vision down for us and added some bizarre 1980s sound effects/music that really compliment the footage of the effective and highly entertaining groin kick(s).
This isn't the best horse kicking an idiot video on YouTube, but it's up there, and filling the quinella spot.
Note: please don't go down a YouTube rabbit hole of watching "crazy Gold Ship" compilations or "idiot gets kicked by horse" videos, even if they are all great, come back later on your own time, we aren't finished yet.
OK, here's one more; Gold Ship going nuts at trackwork.
Orfevre
21: 12-6-2
Won 2011 Three-year-old Triple Crown; 2011, 2013 Arima Kinen; 2011 Japanese Horse of the Year. Six-time Group One winner.
Specialities: Looking white-eyed crazy, doing random things in races and being an unbelievably great galloper.
Red ribbon rating: 2/5
Ignoring the "how good could he have been?" question with Orfevre, and reflecting on the question "how good was he?" question for a bit, the answer to which is; quite possibly the most underrated top class galloper this century.
But what could have been with just a little more control? An Arc winner, probably, but, like a great artist, maybe he wouldn't have been as special without that liberal dash of insanity.
The wayward racing tendencies did help deliver the greatest race fan video of all-time, in which devastated Orfevre fans fall in a heap as their hero is vanquished by Solemia and which we documented back in a blog.
They say never trust a horse with too much white in his eye and Orfevre is the stereotypical mad chestnut with too much white all around.
For every race Orfevre threw away though, there were devastating wins – including his final racetrack appearance, the second of his two Arima Kinen wins, a truly awe-inspiring performance.
Hakusan Moon
29: 7-6-1
Second to Lord Kanaloa in 2013 Sprinters Stakes, second to Aerovelocity in 2015 Takamatsunomiya Kinen, beat Lord Kanaloa in 2013 Group Two Centaur Stakes. Two-time Group Three winner.
Specialities: Spinning around in a circle incredibly fast, sprinting to the barriers really fast, and sprinting in a race reasonably fast.
Red ribbon rating: 4/5
Hakusan Moon isn't up to the first two illustrious names on the last as far as racetrack feats are concerned, but for pre-race antics it's hard to go past this wild whirling dervish.
Still, Hakusan Moon beat sprint God Lord Kanaloa in the Group Two Centaur Stakes, won twice at Group Three level and was around at the top level until this season.
But let's cut to what puts him on this list, and gives him a red ribbon rating of four from five. The spin. Hakusan Moon would have to be led all the way on to the course proper by two handlers and as soon as his jockey was legged aboard the horse would basically do whatever he wanted, and what he wanted to do was spin in a circle. Then, pausing for a moment, perhaps dizzy, his feet prancing, Hakusan Moon would then charge to the gates like a maniac. While most pre-race parade ring watchers want to see a horse nice and relaxed before a race some Japanese punters became convinced that the more times Hakusan Moon spun around and the tighter the circles, the better he would perform.
A Shin Hikari
15: 10-0-0
Won 2015 Hong Kong Cup, 2016 Prix d'Ispahan
Speciality: Sweating, pre-race parade ring meltdowns and astonishing all-the-way wins.
Red ribbon rating 3/5
More than any other horse on this list, temperament may have robbed A Shin Hikari of racetrack achievements more than any other. Specifically, it was the son of Deep Impact's propensity to "melt" during the long pre-race parades in Japan. The fact A Shin Hikari was able to be trained on course was also credited with the stallions two greatest ever performances, in the 2015 Hong Kong Cup and the 2016 Prix d'Ishphan. Still, a record of 10 from 15 stacks up, but the fact he didn't ever finish second or third, or fourth or fifth, for that matter, tells you something, he was either stunningly good, or bewilderingly bad.
Looking back, it seems most of the lead-up to the 2016 Hong Kong International Races was monitoring how much A Shin Hikari was sweating. Whole Twitter discussion threads were devoted to the topic.
Everything looked good for a horse nicknamed "His Madness", but the grey had has all fooled, and had one more trick up his sleeve before what would be his final racetrack appearance. Just as A Shin Hikari was led into the parade ring, he broke free and ran loose, a wonderful and perhaps fitting sign off to one of the great "what could have been?" careers.
Once out on the track, and not surprisingly, A Shin Hikari failed to reproduce his electric front-running performance of 12 months earlier, but on the score of great sporting theatre, "His Madness" certainly didn't let anybody down.